Was ist SPC for Excel?
SPC-Software mit gutem Preis-Leistungs-Verhältnis. Einfach zu verwenden in vertrautem Excel. Entwickelt für Lean Six Sigma und andere Qualitätsfachleute aller Ebenen. Hol dir alle Tools, die du für Analyse, Problemlösung und statistische Analyse benötigst. Die Software enthält Pareto-Diagramme, Histogramm, Steuerungsdiagramme, Messsystemanalyse, Prozessfunktion, Distributionsanpassung, Datentransformation, Regression, DOE, Hypothesentests und vieles mehr. Kostenloser technischer Support und keine Wartungskosten. Rabatte für mehrere Nutzer.
Wer verwendet SPC for Excel?
Vom Neuling über den grünen Gürtel bis zum schwarzen Gürtel – jeder, der an Prozessverbesserungen interessiert ist. SPC for Excel wird in Tausenden von Unternehmen, gemeinnützigen Organisationen und Hochschulen eingesetzt.
SPC for Excel – Details
BPI Consulting
1997 gegründet
SPC for Excel – Details
BPI Consulting
1997 gegründet
SPC for Excel – Videos und Bilder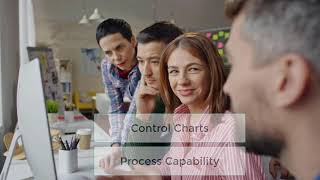 Kosten ähnlicher Produkte wie SPC for Excel vergleichen
Startpreis
269,00 $/einmalig
1.610,00 $/einmalig
N/A
30,00 $/Monat
SPC for Excel – Bereitstellung und Support
Kundenbetreuung
E-Mail/Helpdesk
FAQ/Forum
Wissensdatenbank
Telefon-Support
Chat
Einsatz
Mac (Desktop)
Windows (Desktop)
Windows (On-Premise)
Training
Persönlich
Live Online
Webinare
Dokumentation
Videos
Funktionen von SPC for Excel
API
Aktivitäts-Dashboard
Anpassbare Berichte
Audit Trail
Berichterstattung und Statistik
Compliance Management
Corrective and Preventive Action (CAPA)
Daten-Import / -Export
Dateneingabe
Datenerfassung und Übertragung
Datenmanagement
Datenverknüpfung
Drittanbieter-Integration
Echtzeit-Analytik
Echtzeit-Benachrichtigungen
Echtzeit-Berichterstattung
Echtzeit-Daten
Echtzeitüberwachung
Für Fertigungsunternehmen
Individuelle Anpassung
Job-Management
Leistungskennzahlen
OPC Datensammlung
Produktionsanalyse
Prognose
Qualitätskontrolle
Rückverfolgbarkeit
Sichere Datenspeicherung
Statistische Analyse
Statistische Prozess-Kontrolle
Statusverfolgung
Terminplanung
Trend-Analysen
Verfolgen von Fehlern
Visuelle Analytik
Workflow-Management
API
Ad-hoc-Analyse
Ad-hoc-Anfrage
Ad-hoc-Berichterstattung
Aktivitäts-Dashboard
Aktivitäts-Verfolgung
Anpassbare Berichte
Anpassbare Vorlagen
Anwendungsmanagement
Bayessche Analyse
Berichterstattung / Analyse
Berichterstattung und Statistik
Compliance-Verfolgung
Dashboard-Erstellung
Dateispeicherung
Daten-Connectors
Daten-Import / -Export
Datenextraktion
Datentransformation
Datenvisualisierung
Diagramm-Erstellung
Drag-and-Drop
Drittanbieter-Integration
Echtzeit-Aktualisierungen
Echtzeit-Analytik
Echtzeit-Berichterstattung
Echtzeit-Daten
Erkennung von Zusammenhängen
Individuelle Anpassung
Kundensegmentierung
Leistungskennzahlen
Leistungsmanagement
Mehrfache Datenquellen
Multivariate Statistik
Prognose
Prädiktive Analytik
Regressionsanalyse
SSL-Sicherheit
Statistische Prozess-Kontrolle
Statistische Simulation
Suchen / filtern
Trend-Analysen
Umsatzentwicklung-Analyse
Visuelle Analytik
Visuelle Entdeckung
Website-Analytik
Zeitreihen
Zugriffskontrollen / Berechtigungen
Überlebensanalyse
Überwachung
Heidi P.
Portfolio Manager in UK
Non-Profit-Organisation Management, 1.001-5.000 Mitarbeiter
Verwendete die Software für: 1-5 Monate
Top marks for SPC for Excel
Kommentare: Prior to having SPC for Excel, we used another software that we already had to create control charts manually. The process was tedious, but we did manage to produce something approximating a control chart. Now that we have SPC for Excel, there's no turning back. It's incredibly simple to use, Excel based, flexible to the user's needs, and produces very professional looking control charts and other statistical analyses. And there's more…the customer service is fantastic. [SENSITIVE CONTENT HIDDEN] always answers my questions quickly and the support materials and brief training videos are flawless. I've also learned so much by dipping into articles saved in the SPC Knowledge Base. Thank you for creating this remarkable tool and all the supporting materials – it's transformed the way we present and think about cycle time metrics.
Vorteile:
- It's extremely simple to use. After I watched the 5-min video, I could produce control charts easily. - It's Excel based. I no longer need to switch between applications or worry that another team member can't open the file because they don't have the software. - It's flexible. I can adapt the run test rules according to the norms of my organisation. - Results are very professional looking. - Although not a comment about the software, the articles saved in the SPC Knowledge base are extremely helpful. Furthermore, customer service is fantastic. [SENSITIVE CONTENT HIDDEN] always responds to questions quickly.
Nachteile:
Honestly, I have nothing to note here.
Geraint J.
Metrology consultant in UK
Luft- & Raumfahrt, Selbstständig
Verwendete die Software für: Mehr als 2 Jahre
Spcforexcel - all the tools most of us need
Kommentare: I trained many people on this software and introduced them to a better way of making decisions
Vorteile:
EMP suite of tools......nothing else has these Control charts and capability analysis. Ease of use via the excel platform
Nachteile:
No features are missing , I worked with Bill to get into the software what I wanted
Jose C.
Eng and Quality Consultant in Israel
Medizinische Geräte, 51-200 Mitarbeiter
Verwendete die Software für: Mehr als 2 Jahre
In Betracht gezogene Alternativen:
Customer satisfaction
Kommentare: Very good
Vorteile:
Easy to use Has a very attractive price Has a great newletter and knowledge support form the articles already published
Nachteile:
Would like to see links for STEP-BY-STEP videos on ALL the functions, with examples from the industrila and research practice
Antwort von BPI Consulting
letztes Jahr
Hello, thanks for the kind comments. We do have 20 "how-to" videos on our website and YouTube that show how to do many of the techniques step-by-step. Our on-line help has step-by-step instructions for every technique.
Newton G.
Quality Director in USA
Verteidigung & Raumfahrt, 11-50 Mitarbeiter
Verwendete die Software für: 6-12 Monate
Review of SPC for Excel
Kommentare: The use of this software has reduced the amount of time we formerly spent creating data packs for DOD products by over 80%. The company offers a free trial for all features of the software. Customer support has been phenomenal. I have ordered copies for all personnel in my department.
Vorteile:
The program works seamlessly with Excel and has superior graphics capability (control charts, histograms, etc.). It is very intuitive and easy to learn how to use. The price of the software is very reasonable as well. A user manual is provided that offers exceptional documentation, but because the software is so intuitive, I refer to the user manual infrequently. The company also offers a knowledge base of excellent, well-written articles about statistics. However, by far the most notable advantage of this software is the customer support that is offered, which is without equal.
Nachteile:
There are no aspects of this software that I dislike.
Verwendete die Software für: Nicht angeboten
SMS in Aviation does work without SPC for Excel
Kommentare: SPC is a tool everyone in aviation SMS must have. A Safety Management System for airlines or airport does simply not work without SPCforExcel Process Control. SMS is all about control of processes and if an airline or airport operate within their own wishful safety boundaries. Without Data and analyzing this data in SPCforExcel, it's just your, or some else's opinion. In Aviation Safety opinions have no value, they are just words. By integrating SPCforExcel into an organization, an extremely high confidence level can be establish that operation is safe and have processes in place for safety. SPC forExcel is not just a safety tool, but also a sales tool. How great would it not be to present potential customer with facts that the operation is safe? And that's what SPCforExcel can do. I have used SPCforExcel in SMS for many years, both in the aviation industry and as an inspector with Transport Canada. I found that by managing processes there are huge cash-savings. Not knowing what is behind the data is lost revenue, and SPCforExcel is an excellent tool to catch money-wasting processes. There is a saying that there is "never enough time to do the job right, but alway enough time to do the job twice". SPCforExcel is a tool to avoid doing the job twice, since it can be established if what we do works or not. Without SMS in aviation, the confidence level of regulatory compliance and operational processes for safe operation of airport or aircraft are unknown. In a non-SMS organization, and without SPCforExcel, the confidence level is 100% certain to be completely unknown for performance of safety and often these unknown processes are skewing towards unsafe operations. My experience is that SPCforExcel is the Moneyball in Baseball. I can now see what is happening, and select the best "players" to achieve the highest possible safety level. These "players" are not people, but applicable processes on how we do thing in aviation to achieve safety. SPCforExcel is data analysis and it eliminate emotions in making effective decisions. Statistical Process Control and SMS are profit makers when applied to desired operational results. When applying SPC to Aviation Safety, an organization has established measurable parameters. Without measurable parameters it is all just guess-work. I asked myself many years ago why would someone apply a process when they knew the outcome would be an airplane crash? The answer is that they did not have statistical process control.