Was ist GainSeeker Suite?
GainSeeker Suite ist eine Echtzeit-SPC-Unternehmenssoftware und Manufacturing-Intelligence-Plattform, die disparate Fertigungsvorgangs- und Qualitätsdaten zusammenführt und in nützliche, verwertbare Informationen verwandelt. Kunden können Probleme schneller und zuverlässiger vorselektieren, priorisieren und beheben. Mit automatisierten Drilldown-Analysen können sie die Ursache von Problemen schneller diagnostizieren und verborgene Gelegenheiten offenlegen, um den Umsatz, die Margen und die Asset-Performance zu steigern.
Wer verwendet GainSeeker Suite?
Für Fertigungsunternehmen mit mehreren Produktionseinrichtungen, die bessere Einblicke in Qualitäts- und Produktionsdaten benötigen, damit sie ihre Margen-, Servicelevel- und Qualitätsziele erreichen können.
GainSeeker Suite – Details
Hertzler Systems
1982 gegründet
GainSeeker Suite – Details
Hertzler Systems
1982 gegründet
GainSeeker Suite – Videos und Bilder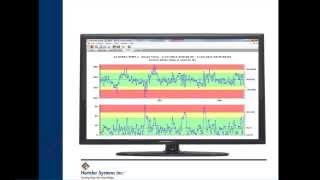 Kosten ähnlicher Produkte wie GainSeeker Suite vergleichen
Startpreis
2.195,00 $/einmalig
N/A
N/A
1.600,00 $/einmalig
GainSeeker Suite – Bereitstellung und Support
Kundenbetreuung
E-Mail/Helpdesk
FAQ/Forum
Telefon-Support
Chat
Einsatz
Cloud, SaaS, webbasiert
Windows (Desktop)
Windows (On-Premise)
Linux (On-Premise)
iPhone (mobil)
iPad (mobil)
Training
Persönlich
Live Online
Webinare
Dokumentation
Funktionen von GainSeeker Suite
API
Aktivitäts-Dashboard
Anpassbare Berichte
Audit Trail
Berichterstattung und Statistik
Compliance Management
Corrective and Preventive Action (CAPA)
Daten-Import / -Export
Dateneingabe
Datenerfassung und Übertragung
Datenmanagement
Datenverknüpfung
Drittanbieter-Integration
Echtzeit-Analytik
Echtzeit-Benachrichtigungen
Echtzeit-Berichterstattung
Echtzeit-Daten
Echtzeitüberwachung
Für Fertigungsunternehmen
Individuelle Anpassung
Job-Management
Leistungskennzahlen
OPC Datensammlung
Produktionsanalyse
Prognose
Qualitätskontrolle
Rückverfolgbarkeit
Sichere Datenspeicherung
Statistische Analyse
Statistische Prozess-Kontrolle
Statusverfolgung
Terminplanung
Trend-Analysen
Verfolgen von Fehlern
Visuelle Analytik
Workflow-Management
Verifizierter Rezensent
Vice President Of Engineering in USA
Verifizierter Nutzer auf LinkedIn
Lebensmittelproduktion, 501-1.000 Mitarbeiter
Verwendete die Software für: Mehr als 2 Jahre
GainSeeker
Kommentare: We use the system for not only what is was developed by it designers to do, but many other areas. We use it to be a tool for data collection info from may areas of our process. It pulls them all together and analyses the data and gives us a statistical representation of all that is happening.
Vorteile:
We were looking at multiple companies for our new program. GainSeeker gave us the most options and allowed us to customize the system to our needs. The other systems wanted us to fit our needs into their predetermined mold.
Nachteile:
At times it was difficult to get across to our service rep what we were looking to do (when it came to customization) but in the end when we detailed it out (defined what we really wanted and needed) they were able to give us exactly what we wanted.
Antwort von Hertzler Systems
vor 3 Jahren
Thank you for your review and feedback on the integration process. We love the challenges customers present us with and teaming with them to come up with solutions that meet their needs.
Trues W.
Continuous Improvement Manager in USA
Lebensmittelproduktion, 201-500 Mitarbeiter
Verwendete die Software für: Mehr als 2 Jahre
In Betracht gezogene Alternativen:
Customizable SPC Powerhouse that drives tactical and strategic improvement
Kommentare: Our experience has been a real partnership. We have worked together on multiple implementation projects across multiple facilities and they have a great grasp of what we do and how we work. They truly partner with us when implementing something new to ensure seamless implementation, training, and deployment. The speed at which we have launched new projects has been a huge asset and is in no small part to their philosophy of partnership.
Vorteile:
GS is completely customizable. It's only limits are what you and your teams limitations on creativity are. It has an easy to use spc suite of tools including OEE, control charts, process capability ratios and indexes, and many others that can be shown for easy interpretation. We use it for all quality metrics, labor assignments, downtime, process improvement logs, and leader standard work. It's versatility, ease of use to drill down, and customizable dashboards are what really set it apart
Nachteile:
Nothing I like least. Looking for the Hertzler team to develop some more data entry tools such as drag and drop. They've been very responsive to requests for improvements/ enhancements for future versions.
Antwort von Hertzler Systems
vor 9 Monaten
Thank you Trues for taking the time to review GainSeeker. We work everyday to maintain the high marks you gave us and look forward to working with your company on future projects.
Molly M.
Quality Manager in USA
Kunststoffe, 1.001-5.000 Mitarbeiter
Verwendete die Software für: 1-5 Monate
Super glitchy
Kommentare: We have had several error messages that popped up shortly after implementation, which frustrated several employees. The dashboard data only takes screengrabs, which makes it difficult to send to the team when we have more information than is on the first part of the box
Vorteile:
Very easy to use on front line
Nachteile:
Glitchy
Antwort von Hertzler Systems
vor 5 Jahren
We appreciate your feedback on the error messages. We'll be in touch to learn more.
Gary R.
Systems Administrator in USA
Verifizierter Nutzer auf LinkedIn
Lebensmittelproduktion, 501-1.000 Mitarbeiter
Verwendete die Software für: Mehr als 2 Jahre
Overall happy with Gainseek as it allows our plant to run efficiently
Kommentare: Overall we are happy with GainSeeker. It allows us to keep a database of all of our standard checks, set the limits of those checks, either positive or negative, and react quickly using our dashboards to problems in realtime. The ability to tap into the backend DB and display stats to the works is a huge help as well. Looking forward to the new features in new releases.
Vorteile:
The software itself is pretty easy to use once setup. It guides you through checks against standards on our manufacturing lines. Users are easily able to do their standard checks with limited interaction from managers. We run an RDP session on a thin client which cuts down the price for machines on the floor, and overall hardware. We use the backend database to show stats to the plant workers to help them be more efficient and more informed of what they are doing line to line and product to product.
Nachteile:
Setup can be a little confusing and not all options are available right out of the box. Once we dialed in it was good. Tracking down an issue with a standard check can be a little cumbersome if you don't know what your looking for. Normally rely on tech support for these issues.
Antwort von Hertzler Systems
vor 3 Jahren
Thank you for the review and using GainSeeker. We greatly appreciate user feedback and the window you provided into how your facility is using the software. As you noted, we have exciting new features slated for future releases in the near future.
Gary S.
IT Technician Quality Sys Analysis and Report in USA
Essen & Trinken, 10.000+ Mitarbeiter
Verwendete die Software für: Mehr als 2 Jahre
SPC and DMS at it best
Kommentare: This is a great SPC and DMS system and can be adopted to just about anything. We are using this system at 14 plant and working on 1 overseas now. I took some time to learn the template language since it can be use on may different platform and languages. Also great for import other application as well to do SPC reporting and analytic . I highly recommend this software to anyone.
Vorteile:
It can be use on just about any different request that I have receive from may different user. So far we have not come across any problem where we could not meet the user request. Also we been able to import data from Excel and MS Access to do statistic on and this also been great as well.
Nachteile:
Like all software it take some time to understand from a developer point of view but it is very user friendly as long as the developer keep the user in mind when doing the template. The biggest issue I had to learn was when to use signal and double quote in the template.
Antwort von Hertzler Systems
vor 5 Jahren
We appreciate the A+ rating on our support, and the breadth and depth of use of GainSeeker Suite at Dart Container.