Was ist Tula?
Tula ist die einzige Software, die speziell für unabhängige Yoga-Studios entwickelt wurde und ist ein leistungsstarkes und dennoch nutzerfreundliches System, mit dem du dein Studio problemlos verwalten kannst.
Verwalte Mitgliedschaften und Zahlungen, verfolge Gutschriften, akzeptiere Registrierungen, erfasse die Anwesenheit, teile deinen Kalender und gib Lernenden Zugriff auf ihr Konto, alles direkt über deine eigene Website.
Wer verwendet Tula?
Tula Software ist eine gute Software für unabhängige Yoga-Studios.
Wo kann Tula bereitgestellt werden?
Cloud, SaaS, webbasiert, iPhone (mobil), iPad (mobil)
Über den Anbieter
Tula Software
2011 gegründet
24/7 Live-Support
Chat
Erhältlich in diesen Ländern
Vereinigte Staaten
Über den Anbieter
Tula Software
2011 gegründet
24/7 Live-Support
Chat
Erhältlich in diesen Ländern
Vereinigte Staaten
Tula – Videos und Bilder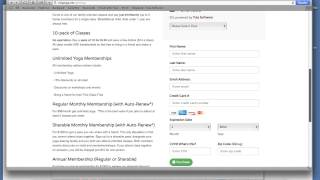 Kosten ähnlicher Produkte wie Tula vergleichen
Tula Funktionen
Klassen-Management
Mitarbeiter-Management
Mitgliedschaft-Management
Online-Zahlungen
Verifizierter Rezensent
Mental Health and Addictions Counselor in USA
Verifizierter Nutzer auf LinkedIn
Psychische Gesundheitsfürsorge, Selbstständig
Verwendete die Software für: 1-5 Monate
Great Yoga Management Software
Vorteile:
This is a great program to get clients registered and do my billing.
Nachteile:
I wish the app was android compatible. This is the only concern I have had.
Gesundheit, Wellness & Fitness, 2-10 Mitarbeiter
Verwendete die Software für: Mehr als 2 Jahre
In Betracht gezogene Alternativen:
Great full featured software
Kommentare: Excellent experience, this is a great tool at a very affordable cost compared to the competition.
Their customer service and follow up is great
Vorteile:
Very flexible and easy to use. Can be used as a simple studio management software or as a CRM system with the ability to do email marketing
Nachteile:
Some features needs to be developed like the ability to have a library of online video. The current capability is not easy to navigate
Leslie
owner/instructor in
Verwendete die Software für: Nicht angeboten
Tula is fabulous. Period.
Kommentare: I have been a Tula customer for about a year and half. I looked at other, bigger management software for my yoga studio, but I liked the accessibility of Tula, and the fact that it was specifically designed for a smallish yoga studio, by the husband of of that studio owner! I found this much more reassuring than software that could be used in a gym, a hair salon, a massage studio...you get my drift. I need something fairly simple and straightforward, and Tula does the job beautifully. These guys are great. I have NEVER waited more than half a day for a response to any query or problem, and usually they get back to me much sooner than that. I have gotten some great business-boosting ideas along the way, like auto renew memberships. Very easy to use. The software overall is user friendly, even to a relative luddite like myself, and easy to train other instructors to use. It has made running the studio so much more efficient, and pleasurable. I can spend less time futzing with admin details and more time doing what I really want to do. Which is teach, greet people, spend time in the community generated by the studio itself. There were a few things that didn't quite align with how I've structured my studio and classes (the biggest being how to navigate around regular weekly classes of differing lengths and times, within a single user's account) but I've always found perfectly adequate work-arounds.
Vivienne
Founder in Amerikanische Jungferninseln
Verwendete die Software für: Nicht angeboten
If Brevity is the soul of wit, TULA is the soul of simplicity.
Kommentare: I have a small, independent yoga studio in the U.S. Virgin Islands. When researching the various studio management SaS options, I found that - for the most part - they were trying to be everything to everyone. I have a simple business; I wanted a simple business solution. And then I found TULA. TULA is a perfect fit for my business - simple, elegant, efficient and effective. The user interface is very intuitive. I have not yet had a head scratching, "Where did they put that?" or "How do I find this?" moment. It covers the basic elements of the things I need managed, grouping them into easily defined categories: People, Passes and Classes. The thing I feel they do best is provide service. Real service offered by real humans generally in real time. Recently I've noticed that their chat with customer service function has (sadly) gone away. I hope it comes back. However, their email tech support is swift, efficient and effective. And PLEASANT! How's THAT for being different? TULA does most things extremely well. In fact, I find it difficult to offer any "cons" to my review. However, when using the calendar, I find it challenging that I can't see the entire current month. The calendar view begins with the current week. If I want to see something from the previous week in the month, I have to hit the back button - which takes me to the previous month. Then I have to hit the forward button to get to the complete current month. Too many clicks, TULA...but I'm sure they have that on their list and will address it in a future release. In summary, I find that TULA is nothing short of brilliant for small, independent studios. It manages the data that is most important to me (the people involved in my business, my offerings and schedule, payments and income tracking). When I need help, I get it - quickly. It is tremendously easy to use - which is good, because not all of my Admins are tech savvy. And it is very affordable. Whatever the "cons" may be, they aren't significant enough to include in this wrap up. Nothing is perfect - but TULA comes close.
Verwendete die Software für: Nicht angeboten
Tula and Asali were meant to be.
Kommentare: When I first opened my studio, Asali Yoga in Harlem NYC, I was a bit skeptical of the value of using any kind of software at all. Why do that when I can use the old fashioned index cards tried and true? Of course as things grew a bit, the knowledge of technology made me realize certain administrative tasks were becoming way too cumbersome and time consuming. However, having experience working the desk at large studios in Manhattan, I wasn't too thrilled at what major software companies were providing for the price. Being a person who is somewhat anti-monopoly and avoids the #*&marts (and like mentality) of the world, I searched for another yoga software company and found this wonderful Tula. I was immediately impressed that the owner himself spared so much of his time on the phone with me. He even got me to thinking about different ways to gain revenue for my studio that I hadn't thought much about due to my limited view of how NYC studios were run. This was months ago and now that very advice is working as well as the tools I need to make it happen. I love the fact that Tula is easy to use, and is always adding cool and useful features to the software. When I have questions, even that one with the answer staring me right in my face on the screen, I always get a respectful response...thanks Kimani...unlike the sarcastic tone some may have been tempted to give for such an obvious answer via the marvelous help/chat feature on the right of the screen LOL. I am delighted at the improvements over the past months and look forward to seeing Tula's continued evolution along with my own Asali Yoga Studio. One last serendipitous thing. The studio Logo is a Bee. The studio has honey themes with honey soaps, beeswax candles etc. honey comb shelving. How lovely is it, that the complimenting logo I see everyday, is a honeycomb/hexagon? Tula and Asali were meant to be. I love Tula and thank you for your integrity and authentic, human work.