Was ist SolidWorks Simulation Premium?
Ein leistungsfähiges Toolset zur Simulation nichtlinearer und dynamischer Reaktionen sowie von Verbundwerkstoffen.
SolidWorks Simulation Premium – Details
SolidWorks
1993 gegründet
SolidWorks Simulation Premium – Details
SolidWorks
1993 gegründet
SolidWorks Simulation Premium – Videos und Bilder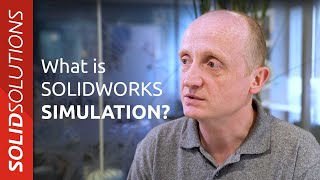 Kosten ähnlicher Produkte wie SolidWorks Simulation Premium vergleichen
Startpreis
N/A
Nicht verfügbar
4.950,00 $/einmalig
Nicht verfügbar
SolidWorks Simulation Premium – Bereitstellung und Support
Einsatz
Cloud, SaaS, webbasiert
Mac (Desktop)
Windows (Desktop)
Training
Persönlich
Live Online
Webinare
Dokumentation
Funktionen von SolidWorks Simulation Premium
3D-Imaging
API
Ad-hoc-Analyse
Agentenbasierte Modellierung
Aktivitäts-Dashboard
Anpassbare Berichte
Berichterstattung / Analyse
Berichterstattung und Statistik
Bewegungs-Modellierung
Branchenspezifische Datenbank
Compliance Management
Datei-Verwaltung
Daten-Import / -Export
Datenvisualisierung
Datenüberprüfung
Design-Analyse
Design-Management
Direkte Manipulation
Diskrete Event-Modellierung
Dokumentenmanagement
Drag-and-Drop
Drittanbieter-Integration
Dynamische Modellierung
Echtzeit-Daten
Echtzeitüberwachung
Grafische Präsentation von Daten
Grafischer Workflow Bearbeiter
Individuelle Anpassung
Inhalt-Bibliothek
Konfigurierbarer Workflow
Kontinuierliche Modellierung
Leistungsmanagement
Mathematische Modellierung
Monte-Carlo-Simulation
Produktdatenmanagement
Prognosen
Projekt-Workflow
Prozesskontrolle
Prädiktive Analytik
Präsentations-Tools
Regelbasierter Workflow
Richtlinien Managemen-
Stochastische Modellierung
Szenarioplanung
Turbulenzmodellierung
Versionskontrolle
Veränderungsmanagement
Visuelle Analytik
Workflow-Management
Zugriffskontrollen / Berechtigungen
Tousif A.
Research Assistant in USA
Verifizierter Nutzer auf LinkedIn
Forschung, 10.000+ Mitarbeiter
Verwendete die Software für: Mehr als 2 Jahre
SolidWorks simulation is quite handy!
Kommentare: It is overall good as long as I do not have to do anything too complicated. It is best for undergraduate projects and industrial applications.
Vorteile:
The bets feature of SolidWorks Simulation is that it is very very easy to use. The graphical interface makes it quite easy to understand what tool does what. Additionally the built in help and tutorials are very good to start learning the simulation process. It has all bells and whistles to do regular industrial simulations. You can apply several different loading on a part and get pretty good results with appropriate mesh.
Nachteile:
The major con of SolidWorks Simulation is that the base software is very resource intensive. Which means even without any simulation running it takes up quite a bit of ram of your PC. As a result, while running simulations with finer mesh a mid-tier PC often runs out of memory. Another con is that SolidWorks Simulation is not so good for research problems. It cannot handle custom element codes for advance simulation techniques such as Phase Field Modeling.
Abhishek S.
Senior Robotics Engineer in USA
Maschinenbau oder Wirtschaftsingenieurwesen, 11-50 Mitarbeiter
Verwendete die Software für: Mehr als 2 Jahre
Easy to Use - Increased Productivity
Vorteile:
The User Interface of Solidworks makes it easier to use in an efficient way that results in increased productivity. I use task scheduler to schedule the drawing generation task this helps to export drawings in various formats which otherwise is a labors task. Predefined templates and equations in Solidworks have saved my time when it comes to changing the configuration or revision of the product.
Nachteile:
Solidworks consume a good amount of memory when loading larger machine assemblies which cause it to crash or work slow.
Sushil D.
Advanced Lead Engineer in USA
Elektrische/elektronische Fertigung, 201-500 Mitarbeiter
Verwendete die Software für: Mehr als 2 Jahre
Basically all simulation tools are garbage in- garbage out unless you fully understood the problem
Kommentare: I am using this tool for research purpose as well as solving the daily problems
Vorteile:
It is embedded with CAD so it is relatively easier to use. If you understand the theory of the problem you want to solve : the results that you get from SolidWorks simulation tools are as equivalent to other tools like NASTRAN, ANSYS etc. I am the advanced lead engineer at GE transportation and use this tools for vibration analysis, fatigue analysis and static analysis. I solved the real vibration problem using this tool. I am the expert in the vibration analysis theory so for me using SolidWorks is easier, less time consuming than other software like ANSYS, ABAQUS and NASTRAN. I have used ANSYS and NASTRAN in the past but I like SolidWorks Simulation most because you can easily edit the geometry in SolidWorks. Basically the only weak part of SolidWorks Simulation is mesh optimization , it doesn't have that much as it just use tetrahedral element for solid meshing but you need to be aware that mesh optimization is not only the thing through which you get the results what you want. You need to fully understand the problem and only use the simulation as a solver. For example you need to the literature survey and define the problem and data related to the problem first.
Nachteile:
I think SolidWorks has less strength in fatigue analysis. It has only the stress life approach and it will calculate the fatigue life based on the entered SN Curve. The other problem is: it has just a 5000 data point limit. You cannot enter more than 5000 data input curve for any analysis . It might be the huge problem. For example, if you have a signal of 5 sec time series and the signal is sampled at 1khz , you cannot enter more than 0.5sec time series that might be the issue for analyst . It would be great if they increase the input data limit and especially if they work more in the contact issue in the linear dynamic analysis. They should introduce bolt connector , no penetration/penetration contact , interference fit contact , sliding contact in the dynamic analysis . These contacts are really creating the inferiority of the software as compared to other tools like ANSYS and ABAQUS. The other thing I don't like about this software is they don't have frequency response function tool. If you want to correlate your experimental data with the simulation tool you need to have a frequency response function as FRF is the first measured quantity from the experiment. Try not to be confuse FRF with harmonic response analysis . FRF is ratio of output to input in frequency domain whereas harmonic analysis in SolidWorks is just the maximum amplitude response at the excitation frequencies range.
Sakith S.
Mechanical Engineering Undergraduate in Sri Lanka
Verifizierter Nutzer auf LinkedIn
Maschinenbau oder Wirtschaftsingenieurwesen, 5.001-10.000 Mitarbeiter
Verwendete die Software für: Mehr als 2 Jahre
Advantage of using SolidWorks Simulation Premium
Kommentare: When i doing my projects this is one of most important software for me. As a mechanical engineering undergraduate i have design many prototypes and i had to analyse those project. This real time simulation is very useful for success my projects.
Vorteile:
Real time simulation UserFriendly Stress analysis Vibration analysis
Nachteile:
This is one of best software that i had during my university studies. I did not have any issues when i using this.
Kevin S.
Senior Project Engineer in USA
Verifizierter Nutzer auf LinkedIn
Luft- & Raumfahrt, 51-200 Mitarbeiter
Verwendete die Software für: Mehr als 2 Jahre
Great analysis tool
Kommentare: We use the simulation add-in to solve problems in designing turbo-machinery. It is an effective tool to solve natural frequency resonance, structural, flow, and thermal problems in our machine designs.
Vorteile:
One stop shop for modeling and analysis. Very intuitive and quick to learn.
Nachteile:
Older versions had limited meshing capability. This has gotten better, but still could be improved.