Was ist Brightspace?
Mit Brightspace kannst du inspirierende und engagierte Lernangebote für alle schaffen – vom Kindergarten bis zu Hochschulen und globalen Unternehmen. Die leistungsstarke und flexible Lernmanagementplattform trägt zu besseren Lernergebnissen bei, indem jedem Lernenden ein hochgradig personalisiertes digitales Erlebnis geboten wird.
Wer verwendet Brightspace?
Brightspace wird von Lernenden in der Hochschulbildung (K12) und im Unternehmenssektor, einschließlich Fortune-1.000-Unternehmen, eingesetzt.
Wo kann Brightspace bereitgestellt werden?
Cloud, SaaS, webbasiert, Windows (On-Premise), Linux (On-Premise), Android (mobil), iPhone (mobil), iPad (mobil)
Über den Anbieter
D2L
Ansässig in Kitchener, Kanada
1999 gegründet
24/7 Live-Support
Chat
Sprachen
Englisch, Portugiesisch, Spanisch
Über den Anbieter
D2L
Ansässig in Kitchener, Kanada
1999 gegründet
24/7 Live-Support
Chat
Sprachen
Englisch, Portugiesisch, Spanisch
Brightspace – Videos und Bilder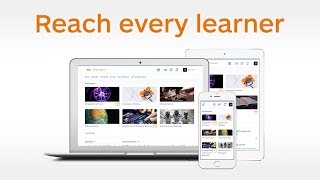 Kosten ähnlicher Produkte wie Brightspace vergleichen
Brightspace Funktionen
API
Ablaufplan
Aktivitäts-Dashboard
Asynchrones Lernen
Aufgabenmanagement
Berichterstattung / Analyse
Beurteilung-Management
Bildschirm teilen
Drittanbieter-Integration
Echtzeit-Übertragung
Elternportal
Fortschrittsverfolgung
Gamification
Gemischtes Lernen
Höhere Bildung
Inhalt-Bibliothek
Integrierter Autorensystem-Kurs
Klassenbücher
Kommunikationsmanagement
Kurs-Tracking
Kurs-Veröffentlichungen
Kursverwaltung
Lernmanagement
Lernpfade/-verläufe
Medienimport
Mobiles Lernen
Portal für Lernende
SCORM-Compliance
Soziales Lernen
Studenten-Management
Studenteninformationen/-dokumente
Studentenportal
Stundenplan-Management
Synchrones Lernen
Tests/Bewertungen
Trainingsverwaltung
Virtueller Klassenraum
Zertifizierung und Lizenzierung
Alternativen für Brightspace
Bewertungen über Brightspace
Cody
Manager
Verifizierter Nutzer auf LinkedIn
Einzelhandel, 2-10 Mitarbeiter
Verwendete die Software für: Mehr als 2 Jahre
Great Learning
Untertitel auf Deutsch sind im Videoplayer verfügbar
Mavares
Docente Universitario in Kolumbien
Verifizierter Nutzer auf LinkedIn
Verwendete die Software für: Mehr als 1 Jahr
Redefining the learning
Kommentare: Create pleasant spaces for interaction among the participants.
Vorteile:
Technological advances in modern platforms seek, in one way or another, to redefine the concept of human learning. That is why platforms like Brightspace seek not only to manage all the most important aspects of educational management, ranging from the earliest ages to the most advanced students of high school, changing with them and adapting to their cognitive and emotional needs, accompanying them, but without imposing rhythms. And this is possible because Brightspace seeks to personalize learning, focusing them, in a very short time, effectively and in a very simple way. The versatility of the platform makes it absolutely compatible with the wide range of smart devices. The process of teaching is not limited to the simple act of speaking or explaining in the classroom, this process must be thought, planned, developed, executed and, more importantly, evaluated. Brightspace all those tasks, using their useful tools. As a direct consequence, we can observe a significant improvement in classroom work, which will be noticed, due to the amount of activities that users will begin to share, which will involve parents and tutors, who will be able to manage feedback processes in real time. with personal messages.
Nachteile:
Platforms such as Brightspace must have control or ability to configure pop-up windows, as well as other tools that must adapt to the changing requirements of users. The platform must be more managed so that it can reach more places and be more recommended.
E-Learning, 201-500 Mitarbeiter
Verwendete die Software für: Mehr als 2 Jahre
Brightspace
Kommentare: It was a competent platform which allowed me to do the things I need to teach the course. I would have liked a longer transition period to adjust from the previous platform.
Vorteile:
It is a pretty standard educational online platform for E-Learning. Was able to pick up how to use Brightspace in a short learning curve.
Nachteile:
School switched to Brightspace without any real transition from previous platform. This made it a bit difficult for faculty and students to transition to this new platform.
Ella
Full-time student in Kanada
Grundschul- & Sekundarbildung, 10.000+ Mitarbeiter
Verwendete die Software für: Mehr als 2 Jahre
Great learning source if teachers know how
Kommentare: It makes learning accessible to all with its compatibility, mobility, and clear navigation for first time users. Their resources provide great service and always fix the problem when one occurs.
Vorteile:
Brightspace is flawless. It makes seeing your grades, assignments, class resources, discussion forums, and online lectures accessible from anywhere. It is compatible with every device (laptop, desktop, phones). Brightspace help services are clearly stated and always available. Great customer service skills as well.
Nachteile:
Brightspace is not the easiest when teachers do not know how to properly use it. A simple video how to guide for each feature would enhance all aspects of Brightspace.
Rachel
Graduate Student in USA
Hochschulbildung, 10.000+ Mitarbeiter
Verwendete die Software für: 6-12 Monate
In Betracht gezogene Alternativen:
Suitable but not great
Kommentare: Brightspace allows completion of basic tasks for learner management and grade dissemination. However, it is frustrating to use and has more case-by-case / glitching problems that other learning management softwares I have used. It allows me to get the job done, and I suppose I will get used to it eventually, but it is certainly not ideal.
Vorteile:
Brightspace makes it easy to contact students in a class. I like the 'classlist' feature that lists all the students in a class and their university-related contact email. This simplifies either bulk-emailing students (as an instructor) and finding students to study with (as a student). It is also a secure site to centrally access all the information necessary for all my courses.
Nachteile:
Brightspace provides multiple places to find the same things. This is confusing, especially when some assignments are loaded in a given course module but not in the 'Assignments' tab, or vice versa. There are multiple levels of redundancy that are not kept consistent throughout the interface, so it is often confusing to locate materials. Brightspace is also slow to load. Often, when moving between tabs when I am creating a quiz for the students I teach or grading material, the browser loads for 30-45 seconds before transitioning pages. This is frustrating. After a class is officially 'over', the course pages are greyed out and prevent access (even when a school has not officially ended yet). This happens immediately after the final in a class, which prevents students from going in to do final grade calculations or download any materials. This is frustrating. Brightspace has had many issues with plugins, such as Kaltura Media Gallery, which disable access or have perpetual loading or glitching. This leaves the software as unreliable.
Medizinische Praxis, 10.000+ Mitarbeiter
Verwendete die Software für: 6-12 Monate
One of the Best Softwares to Use as a Student
Vorteile:
What I liked most was the simple and effective organization. It was a software that was definitely created in mind to set students up to succeed. Firstly, the way the Chapters, sections, topics, and individual assignments were organized on the side was something that was consistent for each of the subjects I was studying. Then on the top bar, you were able to click on pages that would essentially "filter" the types of class material. You could see all the assessments in one place, all the assignments in one place, and your grades. On top of that, every single thing was linked back to the corresponding item. For example, if you couldn't recall what "assignment 2" was when looking at it in the gradebook, you were able to click it and redirect it to the original post. There was also notifications for when assignments were open and reminders for when exams and homework was due. As someone who has used canvas, blackboard, google classrooms, and a few other softwares for school, these functions were not common. There were also times where it would be extremely hard and confusing to navigate. However I never ran into that issue with D2L.
Nachteile:
It is hard to find any qualms about D2L Brightspace, there is nothing negative I've noticed the entire time I have been using the software.