Was ist VideoPad?
Ein voll funktionsfähiges Video-Bearbeitungs-Programm, um professionell aussehende Videos minutenschnell zu erstellen. Noch nie war Filme machen einfacher.
Wer verwendet VideoPad?
Jeder, der einem Video-Editor benötigt, sei es ein Kind, eine einzelne Person, ein Unternehmen, ein Geschäft, ein Video-Produzent oder ein Videoproduktions-Unternehmen. VideoPad entspricht den Bedürfnissen aller Nutzer, von Anfängern bis hin zu Profis
Wo kann VideoPad bereitgestellt werden?
Mac (Desktop), Windows (Desktop), Android (mobil), iPhone (mobil), iPad (mobil)
Über den Anbieter
NCH Software
Ansässig in Greenwood Village, USA
1993 gegründet
Über den Anbieter
NCH Software
Ansässig in Greenwood Village, USA
1993 gegründet
VideoPad – Videos und Bilder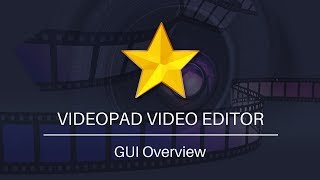 Kosten ähnlicher Produkte wie VideoPad vergleichen
VideoPad Funktionen
Drag-and-Drop
Medienbibliothek
Teilen in sozialen Medien
Texteinblendung
Video-Erfassung
Videobearbeitung
Videoerstellung
Vorlagen
Alternativen für VideoPad
Bewertungen über VideoPad
Elena
Teacher in Bulgarien
Verifizierter Nutzer auf LinkedIn
E-Learning, Selbstständig
Verwendete die Software für: Kostenlose Testversion
Home studio with VideoPad
Kommentare: It is a video editor functioning across multiple platforms and used for creating high-quality videos. The software is appropriate for both start-ups and experienced users in the field. It will facilitate you through the entire process- from selecting files to exporting your videos. You might use different formats (.3GP, AVI, WMV), or the most popular one- MP4. You may edit the files on your PC, YouTube channel, Vimeo, or choose another location, such as Dropbox, Google Drive, and OneDrive. Also, you can create DVDs and 3D video files or adapt the clips to a specific phone/tablet.
Vorteile:
The interface is intuitive. All the main tools are at the top of the screen, grouped in 7 tabs with large icons. The starting point is the Media Library, where you drag your files (Video/Audio/Images). You can record a video, audio, narration, voiceover; then add visual or sound effects, soundtracks, texts and subtitles. The Suite tab provides various options (graphic animation, image slide show, file conversion). You might even compose your own music to the video (the Crescendo icon). The most impactful feature is the timeline where video and audio tracks snap together. After dragging the file from the Media Bin, they appear on it automatically, and you can work on them with ease.
Nachteile:
It might require time to explore all the features of the product. Putting it into practice will be easier for users having experience with making videos or prior knowledge in acoustics to process the audios. Otherwise, you can use the Quick Start Guide and Video Tutorials to get familiar with the software functionality. They are free and workable; only the phone support is paid.
JAZE
Systems Administrator in Südafrika
Verifizierter Nutzer auf LinkedIn
Architektur & Planung, 2-10 Mitarbeiter
Verwendete die Software für: 1-5 Monate
In Betracht gezogene Alternativen:
VideoPad Breakdown
Kommentare: I can make quick music videos with it. My niece has been nagging me to show her how to get into video editing for her YouTube channel and she feels as though this is the software that she is most comfortable with.
Vorteile:
I can edit videos in 3D which brings a new dynamic to your project if you're not used to that. I also found the video stabilization function to be of utmost importance and I'm sure a lot of you aspiring video editors out there will feel the same way too.
Nachteile:
The green screen effect was not as easy to find as I would have wanted it to be. As a matter of fact, I didn't even know the software was capable of that until I stumbled upon it while randomly pressing buttons. So all in all I would like for that feature to be made obvious and easier to set up.
Sarah nabih
lecturer in Ägypten
Bildungsmanagement, 501-1.000 Mitarbeiter
Verwendete die Software für: Mehr als 2 Jahre
My own experience with creating my you-tube content through videopad.
Kommentare: Overall, I had a very positive experience about using the software, I would choose it any day I need to do anything related to video editing (in specific) in a quick easy especially on a laptop / computer with limited capabilities (as it is a light one).
Vorteile:
There are many pros for this software, but based on my personal experience, I believe the most important part that needs to be highlighted and celebrated is that the software is completely a light one on your computers in comparison to other software ( It runs smoothly and easily). The rendering process happens easily and quickly, without burning out rams or block using of other software at the same time.
Nachteile:
If there is something that needs improvement, is maybe making the interface more user friendly, less complicated as sometimes I consume time searching for the things I need to do , that's why I prefer using it in video editing more than video creation.
Verifizierter Rezensent
Founder in Kanada
Verifizierter Nutzer auf LinkedIn
Marketing & Werbung, 2-10 Mitarbeiter
Verwendete die Software für: 6-12 Monate
Can't Recommend. Read the Fine Print. It is *really* a 6 mos subscription.
Kommentare: We were able to quickly catch on but discovered the quality of videos we produced were very low quality.
Vorteile:
Was able to learn quickly and sort out features.
Nachteile:
Purchase is valid and updated for 6 mos. After 6 mos, updates will be applied and your "license" code will be invalid. You can re-install your purchase version IF you kept your original download. License codes are not transferable between multiple computers that you own or if you get a new computer. Videos recorded at 5000kbps lose 90% of their bitrate upon exporting.
Antwort von NCH Software
vor 2 Jahren
Hi, For this issue: "Videos recorded at 5000kbps lose 90% of their bitrate upon exporting." It would be best answered by our technical support team. Please contact them here - - https://www.nch.com.au/support.html Sorry for the inconvenience.
Verifizierter Rezensent
Aid Worker in Malawi
Verifizierter Nutzer auf LinkedIn
Non-Profit-Organisation Management, 201-500 Mitarbeiter
Verwendete die Software für: Mehr als 1 Jahr
Endless possibilities in a simple tool
Kommentare: I cannot get enough of this simple and inexpensive tool. I will keep recommending it even when asleep.
Vorteile:
There is a lot good to say about VideoPad. I cannot count how many times I have recommended it for various reasons. It is simple, intuitive, easy to instal and not PC resource hungry. I could write endlessly about its UI, Effects, integration with NCH suite softwares such as WavePad, MixPad and so on. However, my most used feature has been SUBTITLES. VideoPad makes importing, editing and exporting subtitles very easy. It supports the SSA, SRT and VVT files. I have always been able to create new subtitles for translation purposes very easily. The subtitles can be adjusted for specific durations, background and text fonts. Each subtitle can be edited and one can playback and check how they appear till happy with the result.
Nachteile:
The subtitles auto generate is wanting. It often generates a lot of errors which are not worth spending time to correct and it is better to just create a new file from scratch. I think the problem is the Microsoft speech recognizer. May be if VideoPad would allow another speech engine like google things would be better.