Was ist M-Files?
M-Files bietet eine intelligente Content-Management-Plattform der nächsten Generation, die die Unternehmensleistung verbessert, indem sie Mitarbeiter dabei unterstützt, Informationen effizienter zu finden und zu nutzen. Verbessere den Workflow, erhöhe die Wiederverwendung von Informationen, beseitige Redundanz, kontrolliere Inhalte sicher und vermeide Konflikte und Datenverluste mit einer einzigen, intuitiven Content-Management-Lösung, die in Windows Explorer integriert werden kann. Tausende von Unternehmen in über 100 Ländern verwenden M-Files zur Verwaltung ihrer Geschäftsdatenanforderungen.
Wer verwendet M-Files?
M-Files eignet sich als Lösung für kleine und mittlere Unternehmen, die stark auf papierbasierte Prozesse angewiesen sind. M-Files bietet Unternehmen in stark regulierten Branchen einen hohen Nutzen.
Wo kann M-Files bereitgestellt werden?
Cloud, SaaS, webbasiert, Windows (Desktop), Windows (On-Premise), Android (mobil), iPhone (mobil), iPad (mobil)
Über den Anbieter
M-Files
Ansässig in Plano, USA
1989 gegründet
Telefon-Support
Erhältlich in diesen Ländern
Antigua und Barbuda, Australien, Bahamas, Bangladesch, Barbados und 53 weitere
Über den Anbieter
M-Files
Ansässig in Plano, USA
1989 gegründet
Telefon-Support
Erhältlich in diesen Ländern
Antigua und Barbuda, Australien, Bahamas, Bangladesch, Barbados und 53 weitere
M-Files – Videos und Bilder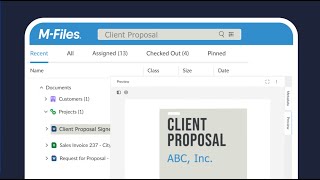 Kosten ähnlicher Produkte wie M-Files vergleichen
M-Files Funktionen
Anpassbare Vorlagen
Archivierung & Aufbewahrung
Audit Trail
Compliance-Verfolgung
Dateikonvertierung
Document Capture
Dokumentenklassifizierung
Dokumentenmanagement
Dokumentenspeicher
Echtzeit-Synchronisierung
Elektronische Unterschrift
Filesharing
Optische Zeichenerkennung (OCR)
Suchen / filtern
Verschlüsselung
Versionskontrolle
Volltextsuche
Werkzeuge zur Zusammenarbeit
Workflow-Management
Zugriffskontrollen / Berechtigungen
Joe
Engineer
Verifizierter Nutzer auf LinkedIn
Fluggesellschaften/Luftfahrt, 10.000+ Mitarbeiter
Verwendete die Software für: Mehr als 2 Jahre
Daily User
Untertitel auf Deutsch sind im Videoplayer verfügbar
Clarwin
IT Services Manager in Philippinen
Verifizierter Nutzer auf LinkedIn
Verwendete die Software für: Mehr als 2 Jahre
Go-to application for any Digitization Project
Kommentare: M-files is a must for any company seeking to implement digital transformation initiatives in their company. I love best is its extensive feature set and seamless integration with Microsoft products (e.g., office, IIS server, MS SQL, Windows, etc.) The workflow feature is easy to customize, setup, and implement. It will change the way you deal with paper documents once you experience how easy it is to digitize, and manage your documents. The OCR functionality is a beast! Just like having Google on your local repository, reading through the very contents of your digital documents.
Vorteile:
The thing I like the most is the seamless integration with Microsoft products. This made it easy for implementing the use of M-files into our office workflow (it works well from within Outlook, Microsoft Office, even Windows Explorer). The creation of a Workflow is made very easy via a graphical workflow editor. Just a little learning curve and we are able to setup the different manual processes into a solid digital workflow for the office (e.g., filing for leave, routing of papers for approval, storing scanned copies of contracts and any kind of document in the office).
Nachteile:
When implementing on a large scale (e.g., company-wide) we really had to sit down and plan out our licensing arrangement. Note that M-Files comes in a variety of licensing options (e.g., read-only, named user, concurrent user). Some offices can possibly share licenses (but number of active sessions will be limited). Planning out the best license option is quite a task since we were woking on a limited buget and we had to optimize the value-for-money setup we can have. It can also be a bit overwhelming for new users. We had a bit of difficulty in the deployment since we had to train all the users (who found it not so intuitive at first). But then, after the training, it has then been integrated well for our daily use.
Chris
Systems Analyst in Kanada
Bau, 51-200 Mitarbeiter
Verwendete die Software für: 1-5 Monate
In Betracht gezogene Alternativen:
ISO Optimized DMS Software
Vorteile:
With our company looking to become ISO certified, we knew that a proper DMS/QMS system would be required within our company. After multiple meetings, we decided on M-Files as it provided the easiest integration into our current system, and increased our security control for all documents within our company. We now have the ability to control change management, document approval process, SOP reviews, etc. efficiently and effectively
Nachteile:
It can be confusing at first with having to 'check out' a document from M-Files to review and/or edit. Once complete, you check it back in which will change the version number of the file. Once figured out, all of our documents are now properly maintained.
Computer-Software, 11-50 Mitarbeiter
Verwendete die Software für: Mehr als 2 Jahre
M-files a Feature Product
Kommentare: I launched M-files in Pakistan and made marketing from Scratch. I made more than 100 POCs and about Dozen of Implementations. The experience shows at the end user is very happy with m-files.
Vorteile:
Rich in Features, more flexible, more Connections with other Solutions, Metadata based Permission
Nachteile:
Like adding Tables, images in Text Box, Need more expertise in using Configuration, compliance kit.
Verifizierter Rezensent
Software Developer in Deutschland
Verifizierter Nutzer auf LinkedIn
Sicherheit & Untersuchungen, 201-500 Mitarbeiter
Verwendete die Software für: Mehr als 2 Jahre
Quelle: GetApp
Expensive, bad documentation, no debugging capability and bad support from the vendor
Kommentare: We are a german company that uses M-Files for some years. I'm the poor guy that has to configure the backend/server side.
The basic functions are easy to setup, once installed, the server and client side runs well. The basic idea is easy to understand, documents belongs to classes ans has class-specific metadata attributes like "telephone number". Attributes can be linked to other objects... fine!
What makes me sleepless nights is, that if the implementation of a little bit more complex things like right structures, workflows with many steps e.g., you're totally lost with M-Files.
There are some different documentation pdfs, describing just the basic functionality - WITHOUT CLEAR EXAMPLES.
There's the possibility to submit tickets (if you have a support contract). This tickets are answered after some days by (asian?) supporters. There's a lot of mail-overhead just to desribe the problem. In most cases the supporters does not respond to the concrete problem. The do'n offer, for example, a short teamviewer session to solve the problem on the customers system. That's can not be calles good support!
M-Files provides the possibility to write own (visual basic) code, triggered by event handlers. This code can be written to a empty white editor (without any debug possibilities, or any kind of help to the programmer) on the server side. Notepad.exe provides more features! No Breapoints, no debug log output, the only way to debug own code is to rise exceptions that blows the script. That is 1983, not 2017! The API functions are not nice encapsulated, it's a nightmare to wirte own code...but required often - to customize and build workarounds for missing functionality.
Logging in general...not nice. There's a "event log" on the server side. Some basic events are logged here, for example login, logout, document checkout... But it's not very detailed! If somethin went wrong, it's not written there. Maaan!
The user frontend (windows client) looks nice and works well. The server side looks also nice on the first view, but many "nice" features are not implemented. Lists of 300+ Users... no search field, no possibility to select 5 people and delete them, you have to do tis one by one... I hope this (view from the administration part) gives you a small impression of the daily work. M-Files seems to spend a lot of money in marketing an nice small videos to bring the CEO to buy the product, but where are the videos describing the rights structure from the technical side? Nope!
Vorteile:
- Usefull user interface on the client side - Good basic structure
Nachteile:
- Expensive - Very bad support - Bad documentation - No usefull examples - Not self-explaining to the adminsitrator
David
IT Project Manager in Philippinen
Verifizierter Nutzer auf LinkedIn
Vermögensverwaltung, 501-1.000 Mitarbeiter
Verwendete die Software für: Mehr als 1 Jahr
One Place for All Document Types
Kommentare: M-files was a great tool to create one common space for us to store, share, and retrieve documents and digital assets online. Workflow are next, but we're still securing more funding given the new pricing model.
Vorteile:
Our office being limited with space has decided to keep tidy and lean by going digital. We tried M-files because it has good reviews, good recommendations from industry partners, and it has been receiving awards as well. So far, so good. After manual scanning, we upload our files into the M-files vault and everything is securely stored and easily accessible in one place. Searching for the file you need is easy because M-Files makes searching via metadata, and also not by location logic, but by what the document you're looking for is. Workflows is another reason we took M-Files in. We played around with it and it really is easy to create workflows via the graphical logic setup screen. Even the non-technical staff understands how the design works because it is pretty intuitive and straight-forward.
Nachteile:
M-Files has changed its delivery and pricing model. We have a perpetual license for 2018, but it turns out we need to upgrade into the subscription model for M-Files 2019 in order to continue receiving the updates, upgrades, and customer support. Since we have not yet upgraded, we are put on hold in terms of implementing our digital workflows. Now we're just waiting for the next budget season and release to upgrade.
Antwort von M-Files
vor 3 Jahren
Hi David, Thank you for sharing about your experiences using M-Files with others on Capterra. It is rewarding to hear that M-Files has helped your business with its digital transformation and that you are realizing improvements in the way that your staff store, share, and retrieve documents and digital assets online. I am confident that when you are ready to upgrade to M-Files Online that your company will see the value in having immediate access to product improvements and new capabilities. Please feel free to reach out or visit our customer portal should you have any questions or if we can be of assistance to you.