Was ist Informer?
Informer 5 ist eine robuste, erweiterbare Datenermittlungs- und Analyseplattform, die den Zugriff, die Bereinigung, das Mischen und die Analyse von On-Premises und Cloud-Daten vereinfacht. Aggregiere unterschiedliche Daten mithilfe einer einzelnen webbasierten Plattform, um einen zusammenhängenden Datenhub für die Self-Service-Datenanalyse zu erstellen. Erforsche, visualisiere und analysiere relevante Daten im laufenden Betrieb. Berichte sicher veröffentlichen und mit Kollegen zusammenarbeiten. Generiere Dashboards, die wichtige Leistungsmetriken konsolidieren.
Wer verwendet Informer?
Auf Grund der erweiterbaren BI-Architektur von Informers, der intuitiven Benutzeroberfläche, der kollaborativen Umgebung und Enterprise-Level-Performance bist du nur Minuten von umsetzbaren Insights und datengesteuerten Entscheidungen entfernt.
Wo kann Informer bereitgestellt werden?
Cloud, SaaS, webbasiert, Mac (Desktop), Windows (Desktop)
Über den Anbieter
Entrinsik
Ansässig in Raleigh, USA
1984 gegründet
Telefon-Support
Chat
Erhältlich in diesen Ländern
Vereinigte Staaten
Über den Anbieter
Entrinsik
Ansässig in Raleigh, USA
1984 gegründet
Telefon-Support
Chat
Erhältlich in diesen Ländern
Vereinigte Staaten
Informer – Videos und Bilder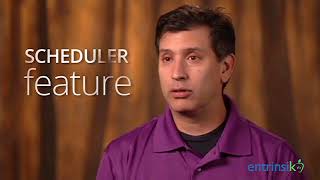 Kosten ähnlicher Produkte wie Informer vergleichen
Informer Funktionen
API
Ad-hoc-Anfrage
Ad-hoc-Berichterstattung
Aktivitäts-Dashboard
Anpassbares Dashboard
Berichterstattung / Analyse
Berichterstattung und Statistik
Dashboard
Dashboard-Erstellung
Data Mapping
Daten-Connectors
Daten-Import / -Export
Datenerfassung und Übertragung
Datenvisualisierung
Drag-and-Drop
Echtzeit-Daten
Funktionen / Berechnungen
Geplante / automatisierte Berichte
KPI-Überwachung
Leistungskennzahlen
Prognose
Strategische Planung
Suchen / filtern
Trend-Analysen
Visuelle Analytik
Visuelle Entdeckung
Wichtige Leistungsindikatoren (KPI)
Widgets
Alternativen für Informer
Bewertungen über Informer
Kevin F.
IT Support Specialist in USA
Verifizierter Nutzer auf LinkedIn
Druck, 11-50 Mitarbeiter
Verwendete die Software für: 6-12 Monate
Informer Review
Kommentare: My overall experience with Informer has been great! There are a few tweaks that I feel need to be made and periodic glitching but other than that everything has gone smoothly. When teaching my end users how to navigate and use the product everything is very self explanatory and I hear nothing but amazing comments and compliments about Informer once they get the hang of it. I would highly recommend Informer to other universities and organizations that would benefit from using it.
Vorteile:
-User friendly -Allows data to be easily manipulated to create a report that shows exactly what you are looking for. -The ability to assign Users to Teams and set permissions/access for those users so that they can or can not edit or view other Teams Datasets. -Useful tools and features that allow you to alter the formatting of the data. -Easily being able to create a Job and schedule them to run on specific days and times. -Being able to use Datasources to view the fields within each mapping as well as being able to hide those fields that you do not want end users to use. -Creating custom expressions for those fields that you need within a specific mapping. -Amazing visually and gives you a great end result.
Nachteile:
-Can be glitchy at times (ex: When editing a Dataset and organizing the columns the way you want them it tends to undo the organization when you go back into the Dataset to edit it). -Not being able to share a Dataset with a specific user. -Even as an Admin/Super User I find that I need to change the ownership of a Dataset owned by another user in order to edit the Dataset. Without changing the ownership of the Dataset over to myself I am still able to edit the Dataset but they tend to glitch and will either not show data within the field I am adding for them or the query will fail to run. However, when I change the ownership of the Dataset to myself and make the same changes it works perfectly. -In Datasources it would be nice to have a column within the mappings that shows a description of the fields that end users are choosing so that there is less confusion.
Jennifer
Senior Programmer Analyst in USA
Hochschulbildung, 1.001-5.000 Mitarbeiter
Verwendete die Software für: Mehr als 2 Jahre
Powerful Tool for Database Reporting
Kommentare: Overall I really have no complaints. The customer service is extremely responsive and the software itself is constantly be improved and enhanced. We've used Informer for over 10 years and the product of today is far superior to what we started with. Also, the support team really listens to user feedback and tries to incorporate as many suggestions as possible into new releases.
Vorteile:
I like the fact that Informer is able to connect to various databases which makes reporting seamless to the end user. We are currently using it for unidata, SQL and mySQL. Being able to create reports that pull from one or even all 3 databases simultaneously using a web interface has really allowed us to put the power of reporting into the hands of our users and reduced the reliance on IT to create custom reports using Colleague, or another web interface.
Nachteile:
The online documentation is not as extensive as many other products. There is a help center, but it seems as though most clients prefer to email support to have questions answered rather than post it to an online forum. I think the biggest improvement that could be made is really building up the forums to make it easier to share resources and get answers to more simple questions.
Arlo
Director Of Business Intelligence and Audience Services in Kanada
Verifizierter Nutzer auf LinkedIn
Verlagswesen, 51-200 Mitarbeiter
Verwendete die Software für: Mehr als 2 Jahre
Great BI tool at an affordable price
Kommentare: We have had some difficulties setting up Informer 5, but the support has been very good, both knowledgeable and timely.
Vorteile:
I like that it's an affordable tool for a smaller company. It is intuitive to set up reports and dashboards and being able to report across multiple data sources is key.
Nachteile:
There are features in Informer 4 that I need (comma-separated filters), so until that exists I have to use both Informer 4 and Informer 5. It would be better to be able to just use 5 for everything.
Iqbal
Data Support Specialist in USA
Hochschulbildung, 1.001-5.000 Mitarbeiter
Verwendete die Software für: Mehr als 2 Jahre
In Betracht gezogene Alternativen:
Easy to Use and User Friendly
Kommentare: Excellent for Dashboards and reporting
Vorteile:
ease of use and user friendly best for price/performance ratio
Nachteile:
Intergration with other business process is easy to handle
Matthew
Senior Engineer in USA
Informationstechnologie & -dienste, Selbstständig
Verwendete die Software für: Mehr als 2 Jahre
Consume data from many sources, compile for detail and aggregate reports
Kommentare: Excellent. Informer delivers the powerful, complicated reporting our data-hungry team needs. Our data is spread between several connected yet disparate systems, with different systems being in charge of different types of information (e-commerce is here, ERP is there, customer Source of Truth is SFDC) and Informer consumes and unifies it all in one application.
Vorteile:
Our team is pulling data from 4x Postgres databases, Salesforce.com and a few legacy-export CSV files. The reports we create are complicated can contain as many of the above-mentioned sources as we need. If you like the flexibility of SQL and custom code, you can do that. If you want point-and-click, you may lose some of the most advanced function but can probably still get yourself some great charting.
Nachteile:
You're going to need a few power users that are comfortable with basic Javascript or SQL to take full advantage of the software. Powerscripts and complex, multi-step build jobs are powerful but somewhat cumbersome, but they do deliver the flexibility to manipulate a report in so many ways.