Was ist CaseFox?
CaseFox bietet eine cloudbasierte, einfach zu bedienende Multi-User-Software, die für Anwälte, CPAs und andere Fachleute mit Praxismanagement, Abrechnung, Rechnungsstellung, Treuhandverwaltung, Falldokumentenmanagement, Kundenverwaltung, abrechenbarer Zeit, Ausgaben, Zahlungen und viel mehr konzipiert ist.
Wer verwendet CaseFox?
Für mittelständische bis mittelgroße Rechts-, Beratungs- und Wirtschaftsprüfungsgesellschaften, Ermittler, Psychiater, Beratungsfirmen und andere Fachleute, die ihre Zeit abrechnen.
Wo kann CaseFox bereitgestellt werden?
Cloud, SaaS, webbasiert, Android (mobil), iPhone (mobil), iPad (mobil)
Über den Anbieter
CaseFox
2010 gegründet
Telefon-Support
Chat
Über den Anbieter
CaseFox
2010 gegründet
Telefon-Support
Chat
CaseFox – Videos und Bilder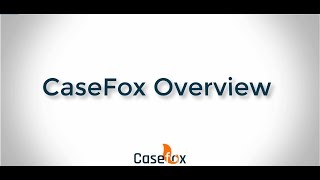 Kosten ähnlicher Produkte wie CaseFox vergleichen
CaseFox Funktionen
Abrechnung & Rechnungsstellung
Aktivitäts-Dashboard
Alarmfunktion / Benachrichtigungen
Aufgabenmanagement
Ausgabenmanagement
Buchhaltung
Daten-Import / -Export
Document Capture
Dokumentenmanagement
Dokumentenspeicher
Drittanbieter-Integration
Echtzeit-Daten
Fall-Aufzeichnungen
Fall-Management
Filesharing
Für Juristen
Hauptbuch
Kalenderverwaltung
Kommunikationsmanagement
Konfliktmanagement
Kostenverfolgung
Kundenmanagement
Kundenportal
Rechnungsmanagement
Rechtsfall-Management
Sichere Datenspeicherung
Treuhand-Buchhaltung
Vertrags-/Lizenz-Management
Verwaltung von Rechtsangelegenheiten
Volltextsuche
Werkzeuge zur Zusammenarbeit
Workflow-Management
Zeit & Kosten Verfolgung
Zeitverfolgung
Zugriffskontrollen / Berechtigungen
Tom
Accountant in UK
Verifizierter Nutzer auf LinkedIn
Buchhaltung, 2-10 Mitarbeiter
Verwendete die Software für: 6-12 Monate
Works well and easy to use
Kommentare: My overall experience with CaseFox has been great, it filled a gap in my practice software needs perfectly and now makes me look 100x more professional when dealing with complex cases.
Vorteile:
I like that CaseFox contains all of the features I would need for basic case management in their free offering. This really gives you plenty of time to ensure it is the right fit for your practice before committing to the higher tiers.
Nachteile:
Unfortunately CaseFox is undergoing a redesign, whilst this does not have a major effect if you stick to one version and use it there can be problems when changing to the new version as it doesn't have all of the same features as the old one and reformats some of the reports.
Antwort von CaseFox
vor 2 Jahren
Thankyou Tom, for your balanced and fair review. We're happy that your experience with CaseFox went smoothly. Also your feedback helps us get better. We are looking into the issue and hope to resolve it promptly and accurately.
Daro
Vice President in USA
Sicherheit & Untersuchungen, 11-50 Mitarbeiter
Verwendete die Software für: 6-12 Monate
In Betracht gezogene Alternativen:
The Best Case Management / Billing software on the market (for the price), Hands Down!
Kommentare: Originally when we were searching for a case management/billing software, I tried about 20 different software's. CaseFox is hands down the easiest, well organized, versatile, customizable one I tried in our price range. We only use about 75% of the features (it's a very diverse system) and it handles all of our cases with ease. My firm currently operates out of 5 states, several employees and hundreds of open cases at a time. CF's down time is virtually nonexistent. When you email support, they get back to you typically within minuets. For the price (from my research, 60-80% cheaper than most others), the quality, the easy of use, OUTSTANDING customer service, diversity and customization... It's hands down the most underrated software on the market. Your doing your company and team a disservice if you don't at least try Casefox.
Vorteile:
There are a ton of amazing things I can say about CF, but to keep it short their integration with multiple platforms is hands down handy and impressive to say the least. Makes our jobs super simple working with clients that work with multiple platforms such as Microsoft, google, Dropbox, PayPal, ect... The massive amount of features and functions this software covers all of our needs plus some. It is very diverse and with all of the features to add time and manage cases (mobile, tablet, web with 2 different UI's, text service) our teams billing's and accuracy has improved by more than 15%. Which is awesome! Super simple as well.... wanted to throw that in there.
Nachteile:
I want to preface this by first saying that we have found ways around this and and is working great!... I wish there was more customizations to users. They have 5 settings which is great and one of them you can turn off and on functions for the user (office secretary), just for our specific use and workflow, a few more customizations would be a great resource.
Antwort von CaseFox
letztes Jahr
Hi Daro, We really appreciate your detailed review and you taking out your time to have it all here! Also, we will surely make your suggested changes done soon, so that you have a more seamless user experience!
Anwaltskanzlei, Selbstständig
Verwendete die Software für: 6-12 Monate
In Betracht gezogene Alternativen:
Lifesaver Starting a Small/Solo Firm
Kommentare: CaseFox has made it possible for me to have a case management software while practicing as a part-time solo. Growing the practice is much slower than if it was my primary job/income. I would be using Word for invoices, Excel for time-keeping, and "Ctrl-F" for conflict checking if I never found CaseFox.
Vorteile:
CaseFox provides all of the features I would expect in any case management/billing software, only with an amazing price structure that won't be found anywhere else. This makes it possible, and practical, for a small/solo firm just starting up to use the software immediately, become acquainted with it, and allow it to grow with the practice.
Nachteile:
Like least? This is difficult because I haven't found anything I need that is missing from CaseFox. All of the features/integrations/customization make it feel a bit overwhelming at first glance. Like any software, though, that just takes time to become familiar with it all. The ability to customize the time code list, maybe? I feel like that is probably possible, but I just haven't figured it out yet.
Antwort von CaseFox
vor 4 Wochen
Hey Daniel, We are grateful that you took the time out to leave us a review. Your feedback helps us to improve our service for everyone.
Anwaltskanzlei, 2-10 Mitarbeiter
Verwendete die Software für: 6-12 Monate
Worst Customer Service
Vorteile:
It's cheap. That is about all I can offer.
Nachteile:
I had a problem recently. The response from CaseFox was: "Do you even know how to use a computer?" And it escalated from there. I called to request to speak to someone. Nothing. Seriously, I hope you were hacked because you should be embarrased. Shame. On. You. Casefox.
Antwort von CaseFox
vor 4 Wochen
Hi Paul, We're sorry to hear about your experience and that our support team didn't meet the level of service we strive for. Our team is dedicated to providing excellent customer service, and we strive for 100% satisfaction with every CaseFox user. We want the opportunity to rectify this situation and help make it right for you. There have been some support issues going on which lead to this. We highly apologize for this and are trying our best to help you in the future with utmost transparency and respect, which we believe in. Best, CaseFox Team
Rechtsberatung, 2-10 Mitarbeiter
Verwendete die Software für: 6-12 Monate
Just a review
Vorteile:
There were many features and it had a very seamless way of managing client intake
Nachteile:
Access to the client portal that was somewhat a challenge
Antwort von CaseFox
vor 3 Monaten
Hi Molly, Thank you for your valuable feedback, we really appreciate you taking out some time from your schedule to write good about us. Regards, CaseFox