Das könnte dich auch interessieren:
Was ist Analyse-it?
Analyze-it ist in Microsoft Excel integriert und bietet die leistungsstarke statistische Analyse, die du von einem teuren Statistikpaket erwarten würdest – jedoch ohne Komplexität und Kosten. Vier Editionen erfüllen unterschiedliche Kundenbedürfnisse, von der traditionellen statistischen Forschung, einschließlich Hypothesentests, Modellanpassung, ANOVA und PCA, über die statistische Prozesskontrolle (SPC) und Qualitätsverbesserung bis zur Validierung analytischer und diagnostischer Methoden für Labors, um die Einhaltung gesetzlicher Vorschriften zu gewährleisten.
Wer verwendet Analyse-it?
Gezielt für Forscher in den Bereichen Klinik, Medizin, Fertigung und Technik
Analyse-it – Details
Analyse-it Software
1997 gegründet
Analyse-it – Videos und Bilder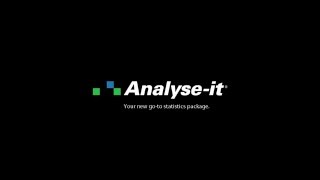 ▶︎
Analyse-it – Details
Analyse-it Software
1997 gegründet
Kosten ähnlicher Produkte wie Analyse-it vergleichen
Startpreis
119,00 $/Jahr
Nicht verfügbar
765,00 $/Monat
269,00 $/einmalig
Analyse-it – Bereitstellung und Support
Funktionen von Analyse-it
API
Aktivitäts-Dashboard
Anpassbare Berichte
Audit Trail
Berichterstattung und Statistik
Compliance Management
Corrective and Preventive Action (CAPA)
Daten-Import / -Export
Dateneingabe
Datenerfassung und Übertragung
Datenmanagement
Datenverknüpfung
Drittanbieter-Integration
Echtzeit-Analytik
Echtzeit-Benachrichtigungen
Echtzeit-Berichterstattung
Echtzeit-Daten
Echtzeitüberwachung
Für Fertigungsunternehmen
Individuelle Anpassung
Job-Management
Leistungskennzahlen
OPC Datensammlung
Produktionsanalyse
Prognose
Qualitätskontrolle
Rückverfolgbarkeit
Sichere Datenspeicherung
Statistische Analyse
Statistische Prozess-Kontrolle
Statusverfolgung
Terminplanung
Trend-Analysen
Verfolgen von Fehlern
Visuelle Analytik
Workflow-Management
Siehe die vollständige SPC Software (Statistische Prozesslenkung) Liste
API
Ad-hoc-Analyse
Ad-hoc-Anfrage
Ad-hoc-Berichterstattung
Aktivitäts-Dashboard
Aktivitäts-Verfolgung
Anpassbare Berichte
Anpassbare Vorlagen
Anwendungsmanagement
Bayessche Analyse
Berichterstattung / Analyse
Berichterstattung und Statistik
Compliance-Verfolgung
Dashboard-Erstellung
Dateispeicherung
Daten-Connectors
Daten-Import / -Export
Datenextraktion
Datentransformation
Datenvisualisierung
Diagramm-Erstellung
Drag-and-Drop
Drittanbieter-Integration
Echtzeit-Aktualisierungen
Echtzeit-Analytik
Echtzeit-Berichterstattung
Echtzeit-Daten
Erkennung von Zusammenhängen
Individuelle Anpassung
Kundensegmentierung
Leistungskennzahlen
Leistungsmanagement
Mehrfache Datenquellen
Multivariate Statistik
Prognose
Prädiktive Analytik
Regressionsanalyse
SSL-Sicherheit
Statistische Prozess-Kontrolle
Statistische Simulation
Suchen / filtern
Trend-Analysen
Umsatzentwicklung-Analyse
Visuelle Analytik
Visuelle Entdeckung
Website-Analytik
Zeitreihen
Zugriffskontrollen / Berechtigungen
Überlebensanalyse
Überwachung
Gianvincenzo S.
Consultant Neuroradiologist in Italien
Verifizierter Nutzer auf LinkedIn
Krankenhausversorgung & Gesundheitswesen, 11-50 Mitarbeiter
Verwendete die Software für: Mehr als 2 Jahre
Analyse-it
Kommentare: I do research in imaging/neuroradiology field and I use Analyse-it for my statistical analysis used for meetings presentation and publication.
I like the integration with Excel and it's user-friendly approach to statistical analysis methods, particularly to ROC curve analysis that I use often in my research.
Vorteile:
ROC Curve Analysis made easy with Analyse-it
Nachteile:
I hope to be able to do cluster analysis with Analyse-it in the future
Klaus T.
Chief R&D Officer in USA
Pharmazeutika, 2-10 Mitarbeiter
Verwendete die Software für: Mehr als 2 Jahre
Best Excel based stats program. Easy to use, powerful, and accurate. Have used it for 15 years.
Kommentare: It makes my routine stats analyses a breeze. My analyses are available immediately without waiting for other departments. It is powerful enough so I can "play with the data", which helps me to truly understand the results.
Vorteile:
Over the years I have tried several statistics programs, some Excel based, some not. But I always came back to Analyse-It, which is powerful enough for my purposes (level of knowledge) but the easiest to use. Analyse-It integrates seamlessly with Excel, so I don't have to learn a new software. Data are prepared and organized in Excel the way I am used to without having to learn a new program. Unwieldy data sets can be calculated and organized using standard Excel tools such as links, formulas, and Pivot Tables. Once properly organized, column headings become variables, and analysis becomes a "click of the button". Subgroup analyses are as simple as the column filter settings in Excel. Analyse-It automatically loads upon startup of Excel adding a new menu entry to the ribbon. The software offers a wide selection of statistical analyses, from Descriptives to T-Tests, ANOVA, Non-Parametric tests, Regression Analysis, etc.. Outputs often include standard graphs, such as X-Y charts or line-charts with optional "jitter" (dots representing individual data points) or confidence bands; Box-And-Whisker Plots maybe my favorites. Numeric outputs include all the standard items such as mean, median, stand. dev., stand. error, etc. etc. etc. Working with professional statisticians running SAS I have NEVER found a discrepancy between results.
Nachteile:
Outputs are created on a new tab. Customizing the output as, for example, formatting graph axes or relabeling titles are lost upon recalculation. The same goes for custom graphs based on the tabular output. Also, while the latest version now lists the filters applied to the data set on the output tab, it does not re-apply the filters on recalculation. That can be a problem when several analyses are based on the same data set and new data is added.
Rafael B.
Jefe del departamento de Oceanografia in Venezuela
Verifizierter Nutzer auf LinkedIn
Verwendete die Software für: Mehr als 2 Jahre
Simple and functional application that maximizes the statistical analysis I need.
Vorteile:
It allows me to have a large amount of tests and statistical analysis of low and medium complexity within a database such as excel which saves time associated with eventual data imports from other sources, that the data to be analyzed can be calculated and organized using standard Excel tools, such as links, formulas and dynamic tables.
Nachteile:
If one wants to customize the output format, associated for example to the titles of the axes of a graph, they are lost if one does a recalculation. The same goes for associated outputs histograms, for example. I have not been able to find two-way ANOVA solutions in particular, but suddenly it is asking too much of a non-specialized application like this one.
Antwort von Analyse-it Software
vor 4 Jahren
Thank you very much for taking the time to review Analyse-it. Actually, since version 4.80, Analyse-it does support 2-way (and higher level, e.g. 3, 4, 5-way) ANOVA (with multiple comparisons) in the Fit Model analysis. Unfortunately though it does not maintain customizations you make to the analysis output when recalculating, as it regenerates the output.
Landwirtschaft, 2-10 Mitarbeiter
Verwendete die Software für: Mehr als 2 Jahre
Indespensable
Kommentare: I use Excel to analyze, validate, and sumarize volumes of data every day. Since Analyse-It is always right there on my Excel ribbon, I go to it regularly. The correlation matrix is a great data validation tool because so much of my data is inter-related and a value that is within range for a certain field, but not in relation to another field can be quickly identified. The tests under Compare Groups and Compare Pairs let me evaluate significance before publishing data. I am not a professional statistician, but Analyse-It gives me all of the tools in an easy to use package that lets me focus on understanding my data.
Vorteile:
It is always on the ribbon of Excel so when I need to run a quick analysis, it is there.
Alastair H.
Chief Scientist in Australien
Medizinische Geräte, 51-200 Mitarbeiter
Verwendete die Software für: Mehr als 2 Jahre
Analyse-it is intuitive, easy to use and has the core functionality I need
Kommentare: Makes some aspects of my day to day work much easier than it used to be, where I either had to write my own software or use more cumbersome and expensive packages that had more functionality than I wanted and so were more effort to learn how to use.
Vorteile:
It is integrated to Excel where I do most of my data analysis, so it gives Excel more power with no extra work required by me in in importing or formatting data.
Nachteile:
I don't like the way it rewrites a whole tab if you recalculate data. Sometimes I have changed axis ranges or labels on a plot to cut and paste elsewhere and if I want to then recalculate I have to repeat all the reformatting. It would be useful if there was a something like a "keep format" check box that could be selected when recalculating so that and format changes that have been made manually could be preserved.