Was ist Schedulicity?
100.000 Unternehmen sind von Schedulicity begeistert. Die übersichtliche All-in-one-Planungssoftware, mit der du dein Unternehmen reibungslos führen kannst. Alles, was du brauchst, ist einfach automatisiert: Termin-/Kursplanung, nahtlose Zahlungen, E-Mail-Marketing, Texterinnerungen an Kund*innen und mehr.
Kund*innen können rund um die Uhr über die Website, die App oder sogar deine Facebook- und Instagram-Profile buchen. Es dauert nur wenige Minuten, um loszulegen – ganz ohne Vertrag. Beobachte, wie dein Unternehmen gedeiht, und unterstütze es mit dem, was erforderlich ist.
Wer verwendet Schedulicity?
Service- und klassenbasierte Unternehmen, die ihr Geschäft über einen Terminkalender betreiben.
Wo kann Schedulicity bereitgestellt werden?
Cloud, SaaS, webbasiert, Mac (Desktop), Windows (Desktop), Windows (On-Premise), Linux (On-Premise), Android (mobil), iPhone (mobil), iPad (mobil)
Über den Anbieter
Schedulicity
Ansässig in BOZEMAN, USA
2009 gegründet
Telefon-Support
Chat
Erhältlich in diesen Ländern
Kanada, Vereinigte Staaten
Über den Anbieter
Schedulicity
Ansässig in BOZEMAN, USA
2009 gegründet
Telefon-Support
Chat
Erhältlich in diesen Ländern
Kanada, Vereinigte Staaten
Schedulicity – Videos und Bilder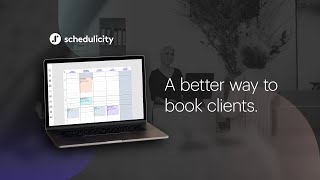 Kosten ähnlicher Produkte wie Schedulicity vergleichen
Schedulicity Funktionen
Aktivitäts-Dashboard
Alarmfunktion / Benachrichtigungen
Automatisierte Terminplanung
Berichterstattung und Statistik
Bestätigung / Erinnerungen
Debit-/Kreditkartenverarbeitung
E-Mail Marketing
Echtzeit-Planung
Erinnerungen
Für Salons und Spas
Kalender-Synchronisierung
Kalenderverwaltung
Klassen-Management
Kommunikationsmanagement
Kundendatenbank
Kundenmanagement
Kundenprofile
Mehrere Standorte
Mitarbeiter-Management
Mitarbeitereinsatzplanung
Mitarbeitermanagement
Mitgliedschaft-Management
Mobiler Zugriff
Online-Buchung
Online-Zahlungen
Reservierungs-Management
Social-Media-Integration
Terminplanung
Terminverwaltung
Veranstaltungsmanagement
Verfolgen der Teilnahme
Verfügbarkeit-Management
Webseitenintegration
Wiederkehrende Termine
Zahlungsabwicklung
Alternativen für Schedulicity
Bewertungen über Schedulicity
Charron e. S.
Owner in USA
Verifizierter Nutzer auf LinkedIn
Unterhaltung, 2-10 Mitarbeiter
Verwendete die Software für: 6-12 Monate
In Betracht gezogene Alternativen:
Hip to Schedulicity
Kommentare: I can setup my service and have them ready for the client. It is a good start up if you need something. Plus you can set it up with Instagram and facebook pages.
Vorteile:
Schedule system is easy to use. I can setup a class or service list and let the client pick what they want in service. Manage my team agendas and hours. add a landing page for my website
Nachteile:
To get full access to the program, you need to get a payment plan. The free plan works well if you are starting out and trying to get booking of client but you only get 10 bookings a month.
Andreanne L.
Flexibility and mobility trainer in Kanada
Gesundheit, Wellness & Fitness, Selbstständig
Verwendete die Software für: Mehr als 2 Jahre
In Betracht gezogene Alternativen:
Easy to use + Outstanding customer service
Kommentare: Outstanding customer service. Very helpful and resourceful staff, I always got a prompt and warm response to my inquiries. I felt supported and well cared for.
Vorteile:
Very simple and intuitive setup process. Super user friendly. Loved the add-on format for selecting the services I needed, not paying for features I wouldn't use.
Nachteile:
I would have loved to be able to translate all of the automated emails for my francophone clients and be able to offer them with access to their accounts on a French platform but overall I was so satisfied with the product I found it was worth working around this minor issue!
Bildungsmanagement, 2-10 Mitarbeiter
Verwendete die Software für: Mehr als 2 Jahre
Once an excellent scheduling and payment processor...now subpar
Kommentare: The business problems I am solving appear to be those created by using Schedulicity. The 'Rockstars' are friendly, but whoever is in charge really needs to think about R & D and QA. I loved Schedulicity at its inception, now I see very little benefit to using it....unless you call mindless hours clicking on appointments to determine whether or not a session has been paid for each and every session for each and every client.
Vorteile:
Scheduling is easy from my clients end. Set up was easy. I DID like the ability to quickly checkout clients and track packages. This functionality has had bugs for at least 6 months. Schedulicity has now introduced a new bug, such that on the calendar view, I cannot tell who has been checked out.
Nachteile:
The number of bugs that are introduced and the absolute waste of time spent on non-sensical aesthetic icons. The lines of the icons became smaller. They got rid of an apple symbol. Who are the ad wizards who decided this is a necessary and useful functionality update? Most users of this product are literate. Most users of this product are seeking ease of use and functionality. Yes, we want it to look nice, but the icons actually look sillier and some poor developers spent time coding for this garbage! Their time could have been better spent fixings the bugs and developing a QA team! Sweet baby J, how can they constantly be updating but not testing for bugs? How can a really great product become so aggravating because millennials wish to spend their energy on the thickness of lines of icons, instead of what actually matters?!
Verifizierter Rezensent
Photographer, Business Owner in USA
Verifizierter Nutzer auf LinkedIn
Fotografie, Selbstständig
Verwendete die Software für: Mehr als 2 Jahre
In Betracht gezogene Alternativen:
Great appointment booking software for small businesses!
Kommentare: It has saved me a lot of time and kept my clients on track with their bookings while I didn't have to do much on the backend. That has been a lot less stress for me and absolutely worth it!
Vorteile:
I love that even on the free plan, the software still has very usable features, albeit limited.
Nachteile:
I will have to admit it's a bit pricy, especially for a small one person business. However, if you're planning on growing and are serious about automating bookings and saving time, it really is a huge time saver!
Joan S.
Licensed Massage Therapist in USA
Verifizierter Nutzer auf LinkedIn
Verwendete die Software für: Mehr als 2 Jahre
I have utilized online scheduling for over 15 years and this system is the most user friendly of any
Vorteile:
I have used many other systems and many of them are clunky and difficult to use. My high tech clients and my computer newbie clients alike tell me they appreciate how easy and intuitive the options are. I like that it doesn't require that I take payment or payment information from my clients. I don't want to scare them away when they want to work with me. I like that I can keep track of packages by date so I know when packages have been purchased and what is left over easily. I like that system works well on a phone and on my computer. The staff response rate is incredibly quick and knowledgeable, it also feels personal, like a friend is writing me about the status of my request, not just a down and dirty response. When staff doesn't know the answer, they get back to me fast. Other systems I have used have bugs in the system that they have expected us to get used to. I have only had one time when we couldn't use the system for a very brief period of time in over 5 years of use. Love the fact that we can customize personal time into the schedule easily, and that we can click on it to change individual or series appointments, very useful.
Nachteile:
I would love to look back on dates for even longer than the system allows - years back would be great. It really has replaced my datebook and I have always been a paper datebook girl but this was too easy too use for everything. I had so many people using the online system that I couldn't keep up with the paper option, it was no where near as up to date as the online system. I would like the date to be more obvious for package purchases than it is currently. You can see when it was purchased in edit, but it's not visible unless you hit that button.