Was ist Fleetio?
Die Flottenmanagement-Lösungen von Fleetio helfen Flotten jeder Größenordnung, Flottenvorgänge zu automatisieren und den Asset-Lebenszyklus zu verwalten, ganz bequem über ein Smartphone und die mobile Anwendung Fleetio Go. Fleetio kann sowohl externe als auch interne Wartungsarbeiten, Sicherheitsrückrufe, Kraftstoff, Fahrzeuginspektionen, Ersatzteile und vieles mehr verwalten. Fleetio bietet Automatisierung der Tankkarten, elektronische Wartungsfreigabe sowie die Integration mehrerer Telematiklösungen für automatisierte Kilometerzähler, DTC-Behandlung und Berichterstattung über die Kraftstoffstandorte.
Wer verwendet Fleetio?
Flotten aller Größen, die mehr Zeit für ihr Unternehmensziel aufwenden und sich weniger um den Fahrzeugbetrieb sorgen möchten
Wo kann Fleetio bereitgestellt werden?
Cloud, SaaS, webbasiert, Android (mobil), iPhone (mobil), iPad (mobil)
Über den Anbieter
RareStep
2011 gegründet
Telefon-Support
Chat
Über den Anbieter
RareStep
2011 gegründet
Telefon-Support
Chat
Fleetio – Videos und Bilder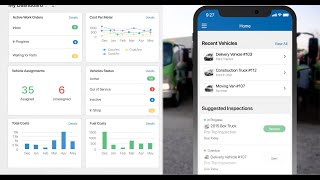 Kosten ähnlicher Produkte wie Fleetio vergleichen
Fleetio Funktionen
Arbeitsauftragsverwaltung
Asset-Bilder
Berichterstattung / Analyse
Bibliothek von Vermögenswerten
Check-in/Check-out
Fahrzeuginformationen
GPS
Garantie-Nachverfolgung
Inspektions-Management
Instandhaltungsmanagement
Inventarverwaltung
Kostennachverfolgung
Kraftstoff-Management
Kraftstoff-Nachverfolgung
Kundendienst-Historie
Mitarbeitermanagement
Reparatur-Nachverfolgung
VIN-Suche
Verfolgen von Vermögensanlagen
Verwaltung von Einzelteilen
Vorbeugende Wartung
Vorfall-Berichterstattung
Wartungsplanung
Kenny
Vice President of Operations in USA
Verifizierter Nutzer auf LinkedIn
Umweltdienstleistungen
Verwendete die Software für: Mehr als 1 Jahr
Fleetio is Advanced, Easy to Navigate and Extremely Useful for Our Fleet!
Kommentare: I just listed them on the other page about pros and cons. Thanks
Vorteile:
Drivers input of issues transform to work orders so easily. We used to wait for the paper inspection to come in to schedule work to be done. By the time you received the inspection sheet that problem has been needing repair for over a week. Now that the truck operators input the issues directly to the system our shop sees the issue that day and schedules the work for that weekend. Efficiency is way better now that we have been running the Fleetio Software. Your Dashboard is an extremely useful landing page that will give you all the important information you need in an instant. I really like seeing what our monthly spend has been over time and whether we are trending up on spend or hopefully down. The integration with Geotab has made odometer updates a breeze and the DTC Alerts is great. I could go on and on about how great they are but to some it up, Fleetio is a company that gets it, they understand what companies need out of a fleet management software.
Nachteile:
Few minor issues with Purchase Orders like the ability to create a PO from a work order, but they continually add helpful features! They currently do not fully integrate with our fueling network which is CFN but the Flyers Energy side of things. Hopefully that will be coming soon as well. I feel like some of the reporting could be slightly better. From a management standpoint i would like to be able to filter total operating cost to specific service categories.
Amanda
Operations Coordinator in USA
Non-Profit-Organisation Management, 51-200 Mitarbeiter
Verwendete die Software für: 6-12 Monate
In Betracht gezogene Alternativen:
Fleetio makes managing large fleets simple
Kommentare: Overall, the user-friendly interface of Fleetio and excellent customer support, especially during the onboarding, implementation, and training processes has created an extremely positive experience. Would definitely recommend Fleetio for all fleet management needs.
Vorteile:
The vehicle information module and maintenance tracking are the most important features for our organization, and Fleetio makes both processes easy, streamlined, and effective. This is especially important for our organization as we are spread across multiple office locations in various states, which makes managing our fleet a challenge. Fleetio has made it far more organized and easy for all our operators.
Nachteile:
Although a great deal of Fleetio's settings are customizable, there are some features that would be more convenient if they had a customizable option. For example, there we have to pay HVUT on a few of our larger trucks, and Fleetio does not have an option to create a custom vehicle renewal reminder for this. Furthermore, Fleetio does not currently have a way to track vehicle depreciation, which would be helpful for our financial processes, especially as a nonprofit subject to an annual audit process. However, the main features of Fleetio cover all our critical needs and therefore these are minor issues.
Antwort von RareStep
letzten Monat
Thank you for your in-depth review, Amanda! We love when our customers are able to make their processes simpler, and it looks like it is working out well for you. For the customizable features, we have some good news! Account Owners and Administrators can create custom "vehicle renewal types" directly through the account settings. Here is the Help Center article outlining the details: https://help.fleetio.com/s/article/Vehicle-Renewal-Types Fleetio has a module to help track vehicle life expectancy and replacement. This is called the Optimal Replacement Analysis (ORA), where you can enter some assumptions and averages, and you'll be good to go. The Help Center article outlining this can be found here: https://help.fleetio.com/s/article/Optimal-Replacement-Analysis Please feel free to reach out at help@fleetio.com if you need any additional assistance. We would be happy to help!
Jamie
Asset Manager in USA
Transport/Güterfrachtverkehr/Schienenverkehr, 201-500 Mitarbeiter
Verwendete die Software für: Mehr als 1 Jahr
Shop Around and Compare
Vorteile:
Vehicle management, inspections, maintenance reminders
Nachteile:
Renewal reminders, parts & inventory, editing, support
Antwort von RareStep
letzten Monat
Thanks for leaving us a review, Jamie! It's great to hear that Fleetio is a good fit for your vehicle management and inspections. It looks like you might be having some trouble with your parts and inventory tracking - We'd be happy to walk you through any issues. Please feel free to reach out to us at help@fleetio.com and we will help sort this out!
THOMAS
Department Manager in USA
Logistik & Lieferkette, 201-500 Mitarbeiter
Verwendete die Software für: 6-12 Monate
In Betracht gezogene Alternativen:
EXCEEDING EXPECTATIONS
Kommentare: Implementation and day to day operations are outstanding. We are still proofing financial data but are excited at what we will have at our fingertips moving forward. It is hard to put an ROI for implementing something like Fleetio. However, my back office is spending far less time pushing fleet-related paperwork. we have cradle to grave service records, we are getting vehicles back on the road after accidents fast because all of the documents are housed in one location. And our ability to track and forecasts expenses is like nothing we have had before.
Vorteile:
The Fleetio Platform has dozens of prepopulating data fields for items we never thought to track yet also allows us to set custom data points in just a few clicks. Most platforms require outside support to make changes.
Nachteile:
Nothing comes to mind. Any delays in implementation could be attributed to self-imposed scope shifts. We continue to refine the workflows as we encounter new challenges.
Hayden
VP of Operations and Fleet in USA
Umweltdienstleistungen, 51-200 Mitarbeiter
Verwendete die Software für: Mehr als 2 Jahre
In Betracht gezogene Alternativen:
If you have a fleet, you need Fleetio!
Kommentare: Everything has been awesome since the get-go when we came on board back in 2013. Fleetio's platform has evolved quite a bit over time, and I don't reap all of the benefits entirely, but my experience with the platform and their team has exceeded my expectations time and time again.
Vorteile:
Realistically I love everything that Fleetio has to offer. What I love most about it is the inspection form workflow. This option has streamlined our pre/post trip inspections within our Company, and has created a "workflow" process from when the problem was initially found, to when it was repaired; you can even reject the repair if it wasn't done properly, and/or if the problem comes back! Also, the Fleetio Parts app has allowed us to streamline our online inventory, and tie parts into work orders so we can track what trucks use which parts.
Nachteile:
The fuel card integration has never worked for me. Honestly it is probably an operator error on my end, but i would say that was my only bad experience trying to get that to link up to Fleetcor.
Antwort von RareStep
vor 3 Jahren
Hi Hayden, We are so grateful for your very thorough review! It is great to hear that you love the software and that it has been beneficial to your team. Please do not hesitate to reach out to us for help with your fuel card integration. Thank you!