Was ist Lightspeed Retail?
Lightspeed Retail POS ist eine mobile, cloudbasierte All-in-one-Lösung, die die Art und Weise optimiert, wie du deine Kund*innen bedienst und dein Unternehmen standortübergreifend führst. Verwalte Inventar, Kund*innen, Mitarbeiter*innen und Verkäufe von deinem Laptop, iPad oder Mobiltelefon aus! Akzeptiere alle Zahlungsmethoden und verkürze deine Check-out-Zeit im Geschäft und online. Spare Zeit durch integrierte Bestellkataloge. Triff datengesteuerte Entscheidungen, um dein Unternehmenswachstum zu steigern, indem du Kosten und alte Inventarbestände verfolgst und Warnungen zu niedrigen Lagerbeständen automatisierst.
Wer verwendet Lightspeed Retail?
Die Funktionen von Lightspeed richten sich nach den Prioritäten von Einzelhändler*innen und Gastronom*innen. Die Lösung vereinfacht die täglichen Aufgaben, sodass du dich auf das Wesentliche konzentrieren kannst: Geschäftswachstum und Kund*innenerfahrung.
Wo kann Lightspeed Retail bereitgestellt werden?
Cloud, SaaS, webbasiert, Mac (Desktop), Windows (Desktop), Linux (Desktop), Chromebook (Desktop), iPad (mobil)
Über den Anbieter
Lightspeed
Ansässig in Montreal, Kanada
2012 gegründet
Telefon-Support
24/7 Live-Support
Chat
Sprachen
Deutsch, Englisch, Französisch, Niederländisch
Lightspeed Retail Kosten
Startpreis:
49,00 €/Monat
Ja, kostenloser Test verfügbar
Keine Gratisversion
Lightspeed Retail bietet keine Gratisversion, aber eine kostenlose Testversion. Die kostenpflichtige Version von Lightspeed Retail ist ab 49,00 €/Monat verfügbar.
Preismodelle
Kostenlose Testversion
Über den Anbieter
Lightspeed
Ansässig in Montreal, Kanada
2012 gegründet
Telefon-Support
24/7 Live-Support
Chat
Sprachen
Deutsch, Englisch, Französisch, Niederländisch
Lightspeed Retail – Videos und Bilder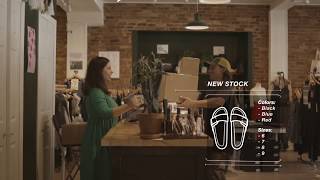 Lightspeed Retail Funktionen
API
Abrechnung & Rechnungsstellung
Aktivitäts-Dashboard
Angebotsmanagement
Anpassbare Felder
Artikelverwaltung
Auftragsmanagement
Barcode / RFID
Barcode / Tickets scannen
Berichterstattung / Analyse
Berichterstattung und Statistik
Bestandskontrolle
Bestandsprüfung
Bestandsverfolgung
Bestell-Management
Buchhaltung
CRM
Check-in/Check-out
Content-Management
Daten-Import / -Export
Drittanbieter-Integration
E-Commerce-Management
E-Mail Marketing
Einkaufswagen
Einzelhandel-Lagerverwaltung
Einzelhandel-Management
Elektronische Zahlungen
Für Bäckereien
Geschenkkarten-Management
Individuelle Anpassung
Integration in die Buchhaltung
Inventarverwaltung
Kanalmanagement
Katalogisierung / Kategorisierung
Kostennachverfolgung
Kreditkartenbearbeitung
Kundendatenbank
Kundenkonten
Kundenmanagement
Lieferanten-Management
Mehrere Standorte
Mitarbeitermanagement
Mobiler Zugriff
Nachbestellungen verwalten
Preismanagement
Produkt-Management
Produktkennzeichnung
Rabattmanagement
Retourenmanagement
Rückgaben nachverfolgen
SEO-Management
SSL-Sicherheit
Seriennummern-Nachverfolgung
Suchen / filtern
Touch-Screen
Transaktionshistorie
Treueprogramm
Verkaufsberichte
Verkaufspunkt POS
Zahlungsabwicklung
Alternativen für Lightspeed Retail
Bewertungen über Lightspeed Retail
Zondre W.
General Manager in USA
Verifizierter Nutzer auf LinkedIn
Einzelhandel, 11-50 Mitarbeiter
Verwendete die Software für: Mehr als 1 Jahr
Great integrated system
Kommentare: Lightspeed has been great. We have been using it for over a year and it has met my expectations. Whenever I request help, which isn't that often anymore they are quick to respond.
Vorteile:
The best feature of LIghtspeed is the analytics package. As a senior manager you can spend a lot of time calculating your performance manually in excel. But the Analytics package takes care of all of that. It's easy to see the performance of your inventory, employees and marketing at any time. There are also a lot of apps that work with Lightspeed that make it the most functional POS system I've used. The fact that the ecommerce is integrated as well makes it a great fully integrated system. You could pay a lot more to piece together all the of the systems you need. Or you could spend a huge amount of money creating a custom system.
Nachteile:
There are some small idiosyncrasies like not adjusting sync times for your local time zone. So, yesterday is never accurate you have to wait for the next days sync to get have accurate information. I would also like to be able to have our time management app sync employee time to Lightspeed so we don't have to enter it manually. I've given up on tracking employee hourly performance for this reason. Or if they offered a better time clock management natively that would help. I'd also like them to include the previous year comparisons in their dashboard. And, I'd like to look at seasonal performance rather than just month to month and week to week.
In Betracht gezogene Alternativen: Clover, Shopify POS und Vend
Warum Lightspeed Retail gewählt wurde: I wanted a cloud based integrated system
Zuvor genutzte Software: Clover, Shopify POS und Vend
Gründe für den Wechsel zu Lightspeed Retail: I looked at a couple of others too that I can't remember. A lot of them had great features, but none of them had all of the features to have a fully integrated system for our customers to shop online or in person. And, none of them had the analytics tools that Lightspeed has.
Verifizierter Rezensent
Freelancer in Philippinen
Verifizierter Nutzer auf LinkedIn
Telekommunikation, 501-1.000 Mitarbeiter
Verwendete die Software für: Mehr als 1 Jahr
The Point of Sale solution
Kommentare: Overall, the software does a great job in helping Accountants, managers and front liners in the Retail industry. What's great is that it integrates with ECommerce to be more efficient in selling your products out there, not just from the brick and mortar setup, but in the online as well.
Vorteile:
I tinkered with this software and got ot know this from the inside and out. I like the functionalities as it allows you to break free from the spreadsheet and manual entry. Gone are the days of tallying and doing adjustments on a piece of paper. It has filter functions for reporting, it auto calculates taxes by assigning it in the initial setup, browser printing integration, you can conveniently import inventory from a csv file to your POS system and export those reports in a csv format. The hardware associated to it works seamlessly like the tablets, scanners, and printers. Although , it endorses Apple products, it works perfectly fine with Windows operating systems. It also has a companion product which is called Lightspeed Accounting that is comparable to Quickbooks
Nachteile:
A few bugs are slowly being fixed as each maintenance and update is released, just like any other software. Although workarounds can be done to remedy it, but you'd have to seek assistance from Tech Support.
In Betracht gezogene Alternativen: QuickBooks Desktop Enterprise
Gründe für den Wechsel zu Lightspeed Retail: We were after functionalities that Lightspeed can provide. Although both of them are similar, the interface is more user-friendly compared to Quickbooks. And that is important for us, since learning a new tool can be taxing with the time you need to spend navigating and learning it from the inside and out.
Sportartikel, 11-50 Mitarbeiter
Verwendete die Software für: Mehr als 1 Jahr
Access to information at your fingertips
Kommentare: Helped with better tracking of margin and inventory. We have really done a better job of inventory tracking and inventory management. Allows us to look at real time margin and make adjustments as needed.
Vorteile:
Easy to access information from sales to margins to reports that really help us optimize our business
Nachteile:
Some of the upload of inventory and how it is titled. Not having a trade in function.
Einzelhandel, 2-10 Mitarbeiter
Verwendete die Software für: 1-5 Monate
Quelle: SoftwareAdvice
If you want seamless eCom and Retail DO NOT USE LIGHTSPEED
Kommentare: I would not recommend anyone, in any situation, use these features or services provided by Lightspeed. They are money hungry and nothing else.
Vorteile:
I liked the sales pitch. He promised a ton of stuff that I wanted to hear. Unfortunately none of that stuff ever panned out. Just like a politician.
Nachteile:
Here is a list of my complaints about Lightspeed Omnichannel (eCom + Retail PoS) - No E-mail Automation what-so-ever, you'll pay $10/month just for Abandoned Cart Recovery E-mails - Are you a franchise with individually owned locations? No support for that. - You can only add one merchant gateway on your entire account, but you can have up to 100 locations. But if each locations needs a separate bank account, NOPE. - Loyalty and Customer Data does not sync between multiple lightspeed accounts to help remedy the above. - Online documentation is wrong about 80% of the time. - Importing products, customer data, etc is chaotic at best. - The eCommerce features are not in sync with the PoS side. - Loyalty program doesn't just have a "For every 100 points get $1 off" option, you have to set very static discounts for loyalty - Customer service takes weeks to respond if you have any issue outside of what Support can handle - Tech Support will respond with "Lightspeed doesn't currently offer a feature like that, you can custom develop your own though using our API." - Every action you need done, will require another department to speak to, which they'll get back to you weeks later.
In Betracht gezogene Alternativen: WooCommerce
Warum Lightspeed Retail gewählt wurde: Shopify no longer supports cannabis companies.
Zuvor genutzte Software: Shopify POS
Gründe für den Wechsel zu Lightspeed Retail: The sales person promised things that in reality were never going to happen.
Antwort von Lightspeed
vor 2 Wochen
Hi Mason, We would like to apologize for your recent experience with Lightspeed. We see that you are currently working with a member of our Customer Success Team who are best suited to get you the assistance you need. We value our customers feedback, and would be grateful to have the opportunity to address your needs and concerns. Thank you, Lightspeed Commerce
Einzelhandel, 11-50 Mitarbeiter
Verwendete die Software für: Mehr als 1 Jahr
Great User friendly
Kommentare: Great easy to use manage and maintain. Works on almost any tablet phone or cpu.
Vorteile:
Love its ease of use. Cloud based makes taking it on the road to do mobile events a breeze for payment processing and inventory management.
Nachteile:
Could have used a little more help importing our inventory but after I figured it out it was easy to do.
In Betracht gezogene Alternativen: eTailPet und Retail Pro
Warum Lightspeed Retail gewählt wurde: It was expensive to maintain and use and not user friendly customer support was the worst.
Zuvor genutzte Software: Retail Pro
Gründe für den Wechsel zu Lightspeed Retail: Ease of use. Products can be searched via product number, skew number, upc or item description.