Was ist Proxyclick?
Unsere Lieblingsbewertung: "Wir überprüften mindestens 15 der auf Capterra für Visitor Management Software aufgeführten Produkte . Proxyclick war die stärkste und am besten bewertete Lösung. Wir zielten darauf ab, ein Produkt mit einer einfachen, aber reizvollen Besuchererfahrung mit Check-in, speziell versehen mit Kiosk-Funktion, zu wählen, .... "(weitere Bewertungen durch Klicken auf die Sterne).
3 applications beinhaltet: Dashboard für Personal, Empfang und Sicherheit, iPad-App für Besucher, Smartphone-App
Wer verwendet Proxyclick?
Von Fortune 500 bis MIttelstandsunternehmen, weltweit in mehreren Sprachen verfügbar
Wo kann Proxyclick bereitgestellt werden?
Cloud, SaaS, webbasiert, iPhone (mobil), iPad (mobil)
Über den Anbieter
Proxyclick
2004 gegründet
Telefon-Support
24/7 Live-Support
Chat
Proxyclick Kosten
Startpreis:
100,00 $/Monat
Ja, kostenloser Test verfügbar
Keine Gratisversion
Proxyclick bietet keine Gratisversion, aber eine kostenlose Testversion. Die kostenpflichtige Version von Proxyclick ist ab 100,00 $/Monat verfügbar.
Preismodelle
Kostenlose Testversion
Über den Anbieter
Proxyclick
2004 gegründet
Telefon-Support
24/7 Live-Support
Chat
Proxyclick – Videos und Bilder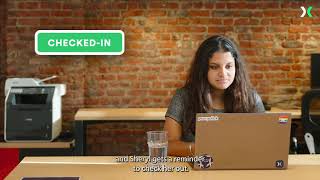 Proxyclick Funktionen
Abzeichen-Management
Alarmfunktion / Benachrichtigungen
Belegungsmanagement
Besucher-Nachverfolgung
Besuchermanagement
Grundrisse und Karten
Gruppenanmeldung
Kalenderverwaltung
Kontaktmanagement
Kreditplanung
Merkliste
Platzreservierung
Registrierung vor Ort
Registrierungs-Management
Reservierungs-Management
Schreibtischreservierung
Schreibtischverfügbarkeitsplanung
Self-Check-in/-Check-out
Sicherheitsmanagement
Sicherheitsvorfallmanagement
Veranstaltungsmanagement
Vorabregistrierung
Wirtschaftsprüfung-Management
Alternativen für Proxyclick
Bewertungen über Proxyclick
Mark
Japan
Verifizierter Nutzer auf LinkedIn
Verwendete die Software für: Mehr als 1 Jahr
Quelle: GetApp
An enhanced visitor experience driven by the team's insatiable appetite to innovate!
Vorteile:
Above all I am most impressed by the continuous innovation that accompanies a Proxyclick installation - it just doesn't ever stop and in my mind demonstrates just how committed and passionate the team is about their product. Proxyclick has elevated visitor management well beyond the simple act of registration... and incorporated notions of security, health and safety, brand promotion, customer communication and privacy. It is also the most globally-minded system we have found on the market... not just by incorporating multiple languages but also by paying special attention to the importance of design. The result is that users of any nationality can use Proxyclick very intuitively (at the kiosk or in the back office). The set up is simple, and the settings are very configurable (without adding needless complexity) to give administrators the flexibility required to customise the product by client (eg, personalised visitor badges or registration flows etc.). In an age where digital technology threatens to eradicate the role of people... it is very refreshing to have a digital technology on the market that compliments our teams' efforts on the ground and ensures they can deliver a more dynamic visitor experience where human interactions thrive.
Nachteile:
Personal data, privacy and data security concerns are an ever-present concern for us and our clients. Not only do we need to contend with the threat of cyber attacks but also being compliant with new legislation (eg, the EU's General Data Protection Regulation). Proxyclick - as with all SaaS products in the marketplace - will therefore need to take their product to the next level to ensure it stays a best-in-class solution.
René
Verifizierter Nutzer auf LinkedIn
Verwendete die Software für: Mehr als 2 Jahre
Quelle: GetApp
Proxyclick - Must have for Frontdesk
Kommentare: I am René Verhoef, 25y old and a active user of Proxyclick. my first experience with Proxyclick was implementing it for the company i worked for, as IT specialist i found Proxyclick very user friendly, the interface & information available on the website are very easy to understand, but as IT specialist there is enough in dept data to work with.
This makes Proxyclick a unique tool for both the new and experienced employees of a company. The proxyclick expirience leaves a satisfied visitor, and saves the frontdesk a lot of registration time, this is why it pays itself back within weeks of use. on top of that it gives the Building service a unique enmergency list that's always up-to-date and user friendly, this alone is worth the buy. iv'e saw Proxyclick in company's from 10 to over a 100 employees, even as replacement for a frontdesk/reception.
there is a lot of room for this tool to be a Must have for companys.
Vorteile:
Professional user expirience Enmergencylist + App Notification SMS / E-mail on arrive Visitor badge / security by photo friendly user interface very helpfull support desk
Nachteile:
Automatic graph (e-mail) each month with a top 5/10 of visited company's, or wich employee had the most visits etc. default no option for migrate the employee's(from other software) to Proxyclick enmergency list - it is posible when letting the employees sign in through proxyclick, yet not perfect.
Brandon
Service Desk Analyst in USA
Verwendete die Software für: Mehr als 2 Jahre
Good, but not perfect
Kommentare: I've been an administrator in our company's proxyclick for the past couple of years. Overall there have been vast improvements to the system which i like such as the design and layout. The ability to check people in/out and see real time status has been a life saver. The underlying issues i continue to have with our site security offices are the recurring visits. When a recurring visit is input for an individual/group, the very first day of the visit shows all of the pertinent information needed (i.e. type of access, company visiting, etc). However, all other days of that set recurring access does not show the same details needed. This forces the user to go all the way back to the original start date of the access in order to find out the information, which can be very time consuming and frustrating on an extremely busy day. I would like to see that improve. Another frustrating area from an admin standpoint is the entry of colleagues into proxyclick. This feature is fine if you have an individual only needing to be added to one site, but if you are needing to add a colleague to more than 30 sites it's a bit of an arduous task having to click 'Add Colleague' after clicking under every single location. If there is a way to have an 'Add Colleague To All' option, that would make this new year so much better.
Vorteile:
Please see my overall experience comments
Nachteile:
Please see my overall experience comments
James
Chief Technology Officer in USA
Verifizierter Nutzer auf LinkedIn
Finanzdienstleistungen, 51-200 Mitarbeiter
Verwendete die Software für: Mehr als 2 Jahre
We use it in multiple offices and never had a major issues.
Kommentare: Was able to have receptionist leave their desk without having people need to wait at an empty desk helpless.
Vorteile:
Text message notification. The ability for the guest to receive an e-mail that contains our wifi password.
Nachteile:
The e-mails are sometimes slow to come through, but other than that not a lot. The delivery option (which is new) could be simplified to just be a single click, but its all nitpicker stuff.
Antwort von Proxyclick
vor 5 Jahren
Hi James, thanks for your review and feedback. Can you please send us an example of a slow email so we can analyze? Normally emails are delivered 1-2 seconds after processing. What we also witness is that they can be slowed down by anti-spam software installed at our clients, hence the importance to white list Proxyclick. And, thanks for the suggestion of the delivery option ! We plan to further improve the feature based on client feedback. So thank you!
Julie
Executive assistant in Kanada
Verifizierter Nutzer auf LinkedIn
Erneuerbare Energien & Umwelt, 51-200 Mitarbeiter
Verwendete die Software für: Mehr als 1 Jahr
Making my job easier!
Kommentare: The experience is lovely! Our guests are super impressed with "our technology". They all want to have more info about it. It reflects the type of business we are!
Vorteile:
Being at the reception of the building on top of many other tasks, Proxyclick made my job easier by "finding" the hosts for me. In the past, I used to have to call on office phone, then text, then call on cell phone, then try email and/or walk around the office to find the hosts.
Nachteile:
Some customs screens can (and certainly will!) be more customizable. Ex. we have bilingual (french and english) guests and my custom screens requesting permission to include them in our mailing lists has to have both languages on it bacause we can't make one french and one english depnding on the chose language.