Was ist 365villas?
KOSTENLOSE TESTVERSION, GRATIS TRAINING, kostenloser Support, DIREKTER ZUGRIFF: Führende Software für Portfolios aller Größen. Integriere E-Mail und verwalte alles, von Anfragen, Buchungen und Zahlungen, bis hin zu Kalendersynchronisierungen, Online-Buchung, Website, Marketing, Berichte, Verträge, Buchhaltung und Steuern - alles in einer einfachen Schnittstelle. Alle Funktionen auf Agenten-Level sind ebenfalls vorhanden - Housekeeping, Wartung, Inhaber-Statements / Login, Kommissionen, Fakturierung, Kanal Mgr & mehr. Keiner verbindet leistungsstarke Funktionalität und einfache Anwendung wie 365.
Wer verwendet 365villas?
Immobilienverwaltungen aller Größen, ab 3 Objekten aufwärts, die in der größeren Ferienvermietungsbranche tätig sind.
Wo kann 365villas bereitgestellt werden?
Cloud, SaaS, webbasiert, Android (mobil), iPhone (mobil)
Über den Anbieter
365villas.com
Ansässig in London, UK
2010 gegründet
24/7 Live-Support
Chat
Erhältlich in diesen Ländern
Argentinien, Aruba, Australien, Barbados, Britische Jungferninseln und 10 weitere
Sprachen
Englisch, Französisch, Spanisch
Über den Anbieter
365villas.com
Ansässig in London, UK
2010 gegründet
24/7 Live-Support
Chat
Erhältlich in diesen Ländern
Argentinien, Aruba, Australien, Barbados, Britische Jungferninseln und 10 weitere
Sprachen
Englisch, Französisch, Spanisch
365villas – Videos und Bilder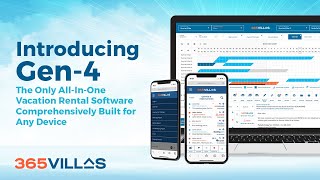 Kosten ähnlicher Produkte wie 365villas vergleichen
365villas Funktionen
Arbeitsauftragsverwaltung
Berichterstattung und Statistik
Buchhaltung
Dokumentenmanagement
Eigentümer-Aussagen
Für die Ferienvermietung
Gasterlebnis-Management
Gästekommunikation
Kommunikationsmanagement
Kontaktmanagement
Leadmanagement
Lieferanten-Management
Marketing-Automatisierung
Reservierung-Management
Alternativen für 365villas
Bewertungen über 365villas
Zanneta B.
Head of hotel distribution in Lettland
Verifizierter Nutzer auf LinkedIn
Gastgewerbe, 11-50 Mitarbeiter
Verwendete die Software für: 6-12 Monate
Try it and you will never regret
Kommentare: Long story short: I was keeping an eye on 365villas property management software for 3 years. It was hard decision to start using vacation rental management software knowing that it could be way behind in properties management comparing to hotel field.
When I knew that a trusted professional from hotel field start working where I decided to go ahead. Support team, it all because of you!
It was not love from from sign, I had to give it a time and write dozen of emails to support team, expecting anwers in seconds. Guys from support were strong enough to handle my preassure and now I could definitely say that I will not change this PMS to any other. If you relax, give it a time and remember that vacation rentals software are young in comparison to hotel than 365villas is definitely the best to try.
Latest update is simply brilliant!
Vorteile:
New software update is just fabulous! Price is very competitive
Nachteile:
Previously in 2017 support was not great, good that ts has improved significantly
Giulia S.
General Manager in Italien
Gastgewerbe, Selbstständig
Verwendete die Software für: Kostenlose Testversion
In Betracht gezogene Alternativen:
Usability and Reliability
Kommentare: To be honest I'd like to use 365villas but I had to stop the on boarding process, becouse of problems with my old website, which had made my needs higher and than 365villas price to high for me, during
this pandemic period, when market is uncertain and unstable....
Vorteile:
Easy of use, without any doubt! Intuitive, easy to use, well organized and smooth onboarding. The person who assisted me in on boarding is reliable and well organized!
Nachteile:
Usability, and there are all the desired Features!
Antwort von 365villas.com
vor 6 Monaten
Dear Giula, Thanks so much for the thoughtful review. Your kind words about the ease-of-use of our platform and the quality of our support mean a lot to us. We work hard on them both. We are sorry for the stress the pandemic is putting on your business and we hope to have the pleasure of servicing you again. For other reaaders: 365Villas is the only platform on the market that not only offers different plans and pricing based on portfolio size, but also offers more niche and sophisticated functionality in flexible bolt-on option packaging. This means users pay only for what they need at any point in time. As of yet, no completing platform offers as much flexibility or control in finding the right balance between spend and functionality for your unique business needs. Regards, The 365Villas Team
Jan K.
Owner in Deutschland
Freizeit, Reisen & Tourismus, 2-10 Mitarbeiter
Verwendete die Software für: 1-5 Monate
industrie's leading software - A nightmare
Kommentare: It was a nightmare. Nearly every time we received a new deadline when our website should work properly. Deadlines were displaced without clear communications to the customer. Although their product without multilanguage functionality was useless for us and it was definitely not our fault that it was not working, we were supposed to pay nearly the full amount. I have spoken with other customers that are having same problems and these guys are still calling their selves as world's leading solution in that market... That's ridiculous
Vorteile:
- Some employees really tried to help us. - Sales presentation is really good
Nachteile:
- their software especially the WordPress website is not ready to be sold as a product that is working properly. - the WordPress theme is full of bugs - the multilanguage function is not working - most of the time I was writing translations and bug lists - communication with the team was not working. Waiting for feedback for more than a week although there were a lot of problems with our project - always delay in delivering or bug fixing - no confession about their missing delivery of a working product - cooperation partners like Rentals United did not work as promised
Antwort von 365villas.com
vor 3 Jahren
97.5% of our reviews are very positive. Here is a copy of the German website Jan Kramer is supposedly so upset about: http://krame22.websites.365villas.com/de/ It's a new theme. We made clear at the start it would take time to deliver everything in German - which we did. After his trial, Mr Kramer confirmed he liked our functionality better than what he could find in Germany or his current PMS and was willing to wait. Mr Kramer is actually upset because he signed up to Rentals United thinking they'd connect to a German channel he wanted. When this turned out otherwise, he demanded refunds from us both. This matter had nothing to do with us. Nonetheless, we still tried to help him. Mr Kramer seems to be a start-up with little activity. He has held the threat of this review over us to try to extort a refund when none is due. We refused to bow to it. He also made many legal threats. None has materialised. Other providers should beware before partnering with Mr Kramer.
Gastgewerbe, 2-10 Mitarbeiter
Verwendete die Software für: 6-12 Monate
In Betracht gezogene Alternativen:
A great choice!
Kommentare: Less time spent checking on the finances, and the consistency of the reservations across all the integrated booking channels has saved us time that we now focus on updates to our service and the units we manage.
Vorteile:
The software is easy to learn and use, and the support team responds fairly quick. There are always ways to work around specific issues that may be uniquely to our application, which helps a lot, and 365 will listen and possibly work your situations into their software as well. Moving from another Software to 365 has helped me grow my business in a short period of time with minimal stress.
Nachteile:
I can't really say. Compared to where I was, I have no complaints.
Antwort von 365villas.com
vor 6 Monaten
Dear Stephen, Thank you for this kind review. Achieving ease-of-use with our platform and helping our users grow their businesses are always key objectives for us. Your remarks about the on-boarding process being relatively smooth are especially heartwarming given that you selected not only our PMS, but our channel manager and integrated website solution as well. Implementing all three solutions together with "minimal stress" as you say, is a real triumph. We're delighted you moved from Guesty to 365Villas. Regards, The 365Villas Team
Dianne C.
Product Manager in Südafrika
Freizeit, Reisen & Tourismus, 11-50 Mitarbeiter
Verwendete die Software für: 1-5 Monate
In Betracht gezogene Alternativen:
Turnkey365 changed the way we work - for the better
Vorteile:
Ease of use and how the developers thought about all the little things needed when managing properties and calendars
Nachteile:
There are a few features that would suit our needs that are not on the system. Owner logins and blocking is very basic and more 'control' would be great. Reservations - integrating better with Outlook rather than either taking over the emails or not using 365Villas for emails is not enough.
Antwort von 365villas.com
vor 6 Monaten
Dear Dianne, Thanks for the review and for making the switch from Kigo. We would welcome your suggestions on calendar blocking. Our Owner Login feature is highly customizable so perhaps we can offer some assistance here. Our email can be integrated with Outlook in various ways, but ultimately the fully Unified Inbox that is purpose-built for vacation rental businesses and integrates not only with your other communication mediums such as text messaging, Airbnb Messenger and WhatsApp, but also the entirety of your rental management workflow is the way to go. It's much more powerful than anything a stand-alone email system could ever offer, and you can still monitor and respond to messages from your external email. We're happy to offer an online session to go through all this together. Regards, The 365Villas Team