Was ist Microsoft SharePoint?
Anwendungen und Desktopfreigabe und -ansicht, Anmerkungstools, Instant Messaging, Webfolien und Whiteboards.
Wer verwendet Microsoft SharePoint?
Nicht vom Anbieter bereitgestellt
Wo kann Microsoft SharePoint bereitgestellt werden?
Cloud, SaaS, webbasiert, Windows (Desktop), Windows (On-Premise), Linux (On-Premise), Android (mobil), iPhone (mobil), iPad (mobil)
Über den Anbieter
Microsoft
Ansässig in Middletown, USA
1975 gegründet
Telefon-Support
24/7 Live-Support
Chat
Über den Anbieter
Microsoft
Ansässig in Middletown, USA
1975 gegründet
Telefon-Support
24/7 Live-Support
Chat
Microsoft SharePoint – Videos und Bilder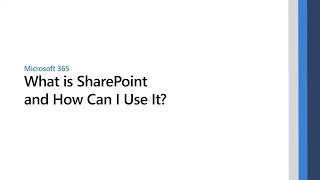 Kosten ähnlicher Produkte wie Microsoft SharePoint vergleichen
Microsoft SharePoint Funktionen
Aktivitäts-Verfolgung
Anpassbare Vorlagen
Aufgabenmanagement
Bearbeiten in Echtzeit
Content-Management
Datensynchronisation
Diskussionen / Foren
Dokumentenmanagement
Dokumentvorlagen
E-Mail-Management
Filesharing
Inhalt-Bibliothek
Kalenderverwaltung
Kommunikationsmanagement
Kontaktmanagement
Optionen zur Inhaltsveröffentlichung
Privates Netzwerk
Self-Service Portal
Suchen / filtern
Volltextsuche
Werkzeuge zur Zusammenarbeit
Wissensbasis-Management
Workflow-Management
Zugriffskontrollen / Berechtigungen
Alternativen für Microsoft SharePoint
Bewertungen über Microsoft SharePoint
Nachiket P.
Decision Analytics Associate in Indien
Verifizierter Nutzer auf LinkedIn
Unternehmensberatung, 10.000+ Mitarbeiter
Verwendete die Software für: 6-12 Monate
Microsoft Sharepoint - Best way to store, share and work collaboratively with Microsoft documents
Kommentare: I had a great experience with Microsoft Sharepoint. Before using Sharepoint, I was not aware that even such a powerful collaboration tool exists in the first place. With the help of Sharepoint, I can store a large amount of data, share it with the required team members with Read/Edit access as required, and work collaboratively with them in real-time to create or edit documents. Overall, it is the best collaborative working platform I have seen.
Vorteile:
There are many great things about Microsoft Sharepoint, but the best thing about it is that the Microsoft documents - Word, Powerpoint, and Excel, when opened by multiple people simultaneously, can be edited simultaneously as well. As a member of the Product team at ZS, my colleagues and I collaboratively edit the pitch decks and budget estimates on Powerpoint and Excel simultaneously, and this makes document management hassle-free since the updates by all are saved in real-time and are visible to all.
Nachteile:
As a user, Microsoft Sharepoint has almost all the features one can desire. One of the features which I find missing is the lock for edit feature for a particular user at a particular time. If the document creator wishes, he should be able to lock the document even for those with edit access at a particular time, so that the document can be edited only by the creator. This is helpful especially when focus work is required where the interference of other editors would be undesirable.
Nelisiwe V.
IT Operations Manager in Südafrika
Verifizierter Nutzer auf LinkedIn
Versorgungsunternehmen, 10.000+ Mitarbeiter
Verwendete die Software für: Mehr als 2 Jahre
Microsoft Sharepoint
Kommentare: User friendly and easy to use. Has guides and tutorials that assist on how to use the software
Makes business collaboration simplified
Updating documents seamless
Easy to track changes and manage access
Vorteile:
It is user-friendly and easy to deploy. Enable simultaneous access to the documents, and provides real-time updates and collaboration. Simplifies day-to-day business collaborations. Shared documents across different companies. Assist with meetings regulatory requirements, content management streamlined, and have effective decision-making tools. Easy to manage surveys and provides stats as required. Can integrate with other systems.
Nachteile:
Integration requires extra development Very expensive
Telekommunikation, 10.000+ Mitarbeiter
Verwendete die Software für: Mehr als 2 Jahre
In Betracht gezogene Alternativen:
SharePoint is useful for basic needs
Kommentare: Overall SharePoint has been useful for what I need to do with it. I like the features that are available, and I liked how easy it was to jump in to it right away. It's also quite intuitive for the most part, so a lot of users were able to adapt quickly.
Vorteile:
I like how easy it is to incorporate everyone in the organization. There are a lot of customization features that can be tailored to suit an organizations needs. Unfortunately, someone needs to know how to do it. But those things are easily learned and there is a lot of documentation available to learn.
Nachteile:
A lot of the things in SharePoint are quite basic. It has a lot of features that can be used, but a lot of them look like they're very dated. It suits it's purpose, but only on a basic level.
Jill Y.
Director of Operations in USA
Immobilien, 2-10 Mitarbeiter
Verwendete die Software für: Mehr als 1 Jahr
In Betracht gezogene Alternativen:
A Powerful, Robust Program That Helps Me "Futureproof" My Business
Kommentare: This is the second business where I've deployed Microsoft SharePoint. I find comfort in knowing that the features, while sometimes complicated, are robust enough to grow and adapt with the changing business environment. Overall, I have more faith in the program than I do with other programs that looks similar on the surface. Despite frustration in trying to learn about new features and encouraging employee "buy in" for the program, I am overall satisfied with the product.
Vorteile:
The cost is relatively low for SharePoint when combined with Teams and other Microsoft applications. The integration across users, platforms, and programs is extremely useful in a modern-day business environment. I know that there are more features than I can imagine, and that I've barely scratched the surface of the program. This means I can count on it to always have features that will expand with my business's needs.
Nachteile:
Features I like the least: difficult to learn how to deploy its robust features without seeking professional consultation. Hard to share and incorporate our system with users outside of the organization; this occasionally causes confusion.
James U.
Finance Director in USA
Buchhaltung, 11-50 Mitarbeiter
Verwendete die Software für: 6-12 Monate
In Betracht gezogene Alternativen:
SharePoint Review
Kommentare: SharePoint is easy to use and share documents with colleagues located in different locations in the United States. The click-and-drag feature is fantastic. Whenever you update a document, you can click and drag it to a specific file in SharePoint and it will update automatically.
Vorteile:
Microsoft SharePoint is easy to use and deploy. It has great features that allow simultaneous access to the same content and real-time updates between collaborators.
Nachteile:
You may get an error when creating a shared point page (you can't change the number of columns or insert an image, etc.), but this is usually only after the page is refreshed or after you log out and sign up again to resolve the issue.