Was ist Phorest Salonsoftware?
>>> All-in-one-Software für Salons ab 3 Mitarbeitenden <<<
Die Software Phorest bietet dir alles, was du brauchst, um deine Kunden dazu zu bringen, öfter zu kommen, mehr Geld auszugeben und Empfehlungen zu generieren. Dazu gehören E-Mail-/SMS-Marketing, Anwendungen mit Branding und Treueprogramm (TreatCard), automatisierte Kontaktaufnahme mit Kunden, die abwanderungsgefährdet sind, sowie Bewertungen in Google, Yelp und Facebook. Darüber hinaus kannst du Termine, Bestände und Dienstpläne mühelos verwalten sowie verschiedenste Berichte über alle Aspekte deines Salons aufrufen.
Wer verwendet Phorest Salonsoftware?
Die Phorest-Salonsoftware ist das Richtige für Salonbetreiber, die ihren Kunden ein magisches Erlebnis bieten möchten, damit sie öfter wiederkommen und mehr Umsatz machen. #wirwachsenweiter
Wo kann Phorest Salonsoftware bereitgestellt werden?
Cloud, SaaS, webbasiert, Mac (Desktop), Windows (Desktop), Windows (On-Premise), Linux (On-Premise), Android (mobil), iPhone (mobil), iPad (mobil)
Über den Anbieter
Phorest Salon Software
Ansässig in Cranford, USA
2005 gegründet
Telefon-Support
Chat
Erhältlich in diesen Ländern
Kanada, Vereinigte Staaten
Sprachen
Deutsch, Englisch, Finnisch
Über den Anbieter
Phorest Salon Software
Ansässig in Cranford, USA
2005 gegründet
Telefon-Support
Chat
Erhältlich in diesen Ländern
Kanada, Vereinigte Staaten
Sprachen
Deutsch, Englisch, Finnisch
Phorest Salonsoftware – Videos und Bilder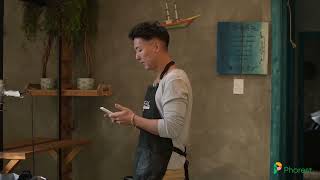 Kosten ähnlicher Produkte wie Phorest Salonsoftware vergleichen
Phorest Salonsoftware Funktionen
Barcode / Tickets scannen
Bestätigung / Erinnerungen
Daten-Import / -Export
Drittanbieter-Integration
E-Mail Marketing
Für Barbershops
Für Salons und Spas
Geschenkkarten-Management
HIPAA konform
Inventarverwaltung
Kalenderverwaltung
Kreditkartenbearbeitung
Kundendatenbank
Kundenmanagement
Kundenprofile
Lohn- und Gehaltslisten-Management
Marketing-Automatisierung
Mehrere Standorte
Mitarbeitereinsatzplanung
Mitarbeitermanagement
Online-Buchung
Personalverwaltung
Rabattmanagement
Terminplanung
Terminverwaltung
Treueprogramm
Verkaufsberichte
Verkaufspunkt POS
Wiederkehrende Termine
Zahlungsabwicklung
Alternativen für Phorest Salonsoftware
Bewertungen über Phorest Salonsoftware
Omar
General Manager in Kanada
Verifizierter Nutzer auf LinkedIn
Einzelhandel, 51-200 Mitarbeiter
Verwendete die Software für: Mehr als 2 Jahre
Phorest is the best option on the market
Kommentare: Our salon has 4 locations, and operate in two different provinces. With Phorest, we are able to track all 4 locations from anywhere we have the software installed. This allows our management team to make reports and help with any booking/sales issues our receptionists may have. We've found the marketing tools to be very helpful to send our clients promotions, and newsletters.
Vorteile:
- Easy multi-location implementation and support. - Consistent updates that continue to improve the software. - Meets all of our booking and POS needs. - Includes an excellent built-in rewards/points system, that has customizable features. - Very comprehensive reports that make it easy to track the performance of the business, as well as, track the personal performance of each employee, allowing the management to set goals with employees and track their progress. - Online booking system works seamlessly with Phorest's application and works with our business website/facebook page. - Reasonable pricing.
Nachteile:
- We wish the reviews could be listed directly as a Facebook review instead of something we have to post ourselves on our business page wall. - We also hope to see a better system for employee categories in the near future. If I want to change the price on one service an employee does, I have to create a new category for them specifically, and there is no way to copy and past the old category. It makes a 1 second change into a 15-20 minute ordeal.
Computer-Software
Verwendete die Software für: 1-5 Monate
Implementing Phorest has been an excellent experience , so motivating, engaging & professional
Kommentare: Phorest provides everything you need for Cilent engagement and retention including email/SMS marketing; and a loyalty program via automated reach out to clients who are in danger of lapsing plus full social media integration. In addition, I can effortlessly manage appointments, stock, rosters plus get a suite of reports on all areas of my clinic
Vorteile:
I had researched various clinic software , but Phorest to date has exceeded my expectations . To highlight my favourite feature ,the software simplifies Cilent engagement & retention , in a way clients feel valued & special - text emails etc . This automated reach out to Cilents is such a time saving feature. I do like the loyalty scheme feature this I feel will support further growth together with the intervertebral social media marketing . I like that the software has centralised stock ,staff Cilent and clinic management . The stock management feature is an excellent tool to save time in creating orders plus provides me with a suite of reports on all areas of your my clinic . The Phorest Go app is very useful & when I was setting up the Phorest team gave me lots of useful easy tips to ensure I receive and utilise all its key features . I starting the wonder how we managed before we installed Phorest !
Nachteile:
One feature that is missing but I am aware it's a work in progress is Cilent consultation sheets , consent forms . & the storage of notes , Phorest is an excellent piece of soft ware but it does tend to be more salon orientated but I feel Phorest recognise the need to incorporate a support package more suitable to clinic . The training sessions I feel would be much more beneficial in smaller groups . With Phorest there does appear to be a lot of add ons to your original purchase price and monthly fee but hopefully as phorest's software encourages growth & Cilent retention these will be an investment .
Schreiben & Editieren, 2-10 Mitarbeiter
Verwendete die Software für: Mehr als 2 Jahre
In Betracht gezogene Alternativen:
Poor customer care
Kommentare: As of 2019 my experience is horrific. There is nothing I like about this software anymore. I would rather go back to salon iris. I just wish they were cloud base.
Vorteile:
Client management Client connect Email marketing
Nachteile:
US customer support is awful! Absolutely terrible. When they were in Ireland it was amazing. I can't wait to leave as I have tried to communicate with their teams for months but still nothing has gotten better. Software doesn't have you tube tutorials to help problem solve many features are not easy to find or use. When a client is a no show and you collect the deposit it goes to your billing and not to your bank account. That's just ridiculous.
Krankenhausversorgung & Gesundheitswesen, 2-10 Mitarbeiter
Verwendete die Software für: Mehr als 2 Jahre
The best software ever!
Kommentare: Always brilliant, always efficient and never disappointed.
The system really is way ahead of any others on the market. It offers everything a business in the beauty industry would need and more.
Vorteile:
The ease of it and the reporting is excellent. It is a simple, yet really efficient system, and does everything I need for my business. I like the fact that the brand is honest, and doesn't rip people off to get a decent system, yet offers payment programmes to enable a business to be able to afford the best system within the industry. Everything about it is brilliant.
Nachteile:
Nothing really. Cant say I have got any cons. Anything I have suggested or requested on user voice has been implemented. The only thing I have ever found disappointing, was the tone of whoever was responding on user voice. They seemed more technical than customer focused, and came across rude and actually a bit obnoxious in their replies, which is very unlike the Phorest communication you normally give.
Verwendete die Software für: Mehr als 2 Jahre
It's very "blonde" Friendly
Vorteile:
It is a very straight forward to use and most definitely better/easier than any other system I used over the years. The team are so friendly /helpful.. you can be very tired at the end of a 10-12 hour day and maybe your cash up isn't going to plan. I've called the support team with such silly questions, if I can't figure out something from pure tiredness and I'm always treated with such politeness/and I'm not felt in any way that I have annoyed anyone. I also love all the reports, available to me. Just to be able to see how some staff are doing or product sales or overall takings..
Nachteile:
I'd love to see more of an easier approach to showing if the client was new or old when they check in, and also if they have had a patch test with us or not, especially for hd brows and waxing. (I'm saying that maybe there is something that's as clear as day but I've just never been shown how to do this)