Was ist ChiroSuiteEHR?
ChiroSuiteEHR is a chiropractic EHR solution that helps in SOAP note, practice management and billing.
ChiroOffice allows appointment scheduling, patient billing, insurance processing, phone-call logging, project management and much more.
ChiroPad works as your personal assistant, letting you enter your notes instantly and with exceptional clarity. The random text generation features 47 randomized grammatical depths that give your documentation a dictated appearance.
Wer verwendet ChiroSuiteEHR?
ChiroSuiteEHR is designed by a Doctor for Health Care offices. We understand the needs and struggles of the 0-50 employee office, and are able to handle multiple providers and disciplines.
Wo kann ChiroSuiteEHR bereitgestellt werden?
Cloud, SaaS, webbasiert, Windows (Desktop), Windows (On-Premise)
Über den Anbieter
Life Systems Software
1993 gegründet
Telefon-Support
Chat
Erhältlich in diesen Ländern
Vereinigte Staaten
Über den Anbieter
Life Systems Software
1993 gegründet
Telefon-Support
Chat
Erhältlich in diesen Ländern
Vereinigte Staaten
ChiroSuiteEHR – Videos und Bilder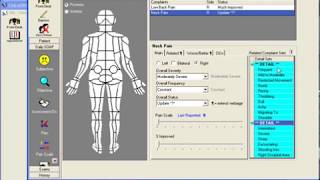 Kosten ähnlicher Produkte wie ChiroSuiteEHR vergleichen
ChiroSuiteEHR Funktionen
Abrechnung & Rechnungsstellung
Ergebnisbewertungstools
SOAP-Notizen
Terminverwaltung
Verwaltung von Patientenakten
Alternativen für ChiroSuiteEHR
Bewertungen über ChiroSuiteEHR
Joel P.
IT Administrator/Physician in USA
Krankenhausversorgung & Gesundheitswesen, 2-10 Mitarbeiter
Verwendete die Software für: Mehr als 2 Jahre
Best software for random-text generation notes, and chiropractic notetaking in general!
Vorteile:
We used this software for 10+ years and absolutely loved it. It has an office side of things that made logical sense, but at time had drawbacks that we worked around. It had great reporting so we could keep a pulse on how AR and Collections were in the office with the click of a button. Statements were simple to generate and print, as was patient information, as it was housed in an easy-to-use format. Our billing and insurance department misses this software terribly, and as we switched to another software vendor, they remind us daily how nice things for them were. From a provider perspective, the notes and system were second to none. We had attorneys call us and tell us how much they liked our notes, even though they housed the exact same information from note to note (not always of course), because this software has random text generation. A T6-L listing (or PLS or whatever) will come up in a note 10 different ways, and all we have to do is click one button to re-generate a note. I miss this software terribly for this side of things. The provider side was completely customizable, we could add any text, any macros, and information that we needed for an examination/note, and changing/editing them was a breeze, no double clicks, just a single click and start typing if we had to add something. PLUS, it was EHR/EMR compliant for PQRS and Meaningful Use. ChiroOffice: we miss you!
Nachteile:
Alright, if you have read the pros about how much we loved the software, you'll notice we no longer use it. We have a rather large patient base, and the background database is not SQL, but is Microsoft Access, which has a 2GB limit, at which point you will either start to lose data, or have to do a compact/repair daily to ensure that you don't go above the amount. This was frustrating as we have 10K+ patients. I know that we are told that size isn't important, but let's be honest, if this software were bigger, we wouldn't have changed software. For scheduling, we had to use another software as we are PT/Chiropractic/Medical/Massage and it wouldn't 100% work with what we wanted to do, so we had to use something different. Finally, though we had to compact repair, it was a very stable piece of software, we never actually lost any patient data. Though this is under "con", I ran out of room under "pro".
Joel P.
Senior IT Professional in USA
Medizinische Praxis, 11-50 Mitarbeiter
Verwendete die Software für: Mehr als 2 Jahre
Great for Smaller Offices
Kommentare: I'll be honest, if we could switch back to this software without any downtime, we would do it in a heartbeat. No matter what we didn't like, it was worth it for the notes. Without our notes, it's like we didn't do anything, especially if we are submitting notes for a trial or insurance company. With the click of the lightning bolt button, I could have a new note every second. Notes looked professional, and it was a government-compliant EHR solution. I reached out to the company a few weeks ago, and they have migrated to SQL to mitigate size problems, but transferring 20K+ patients to a new database, combined with downtime wouldn't make it worth my time. BUT if you are looking for great notes-taking software and billing, this is your best bet.
Vorteile:
Best part: Random note generation. You can choose to have a listing, and specifics about muscle tonicity in less than 10 seconds, and then generate 10-20 different notes based on those findings. Attorneys loved our notes, they specifically referred patients to our office for the detailed notes that didn't look cookie-cutter! Reviewing patient information was simple, both financial and notes/intake.
Nachteile:
The scheduling part of the software was a little clunky. We ended up using another piece of software for the scheduling. The software also had an upper end size as it was based in a database (Access?) that could only be as large as 2GB. They have since changed this, but as we are a larger office, we switched to a different software before they implemented this change.
Gesundheit, Wellness & Fitness, 2-10 Mitarbeiter
Verwendete die Software für: Mehr als 2 Jahre
Complex and not up with the times
Vorteile:
Complexity allows many ways of billing/scheduling
Nachteile:
Complexity makes you need a computer science degree to work it. No intuitive.
Stephen P.
Physician (DC) in USA
Verwendete die Software für: Nicht angeboten
Beware if you drop the annual $1200 fee for service
Kommentare: Being pretty computer literate; after several years of using this otherwise well deigned software product I realized I was not using support services and could fix most issues myself. So I dropped their service contract costing $1200/year. I was told at that time I could pay a hefty "$90/hour should I need support". I said "fine". Several months later, I realized that the service connecting my system to Talksoft (a patient reminder service) for which I pay onthly to Talksoft had stopped working. My wife contacted Life Systems who told her that it was "becasue I had not opted to conntinue to pay for service." So, we called Talksoft... who spent hours in my computer trying to get it re-started. They failed, and told us that there was nothing they could do, without Lifesystems. So I called Life systems again, and this time got Steve in support who told me that Talksoft was not telling me the truth, but informed that they could get the program in my computer restarted, but I had to pay the $1200/year for the privilege of paying monthly to Talksoft. I answered that I would pay the 90/hour to get that done. He then said, "oh no, the hourly rate is now $250.00/hour"!!! BEWARE, BEWARE.
Asia A.
Office Manager in USA
Krankenhausversorgung & Gesundheitswesen, 2-10 Mitarbeiter
Verwendete die Software für: Kostenlose Testversion
Excellent EHR
Kommentare: We definitely would recommend this to anyone looking for an easy-to-use EHR that is also affordable!
Vorteile:
This is probably one of the better EHR software out there. It is super easy to use so anyone can learn the platform.
Nachteile:
I didn't run into any issues while using the EHR. It had everything we needed and even more features that we didn't use or needed.