Was ist Trakstar Hire?
Kein Personalvermittler? Kein Problem. Recruiterbox möchte Unternehmen dabei unterstützen, den Einstellungsprozess von Anfang bis Ende zu automatisieren, von der Veröffentlichung eines Jobs bis hin zur Auswahl der idealen Kandidat*innen. Verwalte Lebensläufe für dein Unternehmen, gewinne Bewerber*innen aus verschiedenen Quellen, verwalte deine Karriereseite, arbeite mit deinem Einstellungsteam zusammen und generiere Einstellungsberichte.
Zu den Kund*innen zählen Makita, Olark, Lonely Planet und 2.000 weitere.
Wer verwendet Trakstar Hire?
Wachsende Unternehmen, die ihre Teams dabei unterstützen möchten, die richtigen Bewerber*innen für die richtigen Jobs einzustellen.
Wo kann Trakstar Hire bereitgestellt werden?
Cloud, SaaS, webbasiert, Mac (Desktop), Windows (Desktop), Linux (Desktop)
Über den Anbieter
Trakstar
Ansässig in Seattle, USA
2001 gegründet
Chat
Über den Anbieter
Trakstar
Ansässig in Seattle, USA
2001 gegründet
Chat
Trakstar Hire – Videos und Bilder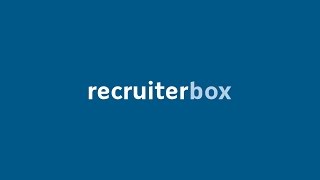 Kosten ähnlicher Produkte wie Trakstar Hire vergleichen
Trakstar Hire Funktionen
Abrechnung & Rechnungsstellung
Beurteilung-Management
Bewerber-Management
Bewerber-Tracking
CRM
E-Mail-Management
E-Mail-Vorlagen
Einstellungen (Personalbeschaffung)
Interview-Management
Kandidatenprofile
Kandidatenverfolgung
Karriereseite
Lebenslauf-Analyse
Lebenslauf-Suche
Mitarbeiterprofile
Personalbeschaffungs-Management
Self-Service Portal
Speicherung von Lebensläufen
Stellenanzeige veröffentlichen
Vorstellungsgespräche planen
Werkzeuge zur Zusammenarbeit
Workflow-Management
Alternativen für Trakstar Hire
Bewertungen über Trakstar Hire
Bree
IT Staffing Consultant in
Verifizierter Nutzer auf LinkedIn
Personalbeschaffung & -besetzung, 11-50 Mitarbeiter
Verwendete die Software für: 6-12 Monate
Quelle: GetApp
How did we ever survive before Recruiterbox!
Kommentare: I was hired on to provide recruiting backup, and when I covered for our recruiter one holiday last fall, I was shocked and horrified at the chaos of trying to manage everything via email. I started shopping around for the right ATS immediately. I tried out probably 8 or so systems, going round in circles with other vendors about walk throughs and limited trials and so forth. Recruiterbox had none of this...which was an amazing thing! No annoying calls from sales people. No limitations on the trial, which was an incredibly smart tactic on their part, because we ended up selecting the "Ferrari" of subscriptions and never looked back. It's like they trust that their product can stand on its own merits, and they don't need a sales team to harass you every few days. We really wonder sometimes how we could accomplish what we do now without the aid of Recruiterbox. A coworker recently asked me if I was in RB so I could look up a candidate. My response: "I LIVE in Recruiterbox." All day, every day, wouldn't have it any other way.
Vorteile:
Hugely, endlessly adaptable to your specific processes. We're a temporary staffing company, and with some creative thinking and detailed questions to the support folks, we have created an exquisite database and invaluable tool. The technical support team is unlike anything our office has ever experienced from a vendor. We wish every support team could be even half as good as them. Immediately responsive, genuinely want to help solve whatever weird problem you're having. Their follow up if an issue that is not resolved to their satisfaction is astounding. I've received two and three follow up emails, them double and triple checking that everything is working fine now. They are always striving to grow and improve their product (we love being "pioneers"!!). Best part? Cost wise, even with the "Ferrari" subscription, their prices beat almost every other competitor. For those needing old-school peace of mind, this package also offers monthly, downloadable data backups. We feel totally safe in their hands. Love the job board syndication. Such a great added value. Also easy to customize and add the job feed to your own website via a quick piece of code.
Nachteile:
Wish there was an option to quickly insert a signature line when writing an email to a candidate. One of our teammates requests a way to overlay a markup/highlight resumes in the viewer. Also wish we could view and/or manage the email subscribers for job posting updates, and give subscribers an option for frequency of job notifications (and maybe by job type they're interested in, like sorted by team?). We're being super picky here! :-)
Personalbeschaffung & -besetzung, 2-10 Mitarbeiter
Verwendete die Software für: 1-5 Monate
In Betracht gezogene Alternativen:
No refund
Kommentare: We have spent two months trying to get it to work, invested a huge amount of time and money into it and couldn't get it to work for our process. There is a simple software change we need, however, they prioritise software updates on a numbers basis. As no one else needs it, this update is not a priority for them. This great for all the other users, but very bad and expensive for us.
Vorteile:
It is attractive and relatively easy to use, you can adjust it to fit your hiring process.
Nachteile:
We were given the impression they would create a particular customisation for us, or that it would work for our process. This turned out not to be the case. As a result we paid for an entire year up front, and now can't use the system at all. Their customer service person said: "I'm not indicating fault here. I am simply reiterating our policy that we do not offer refunds in instances such as this. " He also said: "we are more than willing to work with you to show you how you might maximize the feature at your disposal to help you make advancements in your hiring process. " However, when we implemented their suggestions on our process, we found applications were duplicated (sometime 4 of the same application). This caused all kinds of extra work for us and it was just a very small campaign. Sadly it meant the system was unusable for further campaigns as it would have created far more work than it would have saved. I'm sure for others it is great value for money, but for us, as a result of this, it has only resulted in costs - the original cost and the cost to us of trying to get it to work.
Anwaltskanzlei, 11-50 Mitarbeiter
Verwendete die Software für: 1-5 Monate
In Betracht gezogene Alternativen:
Functional free version
Kommentare: Overall my experience was okay however when we need to hire again I will choose a different product. It did effectively serve as an ATS.
If you don't need to hire very often the free version will likely suit your needs, however if you have a high turnaround you will likely need the paid version.
Vorteile:
This product offers a free trial and a free version. It is relatively easy to use. It is useful for hiring and job posting. I did like the career page and the ability to customize it. It was nice that the applications were customizable and had the questionnaire add on. Everyone who's involved in the hiring process can share feedback and communicate. This product can be integrated with social media and allows you to reach a large number of candidates.
Nachteile:
There is no mobile app and at times that can be very frustrating and inconvenient. The customer service wasn't satisfactory and I did not enjoy my experience with them. The duplicate application prevention does not function properly. Overall it could just be more polished and straightforward.
Taylor
Human Resources in
Einzelhandel, 201-500 Mitarbeiter
Verwendete die Software für: Mehr als 2 Jahre
Quelle: SoftwareAdvice
RB is a great price for what it offers, but could use some improvements.
Kommentare: Recruiterbox is still a great Applicant Tracking System (ATS), especially for how affordable it is. However, I've found I was much happier with the system 1 year ago than I am using it right now and hope they remove some of the "busy-ness" from the interface.
Vorteile:
- Extremely affordable for smaller and mid-sized companies - Ability to allow multiple users have access to the same application in order to keep track of where they are in our process. - Constantly implementing updates (sometimes a con as well) - Pretty intuitive and easy to use for the most part
Nachteile:
- Although they implement many updates, I don't view all of them as improvements. For example they used to have a Dashboard on the home screen that was one of RB's best features. You had a great visual of which stages seemed to have a lot of apps built up and instantly knew where your attention was needed. They took that feature away and although you are still able to filter by stage, it is a pain and adds much less value. Sometimes it seems they make it busier more complex than it needs to be in order to add value. I've used it for 3 years and have been disappointed with their updates in the last year. - The search function works very poorly and inconsistently. I can search an applicant's exact name at times and "no results found" is what I'll get. - If the stages you create in each opening aren't typed exactly the same, they won't stack and will act as completely seperate stages. For example, "BGC and DT" vs "BGC & DT" - The RB support is very prompt in resonding to your chat, however they've asked me for my feedback 3 different times on the same exact matter. They say they will pass it along to their engineering team and I don't hear anything more which makes me think it never goes anywhere. Even a later response saying "it was talked about but here's why it can't happen right now.." would be good enough.
Kasey
Recruitment Specialist in USA
Marketing & Werbung, 51-200 Mitarbeiter
Verwendete die Software für: Mehr als 2 Jahre
In Betracht gezogene Alternativen:
Great quality software with superb customer service!
Vorteile:
Recruiterbox is simple to use, customize, and navigate! When I'm hiring with our hiring managers, Recruiterbox has been secret weapon to keep all aspects of the recruitment process moving. The software provides simplicity in the interviewing process - especially to those who don't hire everyday.
Nachteile:
Recruiterbox does not integrate with our other HR software and programs. This is a minor detail for us though and we can function and perform our processes without the integration.