Was ist Market Dojo?
Benutzerfreundliche und bedarfsgerechte eSourcing-Software, die Beschaffungsspezialisten bei der Durchführung von umgekehrten Auktionen, gewichteten Ausschreibungen und Ausschreibungen mit Funktionen für den öffentlichen Sektor unterstützt. Die Cloud-basierte Software bietet transparente und erschwingliche Preise, die darauf abzielen, die Komplexität des professionellen eSourcing zu reduzieren.
Wer verwendet Market Dojo?
Einkaufsleiter, Head of Procurement
Wo kann Market Dojo bereitgestellt werden?
Cloud, SaaS, webbasiert
Über den Anbieter
Market Dojo
2010 gegründet
Telefon-Support
Chat
Über den Anbieter
Market Dojo
2010 gegründet
Telefon-Support
Chat
Market Dojo – Videos und Bilder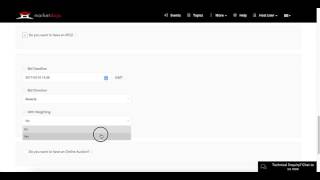 Kosten ähnlicher Produkte wie Market Dojo vergleichen
Market Dojo Funktionen
Auktions-Management
Bedarfsmanagement
Katalogisierung / Kategorisierung
Lieferanten-Management
Lieferantenqualifizierung
Rfx-Management
Vertrags-/Lizenz-Management
Werkzeuge zur Zusammenarbeit
Alternativen für Market Dojo
Bewertungen über Market Dojo
Peter S.
P.Schmidt Consultancy Services B.V. in Niederlande
Verifizierter Nutzer auf LinkedIn
Telekommunikation, Selbstständig
Verwendete die Software für: Mehr als 2 Jahre
Procurement in the Cloud
Kommentare: Not only the solution is great but also the people have been very helpful. Another thing that makes Marketdojo stand out in the crowd is their unique and affordable pricing model that shows that they understand the mechanics of the Cloud. There is absolutely no business risk as the rewards are a multifold of the fee that needs to be paid. Marketdojo also leverages the meta data from their SAAS platform to help their customers to see what the best practices are by publishing these views, which helps to augment results.
Moreover they continue to enhance the platform and they gave created an Api to allow for integration with third party platforms.
Vorteile:
My first E sourcing project as a consultant was for a firm that used one of the leading ERP sourcing solutions. This solution was complicated due to the endless features for which purpose we needed external consultants who were proficient with the system. As I saw that e-procurement software drives efficiency, one of my first thoughts was whether this could not be done any simpler. So I conducted a Market survey and I encountered Marketdojo. I was stunned by the user friendliness of their application that could be tested in their sandbox. Conclusion I did not need any additional consultants to drive an E sourcing event.
Nachteile:
There are really no cons. The real cons are the people who do not understand that SAAS helps them immediately to establish savings in their procurement process, without really worrying about whether the software is a fit within the company. It is a highly secured SAAS solution, that does not pose any threat to company' s resources and there is absolutely no customer lock-in.
Christopher K.
Head of Procurement and Supply Chain in Schweiz
Immobilien, 5.001-10.000 Mitarbeiter
Verwendete die Software für: Mehr als 1 Jahr
In Betracht gezogene Alternativen:
Tremendous value for money, superfast deployment, excellent customer service and partnership mindset
Kommentare: Market Dojo is a no-nonsense, credible provider of a tool, which delivers a measurable value and a clear operational advantage. Pricing is sensible, the motivation of the team is excellent, and foremost, I appreciate the partnership thinking of Market Dojo.
I would use Market Dojo again in a variety of procurement contexts.
Vorteile:
Market Dojo provides a pay per use e-sourcing tool. As such they are offering a niche solution, which has potential to appeal to a wide variety of buyers, even if they already have a procurement suite in place. I was after a tool which I could deploy rapidly, avoid systems integration altogether and minimize the time required for training. Market Dojo fulfilled all these criteria. 1) The negotiation process was pleasant, accommodating, with fast turn-around times, win-win orientated and provided a basis which allow me to recover the cost in weeks. 2) The tool was easily deployed, partially supported by the fact that it was cloud-based. E from the customer services team did an outstanding team training my team, and connecting it to our existing tools from Per Angusta. 3) Market Dojo was always there to answer questions and was very supportive in the process. We overstretched the used versus what we had agreed, however, Market Dojo has the success of its customers in mind, and does not fuzz about the boundaries too much.
Nachteile:
Overall, deploying Market Dojo at IWG, where previously no e-sourcing tool was in place, was a great success. I have nothing to complain about. One detailed piece of functionality, which I would wish Market Dojo to focus on, is the ability to export eRFP results with less need to format the tabular data. Market Dojo is aware of this, working on it, and I look forward to the results.
Informationstechnologie & -dienste, 11-50 Mitarbeiter
Verwendete die Software für: Mehr als 2 Jahre
In Betracht gezogene Alternativen:
The best eRFX Sourcing platform!
Kommentare: The turnaround time has reduced to just 1/10th with faster sourcing operations and bids. Since new suppliers were onboarded in minimal time, there was competition and savings realized were much higher.
Vorteile:
The platform is intuitive and user friendly. The suppliers like it and find it easy to onboard the platform.
Nachteile:
I think Marketdojo is coming up with upgrades around multi-round negotiations with suggested pricing for each line item.
Antwort von Market Dojo
vor 2 Wochen
Thanks for your review. We're glad our sourcing platform is delivering the desired results. We are indeed working on multi-round negotiations, look out for more on this soon.
Graham R.
Procurment Development Manager in UK
Informationstechnologie & -dienste, 5.001-10.000 Mitarbeiter
Verwendete die Software für: Mehr als 1 Jahr
Sopra Steria's experience with Market DoJo
Kommentare: The overall experience using Market DoJo software and working with the team has been very positive and very rewarding. Our new Supplier On Boarding process has been singled out as a successful innovation by external auditors in the race to continual improvement Supplier Relationship Management. We now optimistically look forward to more extensively deploying market DoJo Sourcing and Quick Quote.
Vorteile:
Market DoJo offered Sopra Steria a focussed, low entry cost, rapidly deployable cloud solution to the problem, then not available from any other supplier, of digitising the continual complexity of supplier on boarding without too much frustration and cost to a new supplier. Market DoJo enthusiastically supported Sopra Steria with innovative ideas to successfully secure an internal business and investment to save time, eliminate use of paper, centrally record and manage supplier responses and significantly reduce the need for the manual coordination of emails, Word files, Excel files and signed documents through the post. We are now taking advantage of the data collected to approach existing suppliers to gain formal agreement to GDPR and our Sustainable procurement principles.
Nachteile:
Having worked with Market DoJo to create very useful and simple solutions there is a growing need to able to extract data easily to create reports. Currently the reporting aspect of Market DoJo could be improve, possibly using new BI tools enabling us to easily extract to combine and compare data.
Ciaran O.
Head of Procurement Excellence in UK
Konsumgüter, 10.000+ Mitarbeiter
Verwendete die Software für: Mehr als 2 Jahre
In Betracht gezogene Alternativen:
On demand capability enables a larger organisation to achieve break through in Esourcing adoption
Kommentare: A good experience from a knowledgable procurement team. The expertise in procurement shows in comparison with many tech-led businesses. As a scale up organisation the focus on service and willingness to quickly update the solutio is a real positive also
Vorteile:
Market Dojo lead the market in on demand esourcing, and it is those design principles that need to be promoted also to larger scale organisations. Ultimately, if you want higher levels of supplier and buyer engagement with technology adopt a simple user interface that also has all the capability you need to conduct quick quote, eRFx and Eauction.
Nachteile:
We are using the tool in a number of languages and locations around the world. I do not have any real gripes with the performance of the tool or service team. I may suggest an even more dynamic licence based contract model, making licence swapping even more flexible would be a bonus
Antwort von Market Dojo
vor 5 Monaten
Thank you for leaving us a review Ciaran, we will certainly take your feedback onboard.