Was ist Jobvite?
Diese branchenführende Software hilft internen Rekrutierungsteams, in jeder Phase des Rekrutierungsvorgangs hervorragende Leistungen zu erbringen und gleichzeitig ein großartiges Bewerbererlebnis zu bieten. Zu den wichtigsten Funktionen gehören: ein nutzerfreundliches Bewerber-Tracking-System (ATS) mit Social-Recruiting-Funktionen, eine Rekrutierungsmarketing-Lösung, gebrandete Karriereseiten, Videoscreening, Analyse und Onboarding. Schließe dich den Top-Unternehmen an, die bereits mit der Software von Jobvite arbeiten! Diese Lösung eignet sich am besten für interne Rekrutierungsteams.
Wer verwendet Jobvite?
Jobvite hilft aufstrebenden, mittelständischen und großen Unternehmen, erstklassige Talente leicht, effizient und effektiv anzustellen.
Wo kann Jobvite bereitgestellt werden?
Cloud, SaaS, webbasiert, Mac (Desktop), Windows (Desktop), Android (mobil), iPhone (mobil)
Über den Anbieter
Jobvite
Ansässig in San Mateo, USA
2006 gegründet
Telefon-Support
Chat
Sprachen
Deutsch, Englisch, Französisch, Spanisch
Über den Anbieter
Jobvite
Ansässig in San Mateo, USA
2006 gegründet
Telefon-Support
Chat
Sprachen
Deutsch, Englisch, Französisch, Spanisch
Jobvite – Videos und Bilder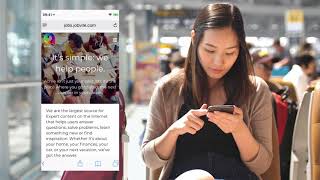 Kosten ähnlicher Produkte wie Jobvite vergleichen
Jobvite Funktionen
Angestelltenhandbuch
Aufgabenmanagement
Berichterstattung / Analyse
Berichterstattung und Statistik
Beurteilung-Management
Bewerber-Management
Bewerber-Tracking
CRM
Drittanbieter-Integration
E-Mail Marketing
E-Mail-Management
Einstellungen (Personalbeschaffung)
Elektronische Formulare
Erstellung von Einarbeitungsplänen
Interview-Management
Job-Anzeigetafel
Kampagnenmanagement
Kandidatenprofile
Kandidatenverfolgung
Karriereseite
Lebenslauf-Analyse
Lebenslauf-Suche
Live-Videointerviews
Lohn- und Gehaltslisten-Management
Mitarbeiter-Datenbank
Mitarbeiterprofile
Multichannel-Marketing
Personalbeschaffungs-Management
Self-Service Portal
Social-Media-Integration
Stellenanzeige veröffentlichen
Talentsuche
Vorstellungsgespräche planen
Werkzeuge zur Zusammenarbeit
Workflow-Management
internes Personalwesen
Bill W.
Senior Recruiter in USA
Verifizierter Nutzer auf LinkedIn
Informationstechnologie & -dienste, 5.001-10.000 Mitarbeiter
Verwendete die Software für: Mehr als 1 Jahr
Jobvite does the things a Talent Attraction Pro needs...without a lot of fuss
Kommentare: I have used all major Applicant Tracking and Applicant RM systems. Jobvite is the cleanest of what might be termed the "minimalist" systems. It gets the job done without a lot of fuss. Very user-centric and intuitive, ramp-time is fairly short. Some of the bells (Campaigns, email "slams" etc.) have a steep learning curve; this is problematic for me since I am working specialist positions rather than commodity positions.
Vorteile:
There are three elements with Jobvite that are just the best: 1. Each landing page is clean and consistent. Any TA Pro knows that every implementation of a system like Jobvite is modified to meet the needs of the client. I've used Jobvite at two companies and while there were the expected differences, the overall look, feel and function was essential the same, module to module. 2. Jobvite has done a great job of integrating the Engage side with the rest of the functionality. One of my personal metrics for ATSs is "can I get from Point A to Point B in four or fewer mouse clicks." Jobvite has done themselves proud in meeting a metric they likely didn't know existed. 3. Jobvite has sufficient points for adding significant information about a candidate as the candidate moves through the selection process. This is important for many reasons and most TA Pros know what they are.
Nachteile:
There is one issue that drives me up a wall with Jobvite and it is pervasive throughout the application. Data and information that should be passed to 1. other common applications or 2. stay with the applicant as the applicant is moved within Jobvite to other requisitions (and this is a hyper-common occurrence) JUST DOESN'T HAPPEN. Two examples: 1. Jobvite makes it very easy to send a quick note to a potential candidate from within a requisition. Problem--that note doesn't get passed to the primary email client AND if the candidate tries to reply, the reply does not go directly to the primary email client. Drives me up a wall. 2. In my organization, we have very close control over visa sponsorship. If I reject a candidate for requiring visa sponsorship and note that fact in the NOTE function, that is not married to the candidate's record. Having this functionality would save Talent Attraction team time.
Christopher C.
Recruiting Manager in USA
Verifizierter Nutzer auf LinkedIn
Informationstechnologie & -dienste, 11-50 Mitarbeiter
Verwendete die Software für: Mehr als 1 Jahr
Quelle: GetApp
Excellent Product and Service
Kommentare: Overall, Jobvite is a great ATS that integrates with all of our HR and Accounting tools. The customer service and response rate is on par.
Vorteile:
Jobvite offers several options for customizing the dashboard and workflows, and the customer service is great.
Nachteile:
nothing stands out as of yet. It would be nice to have a list of available free API's
Abigail K.
Staffing Manager in
Einzelhandel, 201-500 Mitarbeiter
Verwendete die Software für: 1-5 Monate
Quelle: SoftwareAdvice
Current Jobvite User
Kommentare: Jobvite was a step up for my company. We out grew our former ATS about 2 years ago. With that said I do not feel that Jobvite it the right fit for our organization. Once our 2 year contact is up I don't foresee us renewing. My company needs to be able to field hundreds of applicant's through our ATS daily. It became very clear shortly after using Jobvite that this software is not meant for a company like mine. It lacks small features that I need as a Staffing Manager, in order for my tasks to be efficient. We initially offered to pay more money if they needed to customize any software but they do not do that. You have to post your change to a forum where people can vote on it. The ones with the most votes gets applied in the release. This is fine in theory but if no other companies are endorsing the idea you post to the forum it leads me to believe that Jobvite can not handle the type of recruiting we do and does not have many companies like ours. Which should have made clear to us in the initial stages of negotiation.
Vorteile:
1. Great Level 1 Customer Service representatives, all you do is call in and someone can help you with a simple question or problem almost immediately. I use this feature often. 2. The site is user friendly, it was easy to teach members of my team how to use it. 3. Publisher tool is awesome! Very easy to post jobs to all social media outlets.
Nachteile:
1. Sub par Level 2 Customer Service Reps, when a level 1 person can not answer your question they pass it off to a level 2 Rep. These level 2 Reps that are assigned to your case are hard to get a hold of. They are reluctant to get on the phone with you. I have had 2 separate instances where I had been passed to a level 2 Reps, I was not impressed with their customer service skills. 2. When we went through the integration process we had many meetings with the integration Rep assigned to use but towards the he fizzled out. We were not fully integrated and he passed us off to the customer service line for further questions.
Stephanie L.
Sourcer in USA
Verifizierter Nutzer auf LinkedIn
Gesundheit, Wellness & Fitness, 5.001-10.000 Mitarbeiter
Verwendete die Software für: 6-12 Monate
Quelle: GetApp
User Friendly
Kommentare: Overall my experience is great, I like that Jobvite is easy to use and you can pretty much jump in and start using it and figuring things out without worrying about "messing" anything up. Recruiters and sourcers alike will find that it does not slow down the process and if the company switched to Jobvite they would not be unhappy.
Vorteile:
The pros for Jobvite is that is customizable and really easy to use. You don't need very much training and it links to your social platforms so sending automated announcements is easy!
Nachteile:
Cons about the software are that it can be slow at times and there is not a texting feature YET.
Jason T.
Recruiting in USA
Verifizierter Nutzer auf LinkedIn
Internet, 201-500 Mitarbeiter
Verwendete die Software für: Mehr als 1 Jahr
Good ATS for most companies
Kommentare: There are so many ATS options in the market right now, so for an ATS to truly stand out it needs to be superb. Jobvite gets the job done, but doesn't have as many features as some of the more well known systems like Greenhouse.
Vorteile:
Allows Recruiters and Hiring Managers to review, respond, and collaborate on applicants and candidates.
Nachteile:
A little clunky at times, sometimes it would have lag time.