Was ist EZClaim?
EZClaim Medical Billing Software ist ein kostengünstiges und nutzerfreundliches medizinisches Abrechnungssystem für kleine und mittlere Unternehmen.
EZClaim ist ein Experte für die medizinische Abrechnungssoftware und bietet eine Vielzahl von funktionsreichen Lösungen für die Erfüllung der Anforderungen deiner Versorgungsstelle, einschließlich der Integration mit Practice Fusion, Amazing Charts, Quick EMR, WebPT und anderen EMR-/EHR-Anbietern.
EZClaim ist auch ein Abrechnungsdienst, das mit der Funktion ausgestattet ist, mehrere Unternehmensdateien zu erstellen.
Wer verwendet EZClaim?
Jeder Anbieter, der medizinische Ansprüche abrechnen.
Wo kann EZClaim bereitgestellt werden?
Cloud, SaaS, webbasiert, Mac (Desktop), Windows (Desktop)
Über den Anbieter
EZClaim
Ansässig in Rochester, USA
1997 gegründet
Chat
Erhältlich in diesen Ländern
Vereinigte Staaten
Über den Anbieter
EZClaim
Ansässig in Rochester, USA
1997 gegründet
Chat
Erhältlich in diesen Ländern
Vereinigte Staaten
EZClaim – Videos und Bilder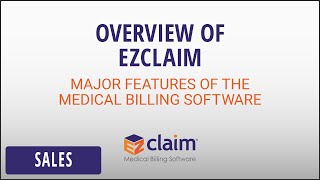 Kosten ähnlicher Produkte wie EZClaim vergleichen
EZClaim Funktionen
Abrechnung & Rechnungsstellung
Anpassbares Dashboard
Code- & Gebühreneintrag
Compliance-Verfolgung
Für Physiotherapie
Für medizinische Zwecke
Medizinische Terminplanung
Patienten-Terminplanung
Rechnungshistorie
Reklamationsabwicklung
Schadensprüfung
Überweisungsbescheid
Übungs-Management
Buchhaltung, Selbstständig
Verwendete die Software für: Mehr als 2 Jahre
In Betracht gezogene Alternativen:
EZ Claim is great
Kommentare: EZ Claim has been amazing for my small business and I can't recommend them enough.
Vorteile:
I run a billing company and I have nothing bad to say about EZ Claim. Whenever I have a client ask me about software/EHR systems I always tell them to look at EZ Claim first. The billing portion of my work is very easy to do within this program. The reports are comprehensive and easy to understand. The two times (in over two years of being an EZ Claim customer) that I've needed tech support there was a live person on the phone within a minute and my problem was resolved easily and quickly.
Nachteile:
There has not been one thing that I don't like about EZ Claim.
David
Chief Operating Officer in USA
Medizinische Praxis, 2-10 Mitarbeiter
Verwendete die Software für: 6-12 Monate
In Betracht gezogene Alternativen:
Great Service for a Great Priviileges
Kommentare: Overall, our experience with EZClaim has been positive. They are generally very receptive to correcting and troubleshooting any issues we have. I appreciate their professionalism as well and quick turnaround on product support.
Vorteile:
The process for setting up a new account with EZClaim as well as the ability to quickly and easily start billing was very beneficial. The software is not "clunky," or difficult to navigate and makes inputting claims fairly easy (no pun intended). The software is also very user friendly from the stand point that if you have limited billing experience or knowledge, you can still effectively and efficiently submit claims.
Nachteile:
The thing that I like least about EZClaim is its lack of integration with some of the practice management/emr softwares. For example, we use Practice Fusion with EZClaim, but the products are not seamlessly integrated and does create some work to correct the claims on the backend. Overall, its not the big of a problem because we "scrub," our claims before submission. However, it would be more useful if they were seamlessly integrated. The only other thing I would mention is that there is no weekend or after hour support, which can be frustrating when we experience issues afterhours or on the weekends as we bill seven days a week.
CHRISTY
Billing Supervisor/Office Manager in USA
Psychische Gesundheitsfürsorge, 2-10 Mitarbeiter
Verwendete die Software für: 1-5 Monate
Switching from EzClaim Advanced to EzClaim Premier
Kommentare: The Ezclaim customer support is always great to help us figure out a problem and find a workable solution. We have made several feature requests that hopefully will be able to be considered for future upgrades that would improve things for our practice. Overall, the program is a very solid billing program and great business tool.
Vorteile:
Our business has used Ezclaim Advanced for many years and the program worked well for our business. We upgraded to Ezclaim Premier when Advanced switched over to no longer being supported. The new program is able to do the electronic billing directly from the program and autopost ERAs directly into the software, which is a really great feature and saves time on manual data entry. It is also nice to be able to type in a client name to search (using the grid features) rather than scrolling down through long lists to find claims and information etc.
Nachteile:
The process of switching from Ezclaim Advanced to Ezclaim Premier for our business was much more complicated and time consuming than we had anticipated. The program takes a lot more training and use for a new user to be able to be confident in using the system because it is much more complex. While the system is quite customizable in many aspects, it can also be inflexible in other ways, which we have found to be a challenge at times when certain features did not match well with our specific practice. It takes more practice to figure out where everything is and how to complete different tasks than the more simplified Advanced version. We liked the simplicity of some of the features of the Advanced program which seemed to be unnecessarily over complicated in the new program. However, with increased use this has become less cumbersome as it has become more familiar. One feature change in particular that added a great deal of extra work for our business is that copays and payments made upfront in the Ezclaim Scheduler are not automatically carried over in the claim creation. The user has to go back in and disperse any payments entered into the scheduler later when the claims are created. We bill once each month rather than daily or weekly so for us this added extra time, confusion, and human error trying to go back and make sure all the copays got applied to the claims correctly. If not careful, it can be easy to forget to apply a copay or upfront payment with the new process.
Buchhaltung, 2-10 Mitarbeiter
Verwendete die Software für: Mehr als 2 Jahre
In Betracht gezogene Alternativen:
Simply the best
Kommentare: Phenomenal. The software is fantastic, the price is great and the customer service is out of this world. The best purchase I've made for my company, hands down.
Vorteile:
Customization. Not having a plethora of 'area restricted' signs all over was a big selling point. I don't like when something I purchase tells me what to do or how to do it and EZClaim allows me to captain and that's my main reason for choosing them.
Nachteile:
Honestly, anything that's ever been an issue - EZClaim has solved in one way or another so: nothing.
Finanzdienstleistungen, 11-50 Mitarbeiter
Verwendete die Software für: Mehr als 2 Jahre
In Betracht gezogene Alternativen:
Ezclaim
Kommentare: I have used Ezclaim since I started my business in 2005. I love the customer support and the features the software offers. It's easy for new billers to learn.
Vorteile:
I love the cost structure for the billing software as well as the ease of using the software. I love the support and the quickness of their response.
Nachteile:
I would like to see new features come out quicker. But I understand the amount of testing that needs to be involved.