Was ist APPSeCONNECT?
APPSeCONNECT ist die nächste Generation der Integration-Plattform als Service (iPaaS) für Unternehmen. Die einzigartige Hybrid-Architektur der Plattform unterstützt alle wichtigen Geschäftsanwendungs-Integrationsprozesse zwischen Cloud-Plattformen, Software-as-a-Service (SaaS) -Anwendungen und internen Systemen. Es hilft Unternehmen dabei, ihre bestehenden Systeme, Ressourcen, Technologien und Daten zu nutzen und optimiert nahtlos Geschäftsabläufe, wodurch die Produktivität und Effizienz gesteigert wird.
Wer verwendet APPSeCONNECT?
Wir dienen Unternehmen auf der ganzen Welt: USA, Großbritannien, Europa, Australien, Neuseeland usw.
Wo kann APPSeCONNECT bereitgestellt werden?
Cloud, SaaS, webbasiert, Windows (Desktop), Linux (Desktop), Windows (On-Premise), Linux (On-Premise), Chromebook (Desktop)
Über den Anbieter
InSync Tech-Fin Solutions
Ansässig in Kolkata, Indien
2005 gegründet
Telefon-Support
Chat
Erhältlich in diesen Ländern
Albanien, Algerien, Amerikanisch-Samoa, Amerikanische Jungferninseln, Andorra und 181 weitere
Über den Anbieter
InSync Tech-Fin Solutions
Ansässig in Kolkata, Indien
2005 gegründet
Telefon-Support
Chat
Erhältlich in diesen Ländern
Albanien, Algerien, Amerikanisch-Samoa, Amerikanische Jungferninseln, Andorra und 181 weitere
APPSeCONNECT – Videos und Bilder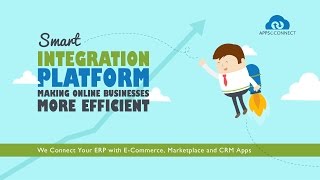 Kosten ähnlicher Produkte wie APPSeCONNECT vergleichen
APPSeCONNECT Funktionen
API
Auftragsmanagement
Berichterstattung / Analyse
CRM
Dashboard
Data Mapping
Data Warehouse Software
Daten-Import / -Export
Datenaggregation und -veröffentlichung
Datenmanagement
Datenqualitätskontrolle
Datensynchronisation
Drag-and-Drop
Drittanbieter-Integration
E-Mail Marketing
ETL
Einkaufswagen
Integrationsmanagement
Inventarverwaltung
Katalogisierung / Kategorisierung
Leistungsanalyse
Regelbasierter Workflow
SEO-Management
Werkzeuge zur Zusammenarbeit
Workflow-Management
Zugriffskontrollen / Berechtigungen
Alternativen für APPSeCONNECT
Bewertungen über APPSeCONNECT
Wei W.
Marketing Strategist in Kanada
Verifizierter Nutzer auf LinkedIn
11-50 Mitarbeiter
Verwendete die Software für: 6-12 Monate
Functional Product. Great, Professional Team at InSync
Kommentare: A much required link between our ERP and our website. Works honestly and intended.
Vorteile:
Works as intended, with required functionality all present. Team at InSync is able to customize the software behaviour to anything we need (as long as functionality exists in Magento in the first place, which is a limitation that makes perfect sense). Scheduled activations of the software allow us to synchronize our website with our ERP almost in real time. Even with the time difference, team at InSync makes time to meet during North American office hours, and responds to queries and support tickets overnight most of the time, which is much appreciated.
Nachteile:
User interface of the software takes getting used to, and does not seem perfectly optimized for ease of understanding, even though the required functionality exists. On the off chance an error occurs, the error messages are not easily understood by non-developers, or indeed anyone outside of the InSync team. There were some rare instances of difficulties reaching the team, especially in last minute situations, although that is only to be expected given the geographical and time differences.
Heather I.
Business Consultant in USA
Vorstandsbüro, 2-10 Mitarbeiter
Verwendete die Software für: 1-5 Monate
In Betracht gezogene Alternativen:
Good experience with deployment team
Kommentare: We utilize APPSeCONNECT to pass sales orders from Shopify to SAP B1. Our dedicated deployment agent has been great to work with. We've had to make subsequent customization changes; things we did not realize our prior system just "did" that were unknowingly not part of initial connection. So, my advice is to really think about literally every aspect of your current process (assuming you're converting from something existing) and make sure every little detail is discussed during implementation planning. It's difficult to catch every little thing when you're just used to certain things working a certain way, but know if you don't and things suddenly function differently when you turn it on, they'll be change requests thereafter. But other than design hiccups, the product works, the team is responsive, and there are customization options.
Vorteile:
- Relatively easy to use once you get the hang of back end admin - Has additional bi-directional feeds we hope to use in future - Working with deployment team has been positive experience
Nachteile:
- Error codes not descriptive - get the same error (which is not particularly instructive) whether customer or product issue and no way to interpret without applying basic system knowledge and assumptions - Working with dramatic time zone difference is ok for me as I'm up early, but may not be ideal for others; team at AEC is pretty accommodating given the vast difference though - Pretty basic out of the box capabilities; minor tweaks require customization
Verifizierter Rezensent
Senior Software Engineer in Singapur
Verifizierter Nutzer auf LinkedIn
Logistik & Lieferkette, 51-200 Mitarbeiter
Verwendete die Software für: Mehr als 2 Jahre
Reference Letter for APPSeCONNECT support
Kommentare: After implementation, first two years we faced a lot of issues. Not long as ago, [SENSITIVE CONTENT HIDDEN] (Customer Support ) and [SENSITIVE CONTENT HIDDEN] (Technical support ) they were handling our account for the past year we didn't face much issues and they are quick responsible for the urgent issues. Especially from [SENSITIVE CONTENT HIDDEN] he will make sure that will close the ticket end of the day and reply his findings to my stake holders so there wont be any escalations. Recently we have bought new server, APPSeCONNECT team helped us to move there services to our new server without any disruption based on the timeline. There maintenance and support is good. As team i strongly recommend there services. it was be pleasant and delightful working with them. I wish all the very best for the future and upcoming projects.
Vorteile:
I am writing to recommend the AppseCONNECT service of SAP b1 integration with salesforce. we were been working since 2017 to until now. This software flexible to use and they have few features where we can monitor syncing process lively between the two systems. There is an every tracking report to monitor the touch points and errors.
Nachteile:
Initially when we started this project we faced lot of issues as we are integrating two systems. As we have some customization we got more errors and was not handled properly in the first phase.
Pedro V.
IT Advisor in Spanien
Verifizierter Nutzer auf LinkedIn
Internet, 11-50 Mitarbeiter
Verwendete die Software für: Mehr als 2 Jahre
The very best for your Money and TOP notch Support ALWAYS!
Kommentare: I helped my customers to integrate SAP Business One with Magento, since back in 2011. Since then, I always rely on Insync and their Sync applications. Some of our customers are generating a BIG amount of money and orders selling Online, and Insync always On top of daily issue that could arise, while making the App even stronger. GOOD JOB!! If you are looking for the very best for your sync needs...look no further!
Vorteile:
Being an IT manager one of the most important key elements is having proper and immediate Support. I were one the first trusting this company and their Sync software, and nowadays I am still convinced is the TOP leading industry in sync ERP with your ecom universe applications. Support is always there, no matter what time of the day, they always there. Only good words for this dedicated team of experts.
Nachteile:
Honestly, I would say, NOTHING! They are always open to introduce new features, and solve day to day problems, and allow your business grow, no matter what your needs are.
Verifizierter Rezensent
Chief Information Officer in USA
Verifizierter Nutzer auf LinkedIn
Luxusgüter & Schmuck, 2-10 Mitarbeiter
Verwendete die Software für: Mehr als 2 Jahre
APPSeCONNECT
Kommentare: We have used this product to sync sales orders, customers, shipping info, and inventory between multiple sites and SAP. This has saved us untold hours of data entry and allowed us to focus on marketing, product design, and strengthening customer relationships.
Vorteile:
We have been using the product for several years, and it has been extremely reliable. The team has worked with us to make the software fit our needs perfectly. The best thing I can say about it is that I don't have to think about it. After the initial setup, the syncing between multiple websites and multiple platforms and SAP B1 just works. The team is responsive, and very helpful when it comes to customization requests, training, and setup.
Nachteile:
We have had a few instances where I would have liked the error messaging to be a bit more informative, but these instances have been few and far between.