Was ist Easy Rent Pro?
Eine perfekte Lösung für die Verwaltung deines Mietwagengeschäfts mit mehreren Standorten. Es unterstützt eine unbegrenzte Anzahl von Standorten und Fahrzeugen.
– Ab 199,00 US-Dollar
Wer verwendet Easy Rent Pro?
EasyRentPro.com ist die weltweit führende mehrsprachige Autovermietungssoftware, die den Verwaltungs- und Buchungsprozess vereinfacht und dir den Einstieg in alle Arten von Autovermietungen ermöglicht.
Wo kann Easy Rent Pro bereitgestellt werden?
Cloud, SaaS, webbasiert, Windows (Desktop), Android (mobil), iPhone (mobil), iPad (mobil)
Über den Anbieter
Easy Rent Pro
2006 gegründet
Telefon-Support
24/7 Live-Support
Chat
Über den Anbieter
Easy Rent Pro
2006 gegründet
Telefon-Support
24/7 Live-Support
Chat
Easy Rent Pro – Videos und Bilder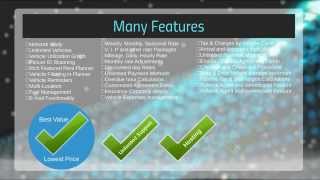 Kosten ähnlicher Produkte wie Easy Rent Pro vergleichen
Easy Rent Pro Funktionen
Abrechnung & Rechnungsstellung
Angebote / Schätzungen
Flottenmanagement
Kundendatenbank
Online-Buchung
Reservierung-Management
Alternativen für Easy Rent Pro
Bewertungen über Easy Rent Pro
tosin
CEO in Nigeria
Verifizierter Nutzer auf LinkedIn
Animation, 11-50 Mitarbeiter
Verwendete die Software für: Mehr als 1 Jahr
perfect car rental software and great support!
Kommentare: i think based on my experience over a year now, it is a great tool for vehicle reservation control and management.
Vorteile:
the first attraction is that it is easy to setup and use, also it is very customisable. we were able to configure it to suit our business ecosystem.it also allows us to connect easily with other soulutions. and yes, i had few hiccups but the customer support were awesome to help me get going. great software.
Nachteile:
they have a great support team which are ready to assist and guide me whenever i'm confused on what to do. also, i did like if vehicle tracking is improvised.
Nikhil
developer in Indien
Computer-Software, 10.000+ Mitarbeiter
Verwendete die Software für: 6-12 Monate
I'd say buy it!
Kommentare: It's affordable and you can do a lot with it. An upgrade is always possible so, there's nothing stopping you. I was just looking for a simple software to help me with the basic things of car rental business. i tested it out together with my manager and together we made the decision to buy it. It had everything i needed and worked well. I requested an additional report and they created it for me.So far everything is working well. We just received an update 2 weeks ago, which is a cool thing that is included in their service.We have 5 offices, 3 in Spain and 2 in the United States. We have two ICT guys working for us in both countries. One time the one in Spain said he saw Easy Rent Pro on google, and decided to try the software. He introduced the software to us and said we should try it. I liked it immediately because it was also available in Spanish. I knew this would be a very good program, because they spent time to develop the software in different languages. That showed that they were out of the box. I thought that this automatically can get rid of the problems of my employees in Spain with regard to language barriers. The employees that were going to use the software the most liked it. We decided to get the reservation system too. We had to make some changes to one of the templates that we chose. That is all. So far everything is working well. We just received an update 2 weeks ago, which is a cool thing that is included in their service.
Vorteile:
I am using the software for a dealership and a car rental business. They helped me setup both of them nicely in very short time. Very User-Friendly Cheap Good support. The Rental Genius program lets repeat customers earn points for discounts and rewards. The staff is very friendly and has always fixed or customized all our needs. To show the seller you're serious about buying the property, it's customary to accompany your purchase offer with an earnest money check. Earnest money generally ranges from 1% to 3% of the home's purchase price, depending on local market conditions and the seller's preference. After accepting the offer, the seller deposits the earnest money funds into an escrow account, and the amount is credited against your closing costs. To ensure that the offer price matches the actual value of the home, lenders require a home appraisal prior to approving the loan. You almost always need to pay the first year's premium upfront, either on the date you purchase the policy or at closing. Homeowner's insurance costs vary based on the value, style, location, and contents of the home, as well as your credit score, policy deductible, and coverage limits.
Nachteile:
would never recommend a newbie investor starting with Section 8. When it comes to making money with real estate, experience is everything. You kind of need to learn the hard way when it comes to fine tuning how to pick tenants and getting a good lease that <a href="http://legalrentalforms.com/rental-lease-agreement-form/">covers all of the common problem areas</a> and then some. I have not felt strange with this company yet. It has been great journey starting my rental company.our down payment is the percentage of the home's purchase price that you pay upfront, typically at closing. You need to specify a down payment amount in your purchase offer, though you can change it prior to closing if the seller agrees.
Übersetzung und Lokalisierung, 2-10 Mitarbeiter
Verwendete die Software für: Mehr als 2 Jahre
Support does not exist- Server breaks down all time
Vorteile:
It was fitting until our business got professional.
Nachteile:
No one replies even if there server is down for 24 hours. No one cares. It can take 3 days to get hold of anyone. In the meantime you do your business by paperwork, out of control. The included data backup in the cloud solution does not exist.
Ted
IT Consultant in USA
Verifizierter Nutzer auf LinkedIn
Verwendete die Software für: Mehr als 2 Jahre
Great value for the money and easy to use interface.
Kommentare: Great tool for vehicle scheduling and reservation management.
Vorteile:
For the money it is a very comprehensive reservation solution. I love that it uses MySQL on the backend so it is easy to connect and integrate with third party solutions.
Nachteile:
Vehicle management is somewhat of a problem if you reuse vehicle tag numbers as it uses the tags as the primary index key For vehicles so if you want to use the same tag on a different vehicle you have to add a digit to the front or end of the tag number otherwise it will overwrite the preexisting vehicle info. also I would like to see a WordPress plugin in the near future to enable rapid development.
Monica
Rental Operator in Niederlande
Automotive
Verwendete die Software für: Mehr als 1 Jahr
The perfect car rental software for my business
Kommentare: I used Easy Rent Pro for over a year for my small car rental business. I was truly impressed with not only the useful features but the on time support was very helpful for my business. I also loved to use the Rent Planner and the Quicklookup which give a complete rental status of my fleet. I never once experienced a single big issue with this software. Everything in one place as well as extensive features is what made me choose Easy Rent Pro over anything else. You also cannot beat that it's free to try! I would recommend Easy Rent pro to any small business.