Was ist AllegianceMD?
Webbasierte medizinische Abrechnungs-, Praxismanagement- und EMR-Software, die künstliche Intelligenz verwendet.
Wer verwendet AllegianceMD?
Die medizinische Software von AllegianceMD richtet sich an medizinische Praxen und Kliniken jeder Größe, vom Einzelanbieter bis hin zu großen ambulanten Einrichtungen mit mehreren Standorten.
Wo kann AllegianceMD bereitgestellt werden?
Cloud, SaaS, webbasiert
Über den Anbieter
AllegianceMD
Ansässig in Tulsa, USA
1998 gegründet
Erhältlich in diesen Ländern
Vereinigte Staaten
Über den Anbieter
AllegianceMD
Ansässig in Tulsa, USA
1998 gegründet
Erhältlich in diesen Ländern
Vereinigte Staaten
AllegianceMD – Videos und Bilder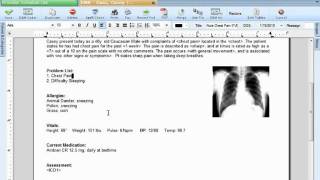 Kosten ähnlicher Produkte wie AllegianceMD vergleichen
AllegianceMD Funktionen
Abrechnung & Rechnungsstellung
Code- & Gebühreneintrag
Coding-Unterstützung
Compliance-Verfolgung
Diagramm-Erstellung
EMR / EHR
Elektronische Rezepte
HIPAA konform
Impfstoff-Management
Medizinische Abrechnung
Medizinische Terminplanung
Mehrere Ärzte
ONC-ATCB zertifiziert
Patienten-Aufnahme
Patienten-Terminplanung
Patientenportal
Rechnungshistorie
Reklamationsabwicklung
Schadensprüfung
Self-Service Portal
Terminplanung
Verwaltung von Patientenakten
Überprüfung der Versicherungsberechtigung
Überweisungsbescheid
Übungs-Management
Alternativen für AllegianceMD
Bewertungen über AllegianceMD
Psychische Gesundheitsfürsorge, 11-50 Mitarbeiter
Verwendete die Software für: 6-12 Monate
Quelle: SoftwareAdvice
In Betracht gezogene Alternativen:
Robust EMR with plenty of options
Kommentare: The solution as mentioned before is solid. Even better is their support when calling or having a problem to solve. They provider good support to the migration from another EMR, always a complex task
Vorteile:
Veracity is a web base solution, easy to access from almost any platform, no need of expensive computers to run it. It is reliable and easy to learn and navigate thru the many options the system propose. Creating chart notes templates is an easy task, and provides multiple options to users, from scheduling to messages and prescribing among some of them
Nachteile:
I believe the TeleMedicine module still need more work, it is a good integrated solution but compatibility with the many possible patient technological platforms(laptops, cellphones, etc etc) is still an issue that prevents in occasions the patient to connect to the visit.
Holly
Medical Assistant in USA
Medizinische Praxis, 2-10 Mitarbeiter
Verwendete die Software für: Mehr als 1 Jahr
Quelle: SoftwareAdvice
Robust, Cost-effective EMR/EHR System - We have found a WINNER!
Kommentare: -We're very happy with out choice and would highly recommend them to anyone!
-Previously having used a horrible system with little flexibility and poor support it was painful to go through the transition through NO FAULT of AllegianceMD. Data export from the old EMR system took forever, wasn't complete and the old company was very uncommunicative and uncooperative. AllegianceMD helped us work through the nightmare.
-AllegianceMD operations support helped us get set up so we could go live before receiving the export data from the prior company. They walked us through getting patients added, ordering labs, etc. and we couldn't be happier with them.
Vorteile:
*Biggest selling feature is extraordinary support provided via phone/email and our assigned [SENSITIVE CONTENT] has been awesome and continues to be a source of knowledge! No support turnover in more than a year. -Online training modules and e-manuals made it easy to learn system. -Scheduling and new patient set up is quick and easy. -The patient portal works well and easily allows patients to update items in their chart. -The system has a virtual appointment option which has been quite useful during the COVID pandemic. -The formulary system is easy to use and allows you to verify patient coverage of medication and to do prior authorization directly through the system. Easy patient med lookup feature and refill ability. -Save faxes or upload documents directly to patient chart, flag for follow-up and patient portal. -Billing functionality is easy and robust compared with other EMR systems - Love It! -Now interfaces with both top lab companies which makes ordering labs and receiving results seamless. -Many options for customization. -Ongoing improvements and enhancements to system.
Nachteile:
-Medication drug/drug interactions and allergy shows but does not have a "hard alert" or pop-up, possibly leading to unsafe prescribing practices. -Unable to fax medication list directly from system; must save it and then fax it.
Juana
Office Manager in USA
Psychische Gesundheitsfürsorge, 2-10 Mitarbeiter
Verwendete die Software für: 1-5 Monate
Quelle: SoftwareAdvice
In Betracht gezogene Alternativen:
Features don't work
Kommentare: I would absolutely not recommend this program due to it not working properly AND how long they took to address my concerns. When I told them I was leaving, they tried to charge me a cancelation fee despite my long and recorded history of complaints of not being able to actually use the software. I was paying about $450 for this program AND paying for another EHR while waiting for this one to be functional. That never happened so I switched.
Vorteile:
Documentations was a breeze for intakes and follow up notes. Also templates are customizable though they do provide some standard templates. Adding macros/quick text is easy as well. The only thing that works about this program are the notes. The patient portal did not work consistently, but when it does, the questionnaires port into the chart for ease of note integration without double entry. The person assigned to my account for setup was very nice as was the person who helped with demo. But the program itself did not function properly. Billing was also easy to do in the system.
Nachteile:
Most of the features I switched for did not work. The patient portal did not work on computer or mobile device, despite there being an app. I was later told though they had an app it was still in testing and did not work on IOS. When the program was demo'ed to me, I was told they have an app and website portal. When patients were able to login to the portal, from a computer only, the signed intakes did not port into the chart. I then had to print out copies for signature and keep hard copies in the office. When Covid happened, I could not longer use the system because people were not coming into the office. So I was double paying to continue my old EHR. They kept telling me someone was fixing this, but it was not fixed. The scan to chart and upload feature does not work except for on a pc, so I'm told. The fax did work but it does not auto assign to a chart. You have to manually put it where it needs to be. I don't have a pc so I can not confirm if it works there. I was also not told that upfront. They also told me they were rolling out Telehealth but did not do it before I left (which was after about 2 months). I would not recommend this program.
Ashley
Administrator in USA
Medizinische Praxis, 2-10 Mitarbeiter
Verwendete die Software für: Mehr als 2 Jahre
Quelle: SoftwareAdvice
Great product for your EMR needs - fully customizable!
Kommentare: Overall Allegiance does an excellent job with the functionality of the system. They have outages from time to time that cause disruption, but they seem to remedity it quickly when that happens. They are constantly making new updates based on recommendations from users, which I feel is important with any company you work with.
Vorteile:
We enjoy the ease of building chart templates that are fully customizable to our pain management practice needs. It is a very simple system to learn for new users.
Nachteile:
There are a few features in the orders section I would like to see a report or sort feature that is easier to use. Also billing reports that could have more options to sort and condense down.
Medizinische Praxis, 2-10 Mitarbeiter
Verwendete die Software für: Mehr als 2 Jahre
Quelle: SoftwareAdvice
I love AllegianceMD
Kommentare: Query is easy. Reports are easy to create. Our accounts receivable is almost nothing. No delinquent accounts.
Vorteile:
This software is comprehensive. Support is amazingly fast and friendly!
Nachteile:
There is nothing to complain about this software. We will be retiring soon and we totally recommend this software to other doctors