Was ist monday marketer?
monday.com ist ein cloudbasiertes Work OS, mit dem Teams Workflow-Anwendungen in wenigen Minuten erstellen können, um Prozesse, Projekte und tägliche Arbeiten durchzuführen.
Teams gestalten Workflows und Projekte ohne Code über eine adaptive Plattform, die manuelle Arbeit automatisiert und Teams in einem digitalen Arbeitsbereich verbindet.
Zu den Plattformfunktionen zählen: anpassbare Workflow-Vorlagen, Zeiterfassung, Automatisierungen, Daten-Dashboards und Integrationen mit gängigen Tools.
Mehr als 100.000 Unternehmen auf der ganzen Welt vertrauen auf monday.com.
Wer verwendet monday marketer?
monday.com ist für Teams aller Größen konzipiert, es hilft sowohl kleinen Start-ups als auch großen Unternehmen, besser als Team zu arbeiten. Es ist so vielseitig, dass ihre Kunden ein breites Spektrum von Märkten und Branchen abdecken.
Wo kann monday marketer bereitgestellt werden?
Cloud, SaaS, webbasiert, Mac (Desktop), Windows (Desktop), Linux (Desktop), Android (mobil), iPhone (mobil), iPad (mobil)
Über den Anbieter
monday.com
Ansässig in Tel Aviv, Israel
2014 gegründet
Telefon-Support
24/7 Live-Support
Chat
monday marketer Kosten
Startpreis:
10,00 $/Monat
Ja, kostenloser Test verfügbar
Ja, Gratisversion verfügbar
monday marketer bietet eine Gratisversion und eine kostenlose Testversion. Die kostenpflichtige Version von monday marketer ist ab 10,00 $/Monat verfügbar.
Preismodelle
Kostenlose Testversion
Über den Anbieter
monday.com
Ansässig in Tel Aviv, Israel
2014 gegründet
Telefon-Support
24/7 Live-Support
Chat
monday marketer – Videos und Bilder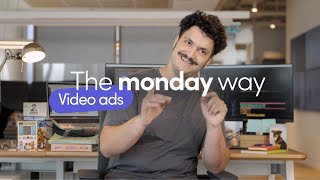 monday marketer Funktionen
Aktivitäts-/Newsfeeds
Asset Sharing
Berichterstattung / Analyse
Bibliothek von Vermögenswerten
Brand Guidelines
Content-Management
Dashboard
Digital Asset Management
Dokumentenprüfung
E-Mail Marketing
Gruppenmanagement
KPI-Überwachung
Kampagnenmanagement
Kampagnenplanung
Kanalmanagement
Kontrolle des Genehmigungsprozesses
Kundenmanagement
Marketing-Automatisierung
Marketingkalender
Mehrere Kampagnen
Nachterminierung
Nutzerprofile
Projektmanagement
ROI-Tracking
Sentiment-Analyse
Social Listening
Social Marketing
Social Media-Überwachung
Strategische Planung
Suchen / filtern
Werkzeuge zur Zusammenarbeit
Zielsetzung / Nachverfolgung
Alternativen für monday marketer
Bewertungen über monday marketer
Ralph V.
Director of Multimedia in USA
Verifizierter Nutzer auf LinkedIn
Maschinenbau oder Wirtschaftsingenieurwesen, 51-200 Mitarbeiter
Verwendete die Software für: Mehr als 1 Jahr
Project management and organization for the rest of us.
Kommentare: We have tried MANY project management platforms and for us to select monday.com says a lot about the product. We have a varied group of individuals within our marketing department using this tools to coordinate everything from our detailed printing requests, web and online projects to translation flow (very difficult to manage due to the many contributors involved in this process.) Monday.com makes all of this convenient and easy to follow.
Vorteile:
Its incredibly easy to create a work flow or "Board", add participants and follow the progress of many tasks with ease. We can attach any supporting files or materials needed to each post and tag a specific user. Email and desktop notifications alert you on any activity and there is a web based site you can go to or the even better desktop and mobile app versions.
Nachteile:
One of the few cons i can think of is the absence of a "repeating or scheduled task". I know there are ways around this but it seems like something that should be native to it.
In Betracht gezogene Alternativen: Azendoo
Warum monday marketer gewählt wurde: I believe it was mostly a pricing issue at the time but once we used monday we liked it better.
Zuvor genutzte Software: Azendoo
Gründe für den Wechsel zu monday marketer: Pricing and features.
Brendon B.
Ecommerce Director & Digital Marketing in USA
Verifizierter Nutzer auf LinkedIn
Bekleidung & Mode, 11-50 Mitarbeiter
Verwendete die Software für: 6-12 Monate
Complex or complete?
Kommentare: Clever marketing brought us here, and so far the depth of the product has lived up to the hype. Monday's development is moving a good direction - if they can wean users off of email they might help me get more team buy-in. All said, if you have a strong, vocal PM that won't accept any deliverables that didn't go through the software, this may be all that is required.
Vorteile:
We chose this for the depth of the product, the vision of the company, and the support system. I am quite happy with the product for the time being - options, configurations and communication tools abound, and the different ways of visualizing project data are extremely helpful and open our company to opportunities.
Nachteile:
I have used an immense variety of project management software in my time, and all bring something to the table. Monday brings everything to the table, but the table gets too full. The sheer complexity of the offerings has kept many of my users away, and often I am in the position where I am attempting to rope members back into the software in order to not have to duplicate my reporting. Intimidated by the product, they fall back to inundating the team with email. I don't quite have a picture of how I can fully build out dozens of client folders, each with 10+ boards, each board with 4-5 groups of 1-+ "pulses" each, without anything falling through the cracks, and still knowing that progress is being made. This may be an educational thing on my part.
In Betracht gezogene Alternativen: Avaza, Trello und Asana
Gründe für den Wechsel zu monday marketer: We chose it for the depth, and the spreadsheet-style pulses.
Verifizierter Rezensent
Graduate Assistant in USA
Verifizierter Nutzer auf LinkedIn
Hochschulbildung, 1.001-5.000 Mitarbeiter
Verwendete die Software für: 1-5 Monate
Monday.com Review
Kommentare: Over all my experience with Monday was a 50/50 split some things I loved and some things were lacking in functionality for what we needed. Overall I didn't hate it. At the end of the day it just wasn't what we needed to be productive. I think for other users who are using it for design, and business marketing it would be a phenomenal program and the price is very affordable even if you are a small company. Monday might be what you need to get your productivity up to become an even bigger company.
Vorteile:
I liked how Monday.com allows for easy collaboration with team members. It does take some getting used to for me it was easy to get used to because I am more of a computer person and have had many different experiences with a lot of different programs. Everyone else on my team is the complete opposite, however because of Monday.com's modern website design people were able to grasp it because the design is easy on the eyes if that makes sense. It is almost like an easy/drag and drop version of excel. Aside from the design I did love that there were different calendar views like Kanban view and the map view especially. The other things I loved was the forms integration, which made it easy to transfer our clients over from one program to another. As they came in they filled out the short form and were integrated into the calendar pretty easily. Lastly I loved the status column. I was going to use it to check in clients. Red for when they arrived to their appointments, Yellow for when they were waiting and Green for when they were done and waiting on their transportation back home.
Nachteile:
There were a couple of things that I did not like, which made us only use Monday for a short period of time. For one we are a mental health therapy center and we do A LOT of scheduling. While there is a template to schedule clients. It is more so for a few clients and not hundreds. We have multiple therapists and may want to view their appointments sometimes together and sometimes separately and Monday started to get somewhat bulky when trying to do this. We tried doing multiple boards for each therapist and then we tried doing each board as a day of the week and in the end we had too many boards and it was still and either you view this person or that person but not both. On top of that we also schedule activities with clients and that would have been a whole separate view as well. The last thing that we needed was to make recurring appointments for clients that are seen every Tuesday or for ones that are seen every other Thursday etc. This task was extremely bulky and involved using a 3rd party service.
Alexandre M.
Scientist in Brasilien
Hochschulbildung, 1.001-5.000 Mitarbeiter
Verwendete die Software für: Mehr als 2 Jahre
Good management software
Kommentare: It has been a nice experience so I would recommend the users to try it out
Vorteile:
I love the fact Monday Marketer can integrate with Slack so it helps the data of the company to be updated very quickly. Thus the data monitoring of our tasks and projects are viewed and analyzed through beautiful templates and charts, which turned our business into another level of reconnaissance.
Nachteile:
Some coworkers told me that the layout for smartphones has some pitfalls in visualizing tables. I would like to see in this app a log file where I can follow the updates for internal reasons.
In Betracht gezogene Alternativen: Smartsheet
Damien M.
Product Manager in Frankreich
Verifizierter Nutzer auf LinkedIn
Computer-Software, 201-500 Mitarbeiter
Verwendete die Software für: Mehr als 1 Jahr
If well configured and maintained, the perfect companion to manage your projects
Vorteile:
Monday.com has so much customization and integrations available that it covers all the need of a project manager. I've used it as a Marketing Manager and now as a Product Manager and even if the needs are different, the ease with which one can customize the dashboards makes it an ideal application. Integrated into a team, monday.com shows all its usefulness with the possibility of assigning tasks and thus managing all business activity.
Nachteile:
For this kind of application with many features, the administrator must make sure to set up a configuration that suits the whole team and also raise awareness so that the team keeps the application up to date.