Was ist Factors.ai?
Factors.AI ist eine Marketinganalyse- und Attributionsplattform, mit der du die Auswirkungen deiner Aktivitäten auf den Umsatz verstehen und nachweisen kannst.

Alle Daten deiner Customer Journeys werden erfasst und verarbeitet. Du kannst Kennzahlen über Web, Kampagnen und CRM hinweg überwachen, um deinen Umsatz zu steigern.

Mit einer einfachen Selfserviceoberfläche, Multi-Touch-Attributionsmodellen, KI-gestützter Analyseengine und Vorlagenbibliothek erhältst du alle Antworten auf häufige Marketingfragen.
Wer verwendet Factors.ai?
Factors.AI wurde für digitale Marketingteams entwickelt, um Kennzahlen über Web, Kampagnen und CRM hinweg zu überwachen und den Umsatz zu steigern. Eine ideale Lösung für wachstumsstarke B2B-SaaS-KMU, D2C-Marken und Agenturen
Wo kann Factors.ai bereitgestellt werden?
Cloud, SaaS, webbasiert
Über den Anbieter
SLASHBIT
Telefon-Support
24/7 Live-Support
Chat
Erhältlich in diesen Ländern
Indien
Über den Anbieter
SLASHBIT
Telefon-Support
24/7 Live-Support
Chat
Erhältlich in diesen Ländern
Indien
Factors.ai – Videos und Bilder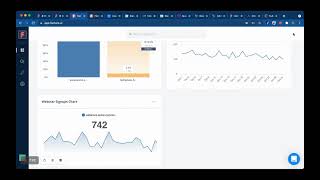 Kosten ähnlicher Produkte wie Factors.ai vergleichen
Factors.ai Funktionen
Aktivitäts-Dashboard
Benutzerinteraktion-Nachverfolgung
Cross Channel Attribution
Customer Journey Mapping
Dashboard
Daten-Identifizierung
Datenvisualisierung
Engagement-Tracking
KPI-Überwachung
Kampagnen-Tracking
Kampagnenanalysen
Kampagnenmanagement
Konversion-Tracking
Leistungskennzahlen
Mehrfache Datenquellen
Multi-Channel Attribution
Multi-Touch-Attribution
Multichannel-Datenerfassung
ROI Tracking
Suchen / filtern
Trichter-Analyse
Visualisierung
Website-Analytik
Zeit auf der Website nachverfolgen
Zielsetzung / Nachverfolgung
Alternativen für Factors.ai
Bewertungen über Factors.ai
Chandra Shekar
Manager - Analytics in Indien
Verifizierter Nutzer auf LinkedIn
Verbraucherdienste, 201-500 Mitarbeiter
Verwendete die Software für: Mehr als 1 Jahr
All in one marketing attribution and analytics tool
Vorteile:
Problem Statements: 1.) Distributed marketing and sales data (GA for website visitor, Salesforce for CRM data, individual ads platforms and Search Console for organic search data). 2.) Time+effort to access to marketing+sales funnel metrics with required breakdowns and filters. 3.) Analysing impact of an intermediate lead state on final conversion: E.g., Pre-qualified funnel. 4.) Gauging time taken (TAT analysis) from one lifecycle stage of a lead to another. E.g., TAT analysis. 5.) Measuring marketing activities' impact on value/quality of leads and sales. Solutions: 1.) Factors integrates with the website visitor, CRM, Ads platform and Search Console data bringing all data in a single place. Eliminated need to hop across tools to track marketing KPIs. 2.) Analysts at Design Cafe track the following funnel on a regular basis in order to determine the efficacy of marketing and sales activities-> Leads to Meeting Schedule (i.e., Qualified Leads) to Meeting Done (i.e., Opportunity) to Sign Up (i.e., Customer). During this they end up access 2 or more reports in Salesforce as they want to breakdown this by city, source, channel, campaign and segment. Using the Salesforce integration, Factors pulls all CRM updates at a lead and opportunity objects level. And all these updates are further available for reporting in a choronological order as events with all the Salesforce properties like city, source, channel, etc. Using these update events, analysts were able to create any marke
Nachteile:
Data loading is little slow and factors is working on the issue
Krubakar
Head of Analytics in Indien
Medienproduktion, 51-200 Mitarbeiter
Verwendete die Software für: Mehr als 1 Jahr
In Betracht gezogene Alternativen:
Factors helped in improving the accuracy of our Web Analytics data
Kommentare: Having a very good experience with the platform and the team. I could see good improvements in the product and data sanctity from the day we started. Looking forward to a fruitful experience in the future as well
Vorteile:
The feature we liked the most about Factors is the accuracy at which our KPIs were measured. Using GA we were getting only an estimate of Page Time, Session Time sampled on 10% of users, and factors helped in weeding out this inaccuracy. Unsampled data availability and the precision at which they track user engagement metrics like scroll depth and cursor movements were big positives. It met and exceeded most of the expectations we had in comparison to GA
Nachteile:
Being an early stage startup certain integrations were not available (Netcore etc). Also our use case was more of Web Analytics and they were built for marketing analytics hence custom dashboard creations were not straight forward. However all our requirements were met as they helped us with these custom issues and solved all our problems. Their customer support team is quick in addressing and solving any issues
Verifizierter Rezensent
Co-Founder and CEO in Indien
Verifizierter Nutzer auf LinkedIn
Computer-Software, 11-50 Mitarbeiter
Verwendete die Software für: 6-12 Monate
The best platform for website marketing attribution
Kommentare: We had a fabulous experience using Factors.ai
Vorteile:
Loved the accuracy of marketing attribution to channels for lead generation of websites
Nachteile:
Nothing in particular. The onboarding could have been slightly smoother but that is just a minor gripe.
Bhavuk
Marketing Manager in Indien
Verifizierter Nutzer auf LinkedIn
Versicherung, 1.001-5.000 Mitarbeiter
Verwendete die Software für: Kostenlose Testversion
It's a good tool for Marketing Campaign analysis and Improve ROI
Vorteile:
We used the Factors.ai tool for Marketing analytics, to analyze our Google, FB campaigns daily & weekly performance data. Really liked the way the overall data is represented with proper actionable insights.
Nachteile:
More features are required related to Demographic, search term related analysis.
Balajee
Co-founder in Indien
Finanzdienstleistungen, 11-50 Mitarbeiter
Verwendete die Software für: 1-5 Monate
Great for Marketing Insights
Kommentare: We were looking for a tool that we could use to track our marketing event analytics without the sampling problems that GA introduces. Of course, we use were using a more big name analytics product for product analytics for a specific subset of our users to cut costs. However, for marketing campaigns we wanted to measure the conversions across all our traffic sources which would have been prohibitively expensive for us on the aforementioned big name analytics product. We got in touch with Factors.ai and their [SENSITIVE CONTENT] got on a call to walk us through how we could integrate it in our product. He even helped us streamline our analytics pipeline so that we were not locked in to one analytics pipeline. Overall, Factors.ai has been a fantastic pick for us. We have all our campaign conversion stats in one place.
Vorteile:
Simple marketing reports. None of the cruft. Immediate, actionable data only.
Nachteile:
The UI can probably use a bit more polish, but I expect they'll get there considering how fast they're moving