Was ist Taplink?
It is a powerful link for your Instagram BIO which is perfectly optimized for mobile traffic and loads 10 times faster than any website. This link contains a micro-website where you can place all the most important: Information about yourself, your content (Photos, Videos, Products), messaging apps (To make it easy to get in touch with you), and opt-in forms to collect leads and use them in your marketing campaigns.
It has a built-in CRM system to track your stats, leads, and payments.
Wer verwendet Taplink?
Nicht vom Anbieter bereitgestellt
Wo kann Taplink bereitgestellt werden?
Cloud, SaaS, webbasiert, Mac (Desktop), Windows (Desktop), Linux (Desktop), Chromebook (Desktop)
Taplink – Videos und Bilder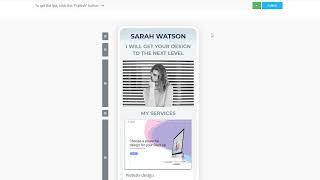 Kosten ähnlicher Produkte wie Taplink vergleichen
Taplink Funktionen
Anpassbare Vorlagen
Formular-Generator
Veröffentlichungsoptionen
Alexis L.
CEO in Peru
Verifizierter Nutzer auf LinkedIn
Marketing & Werbung, 11-50 Mitarbeiter
Verwendete die Software für: Mehr als 1 Jahr
Your landing bio to drive sales through Instagram
Kommentare: Viewing statistics, integrating notifications and payment gateways has been very useful for my Instagram business. It certainly helps all kinds of entrepreneurs and businesses to improve sales of their products and services.
Vorteile:
I've been using Taplink for a long time and here's what I like about it: 1) Make very professional Instagram landing pages. 2) Integrates payment gateways like Paypal - then it's super easy to sell stuff there. 3) Email collection - I love that it's easy to collect emails when people are on your landing pages. 4) Mobile responsive - I'm not sure why this is important to me, but it's a big deal. 5) Notifications - I use Telegram and get notifications daily. There are many more.
Nachteile:
I would like it to integrate with other types of payments, other services, for example MailWizz or syncing blog posts via a URL. The latter seems indispensable.
Blessing A.
Digital media expert in Nigeria
Marketing & Werbung, 11-50 Mitarbeiter
Verwendete die Software für: Mehr als 2 Jahre
In Betracht gezogene Alternativen:
Taplink is the solution to my ease of doing business on Instagram
Kommentare: I own a social media agency, and sincerely, I don't have to be online 24/7 to serve my clients. They check my website stargirlstrategy.com (created with taplink) and check out my services, then make payment for whichever service they want me to offer them. I get a mail immediately after their payment is made, and I proceed to chat with them with the information they have provided. Taplink is the best I've seen yet. Keep it up.
Vorteile:
I like all the features of the software, and it's hard for me to choose one. I like the way you can customize & design your page to match your brand identity, how you can connect your page to a payment platform and get paid for your business from all parts of the world, how you can track your growth with insights, and even the connected google analytics, I can continue to write all the benefits, & I won't leave here today.
Nachteile:
I don't love anything less on Taplink, I have recommended it to most of my clients and I'm hoping that very soon they work on adding an e-commerce feature for people who sell products & not just service business owners. I'm also looking forward to a more presentable web view version of our website & not just the mobile view, which is already perfect. I also want taplink to help us add the blog feature, that will allow us to create blog posts, use keywords just like we do on WordPress. These are the few things I would like Taplink to add to their product.
Tasha B.
Content Creator & Therapist in UK
Psychische Gesundheitsfürsorge, Selbstständig
Verwendete die Software für: 6-12 Monate
Decent - easy to use, but simple designs
Kommentare: Benefits - able to change colours, layouts, themes. Able to add and move links very easily. Link itself is simple and not overcomplicated Issues - lack of variety and sophisticated layouts which align with Instagram.
Vorteile:
The software is simple to use, with lots of customisable features. I enjoy how easy it is to add a variety of different sources and to use this alongside my instagram account.
Nachteile:
The designs are quite basic, with a lack of variety of layouts to choose from. Especially when you have many links that need to be added. The layouts feel quite outdated.
Khalida D.
Sales Coach in USA
Verbraucherdienste, 2-10 Mitarbeiter
Verwendete die Software für: Mehr als 1 Jahr
Love this Link
Kommentare: I love taplink for getting started especially and recommend it to all of my clients. This way if they aren't ready for a website, there is still a way for people to get in touch with them and buy their products and services. It's super handy for all stages of business.
Vorteile:
I love how easy it is to set up Taplink and how easy it is to keep everything up to date when I need to update for promotions and launches. I've had customers tell me they got all the info they needed about working with me through my Taplink. I'm also a huge fan of how easy it is to customize it and make it look very professional and on-brand.
Nachteile:
I wish it was easier to have pages on Taplink that we the customer was interfacing with it they could swipe like a carousel feature. I wish setting that up was easy so first page could be like Offers and website and then subsequent pages could be Blog and Podcast, etc.
Marcos A.
Owner in Brasilien
Grafikdesign, 2-10 Mitarbeiter
Verwendete die Software für: Mehr als 1 Jahr
In Betracht gezogene Alternativen:
The perfect landing page solution for my small business
Kommentare: As a small business owner I need services that add value to my business and found Taplink as the perfect solution for deployment a basic landing page and link for the instagram bio. Easy to setup, low maintenance.
Vorteile:
Taplink was quite easy to setup when I started my own business and was looking for a landing page to be added to the instagram bio. Many template options that are easy to configure and maintain. Development team is constantly adding new features.
Nachteile:
Page is optimized for mobile devices (portrait mode). Looks weird on large displays (landscape mode).