Was ist Sealit?
Sealit schützt vertrauliche Informationen. Die kennwortlose Zero-Trust-Verschlüsselung ermöglicht es dir, die gesamte vertrauliche Kommunikation mit deinem Team und deiner Kundschaft mit nur einem Klick zu sichern. Sealit lässt sich nahtlos in Outlook, Gmail und deine Dateisysteme integrieren, sodass du so weiterarbeiten kannst, wie du es bereits kennst. Empfangsparteien verwenden einfach ihre Biometrie, um auf Nachrichten zuzugreifen, sodass nur die gewünschten Empfangsparteien auf vertrauliche Informationen zugreifen können. Sealit ist dazu da, um dein wichtigstes Asset zu schützen: deine Daten.
Wer verwendet Sealit?
Sealit wurde für alle Branchen entwickelt, die mit vertraulichen oder personenbezogenen Daten zu tun haben, einschließlich: Finanzen, FinTech, Immobilien, Recht, Gesundheitswesen usw. DSGVO-konform, CCPA-konform (California Consumer Privacy Act) und HIPPA-konform (Health Insurance Portability and Accountability Act).
Wo kann Sealit bereitgestellt werden?
Cloud, SaaS, webbasiert, Mac (Desktop), Windows (Desktop), Android (mobil), iPhone (mobil), iPad (mobil)
Sealit – Videos und Bilder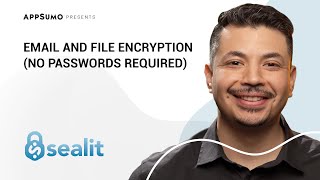 Kosten ähnlicher Produkte wie Sealit vergleichen
Sealit Funktionen
Aktivitäts-Dashboard
Aktivitäts-Verfolgung
Aktivitätsüberwachung
Alarmfunktion / Benachrichtigungen
Anwendungssicherheit
Audit Trail
Benutzer-Management
Berichterstattung / Analyse
Berichterstattung und Statistik
Compliance Management
Dateiverschlüsselung
Datensicherheit
E-Mail-Management
E-Mail-Tracking
Endpoint Protection
Ereignisprotokolle
Gemeinsamer Posteingang
Inbox-Management
Remote-Monitoring und -Management
Schlüsselverwaltung (IT)
Sichere Datenspeicherung
Suchen / filtern
Verschlüsselung
Zugriffskontrollen / Berechtigungen
Überwachung
Bewertungen über Sealit
Durchschnittliche Bewertung
Preis-Leistungs-Verhältnis
Nutzerbewertungen nach Unternehmensgröße (Angestellte)
<50
51-200
201-1.000
>1.001
Bewertungen nach Punktzahl finden
Krishnaswami
Consultant in Oman
Verifizierter Nutzer auf LinkedIn
Versicherung, 2-10 Mitarbeiter
Verwendete die Software für: 1-5 Monate
Sealit - Secure your peace of mind!
Kommentare: Love the ease of use, I was always looking for a reliable, yet affordable zero trust secure email system, and sealit checks the right boxes, The product is affordable, generous with limits and teams and provides a total peace of mind when you send out that confidential email knowing that you would be kept in the loop all along the way, and you are in control even after hitting the send button. The support team is very responsive, and are active on their facebook group and the chat on their website, and dont shy away jumping onto a video call to explain and help you set up their product. Overall a must buy if you are looking for that next level in email security, all without having to change your email address and jump through a thousand hoops to get it done. Get sealit and secure your peace of mind.
Vorteile:
- Easily integrates with Gmail and outlook, and has a neat app to authenticate requests. - Supports PIN based authentications for elderly who might not be app savvy. - Encrypts local files and add a layer of biometric security such that unintended users cannot snoop around. - Provides granular control on the sent emails and encrypted attachments, if the attachments are encrypted, you get to control when and who is able to view or access the attachments. - You can allow\deny access to any sent email recipient from the control panel, which means zero panic when that confidential document is sent to the incorrect recipient, no more recalls, just head over to the admin mode and deny access. Total Peace of mind.
Nachteile:
-The one feature that i would like to have is the ability to have the recipient also reply with a sealit secure email, presently this is not available, but is on the roadmap so looking forward to getting it eventually. -The other feature which could be improved is better control on email formatting, not all fonts and sizes are supported, which leaves a lot wanting when your brand uses custom fonts.
Bekleidung & Mode, Selbstständig
Verwendete die Software für: 1-5 Monate
Easy to use, well designed
Kommentare: I use it to protect encrypt and protect my clothing designs.
Vorteile:
The software was easy to set up and the mobile application worked smoothly.
Nachteile:
I use a Mac and for now there is no desktop app for this yet, so I sign into the portal online to use it.
Antwort von Sealit Technologies
vor 2 Wochen
Hi Lana, thank you for your review - the desktop app for file encryption will soon be available for Mac users as well!
Ederson
CEO in Dominikanische Republik
Design, 2-10 Mitarbeiter
Verwendete die Software für: 1-5 Monate
Easy protection for your important files and email
Kommentare: My experience so far has been very good with Sealit, I am relatively new to using this application, I hope they can continue to give good support as they have been up to now. I have been presented with some errors, but they have fixed it once and for all.
Vorteile:
Easy Protection for your important files and email. What I like the most about Sealit is the ease with which we can compress our emails and files on our PC. They have worked very well on their design and mobile application which is very well designed. They have thought of several platforms to be able to use this product, some of them are Outlook, Gmail or GSuite, iOS, Android, PC, etc. In the APP we can see everything that happens with our encrypted files, such as alerts of the last thing that has happened with our account, we can see the encrypted emails sent and received, the activities of all encrypted, open emails, it shows us a Passcode the which allows us to read encrypted emails, etc.
Nachteile:
Currently it does not allow full folder encryption on a PC, but they informed me that they have it scheduled to be implemented, hopefully soon. Its entire platform is in English, it still does not allow translation into any other language such as Spanish, I hope they include it soon. It is a relatively new company, so we hope that it can be maintained and never decide to close.
Gautam
Founder in Indien
Verifizierter Nutzer auf LinkedIn
Computer- & Netzwerksicherheit, 51-200 Mitarbeiter
Verwendete die Software für: 1-5 Monate
Seal the deal, best product to secure email
Kommentare: loved using this tool, hoping for many other functions like the self-destruction function.
Vorteile:
encrypting the email attachments was amazing for security.
Nachteile:
its doesn't work with custom email service providers
Alyse
Executive Assistant in USA
Krankenhausversorgung & Gesundheitswesen, 51-200 Mitarbeiter
Verwendete die Software für: 1-5 Monate
Great service!
Kommentare: Great experience.
Vorteile:
I appreciate that this software is so easy to use. I am not usually great with technology, but this was straight forward and easy to understand. I felt that I always had support in case I had any questions as well.
Nachteile:
I think it would benefit if there was a follow up to see that this message was sent/delivered.