Was ist Polypane?
Polypane is a stand-alone browser with built-in tools for responsive design, accessibility, performance, meta info.
It has everything you need in one developer tool: Powerful chromium-based devtools, multiple synced viewports, device emulation, media query emulation, over 25 different debug tools and over 80 different accessibility tests.
View parts of your web page that you never see in clear overviews, like your meta info, document outline and more.
Wer verwendet Polypane?
Polypane is used by Front-end developers, UI designers, QA engineers, Marketers, Product developers and other people working on creating the best web experience they can.
Wo kann Polypane bereitgestellt werden?
Mac (Desktop), Windows (Desktop), Linux (Desktop), Chromebook (Desktop)
Erhältlich in diesen Ländern
Niederlande
Erhältlich in diesen Ländern
Niederlande
Polypane – Videos und Bilder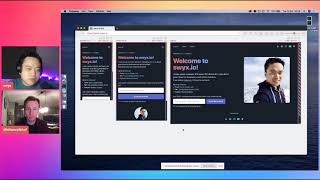 Kosten ähnlicher Produkte wie Polypane vergleichen
Polypane Funktionen
Adressleiste
Automatisches Aktualisieren
Berichterstattung / Analyse
Berichterstattung und Statistik
Debuggen
Grafische Benutzeroberfläche
Kompatibilitätstests
Leistungskennzahlen
SEO-Management
Tab-Management
Visuelle Analytik
Website-Analytik
Zielseiten / Web-Formulare
Alternativen für Polypane
Bewertungen über Polypane
Ivan
General Manager in Bulgarien
Verifizierter Nutzer auf LinkedIn
Informationstechnologie & -dienste, Selbstständig
Verwendete die Software für: Mehr als 2 Jahre
Polypane has saved me a lot of money and time
Kommentare: I am not a full-time website developer but it is within my responsibilities to audit and improve overall website functionality and visual performance. Polypane became my tool of choice for this as soon as it came out. The simplest way Polypane is saving me money is when I need to evaluate a theme for a website at a marketplace like ThemeForest. I can run any theme demo via Polypane and quickly see if it could work, or is not suitable for the task — just by looking at the desktop and mobile view at the same time. Before I bought Polypane, I kept a couple of tablets and several mobile phones around just so that I could put a design through its paces at different resolutions and see how well or poorly it performed. In the past, I have purchased many $50-70 theme only to find out later they would not work for me because the menu doesn't look well or something; with Polypane I can weed off the unsuitable themes very quickly. It also helps me a lot to communicate the work I am doing to my customers. Many people still view their own websites only on desktop and demand solutions that don't work on mobile; a simple screenshot from Polypane allows me to show them quickly where the issue lies, and propose a better solution.
Vorteile:
Polypane is an ambitious project: it combines website design & development, functional testing and accessibility testing (these are often addressed by different tools otherwise, especially the last one). Feature development is ongoing, and valuable features are added every 3-6 months. The developer Kilian Valkhof is extremely accessible and very generous with his time. The Polypane website which he runs in parallel with the Polypane app, includes several useful tools and TONS of valuable information within the blog section.
Nachteile:
With 2-3 website tabs open and 4-5 emulated devices per tab, Polypane gets a bit sluggish for my old PC (4C/8T Haswell at 3.5GHz, 32GB RAM). Sometimes synced scroll will not work reliably.
Nurullah
Accountant in Türkei
Finanzdienstleistungen, Selbstständig
Verwendete die Software für: 6-12 Monate
Poly Nu
Vorteile:
It's really nice that the accessibility control is so comprehensive. Customer services are very helpful when I have a problem.
Nachteile:
I did not encounter any major problems, but there are many minor bugs. They fix this with the occasional update.
Antwort von Polypane
vor 4 Wochen
Hey Nurullah, thanks for your review! If you encounter any issues be sure to send them my way so I can fix them for the next release.
Carlos
Support Engineer in Costa Rica
Computer-Software, 10.000+ Mitarbeiter
Verwendete die Software für: 1-5 Monate
Polypane for web development
Kommentare: Costs and time spent testing the user interface are reduced due to the tools provided by Polypane. The reporting tools are very useful to share the achievements with the team.
Vorteile:
Polypane saves me a lot of time in terms of testing the visual quality of my application (User Experience) as it allows me to see my app running on different devices at the same time. it is also fairly easy to use.
Nachteile:
It does not integrate well with testing tools like Selenium or Cypress, so you have to resort to another browser for that kind of work.
Eyüp
Industrial Engineer in Türkei
Finanzdienstleistungen, Selbstständig
Verwendete die Software für: 6-12 Monate
Polypane EO
Vorteile:
It's nice to have constant updates and innovations. The interface also looks nicer than other browsers.
Nachteile:
I use this software as a browser. I can say that there is nothing bad about it. If you are only going to use it as a browser, it will do the job well.
Informationstechnologie & -dienste, Selbstständig
Verwendete die Software für: 1-5 Monate
Handy time-saving overview for web developers
Vorteile:
Useful recommendations and metrics with inline information, ability to see multiple resolutions at the same time, synced scrolling
Nachteile:
Some performance issues on heavier sites, but this is surely due to the multiple instances of chromium and the amount of features, I'd prefer a more verbose UI while learning the software with labels on buttons