Was ist Blogger?
Blogging platform that helps individuals and bloggers create, edit and publish content on personalized websites.
Wer verwendet Blogger?
Nicht vom Anbieter bereitgestellt
Wo kann Blogger bereitgestellt werden?
Cloud, SaaS, webbasiert
Erhältlich in diesen Ländern
Vereinigte Staaten
Erhältlich in diesen Ländern
Vereinigte Staaten
Blogger – Videos und Bilder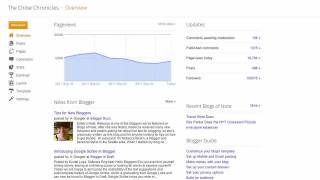 Kosten ähnlicher Produkte wie Blogger vergleichen
Blogger Funktionen
Berichterstattung / Analyse
Bildbibliothek
Content-Management
Content-Sharing
Dokumentenmanagement
Drag-and-Drop
Kategorisierung / Gruppierung
Nachterminierung
Optionen zur Inhaltsveröffentlichung
SEO-Management
Vorlagen-Management
WYSIWYG-Editor
Website-Hosting
Website-Management
Werkzeuge zur Zusammenarbeit
Bob M.
Manager in Nigeria
Verifizierter Nutzer auf LinkedIn
Computer-Vernetzung, 2-10 Mitarbeiter
Verwendete die Software für: Mehr als 2 Jahre
Platform to start with as a newbie
Vorteile:
Blogger is very affordable and reliable in terms of security. It is very easy to use as a newbie. It helped me learn about how blogging works before moving to WordPress platform. So I recommend this platform for every newbie who doesn't have much cash to start with.
Nachteile:
Blogger lacks some modern tools for SEO optimization. Every other thing is good and cool with me.
Ezequiel R.
Technician in Argentinien
Informationstechnologie & -dienste, 501-1.000 Mitarbeiter
Verwendete die Software für: Mehr als 2 Jahre
In Betracht gezogene Alternativen:
Lo mejor de lo mejor y encima gratis
Kommentare: Lo uso a diario para redactar en mis páginas, lo tengo vinculado a un dominio propio y su configuración es lo más sencillo que hay en el sector de desarrollo web.
Vorteile:
Cómo Redactor de contenido y diseñador web puedo decir que blogger es lo mejor que hay, no pagas nada y tenés acceso completo al HTML de tu web, podés modificar el css, js y demás. Obviamente necesitas tener cocimiento de estos lenguajes para hacer algo pero es el único que te lo ofrece de manera gratuita.
Nachteile:
Lo único que veo de malo es el hecho de no poder subir archivos a la raíz del sitio, pero no sé si lo vería como un contra ya que no es un hosting como tal.
Shreyansh S.
Marketing Operations Associate in Indien
Personalbeschaffung & -besetzung, 11-50 Mitarbeiter
Verwendete die Software für: Mehr als 1 Jahr
It has lived its life
Kommentare: Initial experience was good when we rode the hype express and started using it but slowly when our competitors started shifting to other platforms and we saw the difference that it was making, we also made the same decision & switched.
Vorteile:
It had a simplistic UI and was easy to use until other competitor tools showed us that it can be easier to use, and that we are putting in too much effort. With respect to current advancements and standards, I don't find anything likable.
Nachteile:
Everything. Instead of solving problems it became an issue itself. We were having a hard time managing it. Once we used the modern tools we never looked back at it.
Religiöse Einrichtungen, Selbstständig
Verwendete die Software für: Mehr als 1 Jahr
A Great Option for Blogging on the Cheap
Kommentare: I have used Blogger to create my own blog for my daily Bible devotionals. It's something that I use multiple times a day and a site that I link all of my social media accounts back to.
Vorteile:
I love that Blogger has a free option that anyone can use. So many other sites charge for different options, and the free versions are really limited. With Blogger, you can play around with things, change colors, fonts, layouts, and make your blog look just how you want it to look without paying extra or running into hidden fees. I also like that they have an integrated mobile app that automatically formats posts to mobile viewing.
Nachteile:
It's entirely on you to get the word out there and get people to your blog. It's not a big surprise with a free platform, but it does take extra work to be found by the readers that you're looking to gain.
Vassilis P.
Outreach Manager in Griechenland
Informationstechnologie & -dienste, 11-50 Mitarbeiter
Verwendete die Software für: Mehr als 2 Jahre
In Betracht gezogene Alternativen:
A free blogging platform with some limitations to consider
Kommentare: What started many years ago as a personal blog describing my professional activities, ended up as a company (a company that I am no longer working for) blog for describing the team's activities in general. The option of having multiple blog authors helped a lot in the management of our blog and we could easily integrate resources from the corporate Google account, such as photos and documents. Another use of Blogger we found was the development of microsites for events, like Conferences and Workshops. We had the opportunity to develop about a dozen without much effort, and keep them as points of reference for the events, sharing publications and even asking participants to vote for them, using the integrated Blogger option. After all these years, I still maintain my Blogger-powered professional blog while my ex company has now turned to Medium for blogging purposes, having also changed scope of business and tone of communication since then.
Vorteile:
Several years ago I started building a professional blog using Blogger, because it is free, easy to use and has a great integration with other Google services. For example, the option to import photos from Google Photos to my posts is really convenient and saves me time and effort (and storage, in some cases) from uploading photos to another platform. The same goes for the integration of YouTube videos, which is seamless. The interface is easy to use and lean, without the bells and whistles of other blogging platforms. There is also the option for manually tweaking the interface/layout. As I am also managing various WordPress sites/blogs, I find Blogger much more easy to use for blogging purposes, with its limited functionalities helping the user to focus on the content and not the visuals or other aspects. Blogger used to have an old-fashioned user interface, but it was recently revamped and new options/themes were introduced. I find the upgraded Blogger much more appealing than its past version. Another thing I like is the mobile app that allows me to prepare new posts on the go, when I am not around my laptop. It is not perfect, but does the work for short posts enriched with images.
Nachteile:
Compared to other blogging platforms, Blogger has limited customization options (e.g. a few themes) and lacks the administrative/blog management options that one might want/need. Plus, I miss the integration with the now defunct Google+, where I was able to tag/mention friends and colleagues in my posts. When I adopted Blogger as my blogging platform, the integration with Google+ was definitely a factor that affected my selection. The lack of third-party add-ins, widgets etc. is also hard to go unnoticed - the blog would definitely benefit in terms of functionality and appearance from them, as in the case of WordPress. I also had a hard time when I tried to export the content and import it to another blogging platform. It may be possible with the use of third-party tools, but in no way it is a match for the formatted export options of WordPress. Last but not least, having a self-hosted blog based on Blogger does not seem to be an option, which is an issue for companies that need to integrate it in their own ecosystem and avoid being dependent on Google.