Was ist Hy.page?
Link management tool that helps create bio links that also allow you to collect donations, paid fan requests and a paid members area.
Wer verwendet Hy.page?
People or brands trying to monatize their social fans and following. Influencers, personal brands etc.
Hy.page – Videos und Bilder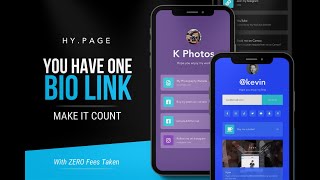 Hy.page – Bereitstellung und Support
Kundenbetreuung
E-Mail/Helpdesk
FAQ/Forum
Wissensdatenbank
Chat
Einsatz
Cloud, SaaS, webbasiert
Mac (Desktop)
Windows (Desktop)
Linux (Desktop)
Chromebook (Desktop)
Training
Live Online
Webinare
Dokumentation
Videos
Garrett W.
Teaching Associate in USA
Verifizierter Nutzer auf LinkedIn
Hochschulbildung, 1.001-5.000 Mitarbeiter
Verwendete die Software für: 1-5 Monate
Great lightweight 'biolink' - but SO much more!
Kommentare: Having a personal blog post, I've always thought there was too much going on and wanted to find something that offered a better win-win scenario for myself and my followers (free and paid). Hy.page allows my blogs to be gated based on membership criteria, offering snippets of a blog for free, with extra material for paying users. This is an amazing way to sell digital content as well (i.e., PDFs, Videos, Pictures, PPTs, eBooks, etc).
Vorteile:
As a biolink page, it couldn't be any easier! Users can setup icons or images as the link icon, change colors, include a description, and more. Links can be just about anything, including: social media links, memberships, embed codes, donation links, and fan requests. There's also payment integrations, and a gated membership/blog area.
Nachteile:
Pros are cons! With it being lightweight and easy to set up, it doesn't have as much flexibility in views on the page. I would like to have multiple links without icons for example, or use some html code of my own. However, there has already been updates, and the team works diligently to implement feature requests from the community. Also had a bit of trouble setting up mapped domain. It worked, then stopped working, then with the expedite help of customer service, it worked again.
Antwort von Hyax
vor 4 Monaten
Great feedback, love it. Thanks Garrett.
Howard O.
Founder - Canada's Leading Sales Leadership and Communications Strategist in Kanada
E-Learning, 2-10 Mitarbeiter
Verwendete die Software für: 1-5 Monate
Simple Powerful Easily Deployed Membership and Microsites
Kommentare: I had an early issue with the propogation of SSL - and while the issue was with DNS services, support was quick, and responsive. I als had an issue with their embed link not accepting 2 different embed codes that work fine aon other platforms - thats not resplved yet, but support is fast and curious in their responsiveness.
Vorteile:
I've been looking for a simple, hosted platform upon which I could build a microsite that ties together all my other web properties and un/related business with out a pile of plug-ins that's easy to navigate, mobile responsive and quick to build. I found all that and more in Hy.Page. I had my first site up and running in literally half an hour. That's crazy. I mean it's a simple site, branded under my name, but makes it easy for any visitor to find me, connect with me and link off to any of my associated businesses and ventures. It's like a link tree, but far more useful. In the process of putting together the first site, I discovered the membership capabilites and set up my second site on day 2 in literally 40 minutes. I'm just giving a way free products on that site, but my list has grown more with Hy.Page in a week than will all my other tools in 6 months. That's impressive.
Nachteile:
The platfor is good but still has some shortcomings. There are no options for SEO meta data or keywords and the it could use more options for the types of links you can embed, but for a new realease it's already quite good. If they continue to add functionality like text boxes, callto: and mailto links they's have a real winner here.
Antwort von Hyax
vor 4 Monaten
Thanks Howard. Amazing feedback. Really appreciate it.
Verifizierter Rezensent
Manager in Indien
Verifizierter Nutzer auf LinkedIn
Computer-Software, 201-500 Mitarbeiter
Verwendete die Software für: 1-5 Monate
BEST PROFILE LANDING PAGE BUILDER TOOL
Vorteile:
Great UI ; Lot of template's ; Affordable Price
Nachteile:
Hy.page template in desktop it not looking great.
Antwort von Hyax
vor 5 Monaten
Thanks, noted on the desktop but the app was built with mobile-first in mind.
Medienproduktion, Selbstständig
Verwendete die Software für: 1-5 Monate
In Betracht gezogene Alternativen:
Fantastic alternative to others!
Kommentare: So far, Hy.Page has been great in simplifying everything I need to add to my bios, and getting things in one spot.
Vorteile:
The price of the software and the features compared to others are great.
Nachteile:
There are still some features that are to be desired or simplified for the common user.
Antwort von Hyax
vor 4 Monaten
Thanks Eric, glad you are liking the tool!
Tang H.
Founder in Vietnam
Verifizierter Nutzer auf LinkedIn
Einzelhandel, 2-10 Mitarbeiter
Verwendete die Software für: 1-5 Monate
It's a Great Product
Vorteile:
Micro landing pages have been growing in popularity over the last few years because they are easier and faster to create than the old-style landing pages which dominated the paid traffic market. However, they are missing some key functionality. With Hy.page you can now create beautiful micro landing pages that come with a range of functionality including payments, memberships, and even products.
Nachteile:
They don't have a plan for an Agency with unlimited domains
Antwort von Hyax
vor 5 Monaten
Thanks for the feedback, appreciate it :)