Das könnte dich auch interessieren:
Was ist InspectionXpert?
InspectionXpert enables quality professionals to create inspection reports quickly and accurately. Balloon part drawings, capture feature data, and automatically apply tolerances and calculate spec limits. Create AS9102 First Article Inspection Reports, PPAP Dimensional Results Reports, and more with custom templates. Store your parts and reports securely in one app for your team to access anywhere, anytime.
See if InspectionXpert will work for you: get free access to all features for 14 days.
Wer verwendet InspectionXpert?
InspectionXpert is an inspection planning and reporting tool built for job shops. Balloon part drawings and create inspection reports for your customers 50-90% faster, all in one secure app.
InspectionXpert – Details
InspectionXpert Corporation
InspectionXpert – Videos und Bilder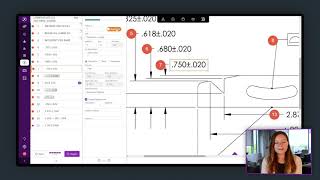 ▶︎
InspectionXpert – Details
InspectionXpert Corporation
Kosten ähnlicher Produkte wie InspectionXpert vergleichen
Startpreis
125,00 $/Monat
89,00 $/einmalig
45,00 $/Monat
300,00 $/Monat
InspectionXpert – Bereitstellung und Support
Kundenbetreuung
E-Mail/Helpdesk
Wissensdatenbank
Telefon-Support
Training
Live Online
Webinare
Dokumentation
Videos
Funktionen von InspectionXpert
API
Aktivitäts-Dashboard
Aktivitäts-Verfolgung
Alarmfunktion / Benachrichtigungen
Anpassbare Berichte
Anpassbare Felder
Anpassbare Formulare
Anpassbare Vorlagen
Arbeitsauftragsverwaltung
Audit Trail
Aufgabenmanagement
Aufgabenplanung
Barcode / Tickets scannen
Berichterstattung / Analyse
Berichterstattung und Statistik
Berichtsvorlagen
Code-Durchführung
Compliance Management
Corrective and Preventive Action (CAPA)
Daten-Import / -Export
Digitale Unterschrift
Dokumentenmanagement
Dokumentenspeicher
Drag-and-Drop
Drittanbieter-Integration
Echtzeit-Aktualisierungen
Echtzeit-Benachrichtigungen
Echtzeit-Berichterstattung
Echtzeit-Daten
Elektronische Unterschrift
Formularverwaltung
Gerätenachverfolgung
Inspektions-Management
Kundendatenbank
Mobiler Zugriff
Offline-Zugriff
Risikobewertung
Scanfunktion
Statusverfolgung
Störfallmanagement
Subunternehmen-Management
Terminverwaltung
Tracking fehlgeschlagener Inspektionen
Trainingsmanagement
Versandmanagement
Vorlagen-Management
Wartungsplanung
Wirtschaftsprüfung-Management
Workflow-Management
Überwachung
API
Abrechnung & Rechnungsstellung
Aktivitäts-Dashboard
Angebote / Schätzungen
Arbeitsauftragsverwaltung
Auftragskostenrechnung
Auftragsmanagement
Auftragsverfolgung
Automatisierte Terminplanung
Berichterstattung und Statistik
Bestandsverfolgung
Bestell-Management
CRM
Daten-Import / -Export
Dokumentenmanagement
Echtzeit-Daten
Einkauf & Empfang
Integration in die Buchhaltung
Inventarverwaltung
Job-Nachverfolgung
Kapazitätsmanagement
Kontaktmanagement
Kostenanalyse
Kostennachverfolgung
Kostenschätzung
Kundenaufträge
Kundendatenbank
Lieferanten-Management
Lieferanten-Management
Material-Rechnung
Mehrere Währungen
Mitarbeitermanagement
Produktion-Nachverfolgung
Produktions-Management
Prognose
Prognosen
Projektmanagement
Qualitätskontrolle
Ressourcenmanagement
Rückverfolgbarkeit
Schätzung
Seriennummern-Nachverfolgung
Statusverfolgung
Stempeluhr
Supply-Chain-Management
Terminplanung
Versand-Management
Veränderungsmanagement
Workflow-Management
Zugriffskontrollen / Berechtigungen
Jason V.
Quality Control Manager in Kanada
Verifizierter Nutzer auf LinkedIn
Maschinerie, 51-200 Mitarbeiter
Verwendete die Software für: Mehr als 2 Jahre
Best Inspection Report Software There Is
Kommentare: InspectionXpert is an amazing tool, I actually liked it so much I wrote an article about it in the May/June 2018 issue of my professional associations magazine "The Ontario Technologist". It has saved me a lot of time and frustration having to create multiple inspection drawings and report and InspectionXpert does a really great job of streamlining the whole process.
Vorteile:
Very design change friendly. Older revisions of technical drawings can be changed out with newer ones very quickly without tampering with the drawing. Minimal adjustment of balloon position is necessary in some case and this feature saves us thousands of dollars per year.
Nachteile:
OCR sometimes does not work and you have to delete the measurement value and type it in manually this also applies to tolerances. This was experienced on .pdf files that were scanned in. Files that were exported from CAD directly did not exhibit this issue to the same extent. we do not do our own CAD work so we use InspectionXpert exclusively with customer supplied .pdf files.
Antwort von InspectionXpert
vor 3 Jahren
Jason, Wow, thanks so much for the kind words! We're so grateful to have you as a customer, and glad to hear you enjoy using our software. We are working on improving the OCR. If you're interested, we'd love to get your feedback on new versions of our software. Please respond to this comment, or reach out to us through our website.
Sharon S.
Quality inspector in USA
Maschinerie, 51-200 Mitarbeiter
Verwendete die Software für: Mehr als 2 Jahre
good product for FAI
Kommentare: I love the product and the tech support that you have for your product.
Vorteile:
the way the ballooning is done, and how it is displayed
Nachteile:
that you can't use the program virtually when you have to work from home.
Antwort von InspectionXpert
letztes Jahr
Hi Sharon, Thanks for your review. We're glad to hear you're getting value from InspectionXpert.
Cecilia Z.
Mechanical Tech. in USA
Maschinenbau oder Wirtschaftsingenieurwesen, 201-500 Mitarbeiter
Verwendete die Software für: 6-12 Monate
A good way to use for FAI
Kommentare: First Article report.
Vorteile:
It is no hard to use. I like to capture all notes on Drawing.
Nachteile:
It always capture misspelling words. The excel report is not easier to match with the feature in process.
Antwort von InspectionXpert
vor 12 Monaten
Cecilia, Thanks for your review. We'd love to learn more about how we can make the captures work better for you. We'll reach out by email.
Jason T.
Quality Documentation Specialist in USA
Verifizierter Nutzer auf LinkedIn
Kunststoffe, 1.001-5.000 Mitarbeiter
Verwendete die Software für: Mehr als 2 Jahre
Excellent tool, great support
Kommentare: InspectionXpert has provided a repeatable, easy method for ballooning inspection drawings. The Excel based output is easy to integrate into our current reporting system, saving us time and effort. Very happy with the product provided.
Vorteile:
Quick learning curve, easy to customize outputs, saves time in creation and storage of ballooned inspection drawings.
Nachteile:
Software updates occasionally create breaks in software, v1.0 to v2.0 updates removed features that were commonly used.
Antwort von InspectionXpert
vor 3 Jahren
Jason, Thanks so much for being a customer of InspectionXpert. We're glad to hear that the software is helping you save time. We hear you on the updates, and we're doing our best to improve how we release updates to our software, and improving communication on those fronts. We'd love to talk to you more about how we can improve on that front.
Jacquelynn P.
CMM Programmer in USA
Maschinerie, 51-200 Mitarbeiter
Verwendete die Software für: Mehr als 2 Jahre
Inspectionxpert is Awesome!!
Kommentare: I have been able to streamline our print ballooning and dimension record making eith this software!
Vorteile:
I have been using inspectionxpert for about 5 years now and I love it!! I was for a very long time ballooning prints in solidworks or in Adobe PDF. This software make ballooning so much easier!! I learned aboutnthe CMMexpert portion of it just recently and its a huge help. It saves me fro km having to type over 300 results into a 1st article form. Also their customer service is top notch and they offer as much free training as you want!
Nachteile:
So far in the time I have not found anything that I do not like about the software
Antwort von InspectionXpert
vor 3 Jahren
Jacquelynn, We're so glad you enjoy using InspectionXpert! Thanks for your review!