Was ist Agiloft?
Der vierfache Gewinner des "Editor's Choice Award" des PC Magazine und des "Value Award" von Spend Matters, Agiloft, wird als "das anpassbarste Vertragsmanagementsystem auf dem Markt" beschrieben. Die agile Technologie macht die Einrichtung und Verwendung einfach, und die skalierbare Plattform unterstützt alle Genehmigungsprozesse mit integrierten Workflows, E-Mail-Benachrichtigungen und One-Click-Vertragserstellung. Die Software ist vollständig Audit-konform mit Unterstützung für HIPAA, SOX und CFR21. Starte mit einer kostenlosen, nutzerdefinierten Demo.
Wer verwendet Agiloft?
Agiloft ist auf mittlere bis große Unternehmen ausgerichtet, die robuste und schnelle Anpassung, die sich leicht an eine Vielzahl vertikaler Branchen anpasst, benötigen.
Wo kann Agiloft bereitgestellt werden?
Cloud, SaaS, webbasiert, Windows (Desktop), Windows (On-Premise), Linux (On-Premise), Android (mobil), iPhone (mobil), iPad (mobil)
Über den Anbieter
Agiloft
Ansässig in Redwood City, USA
1990 gegründet
Telefon-Support
Chat
Erhältlich in diesen Ländern
Australien, Kanada, Vereinigte Staaten, Vereinigtes Königreich
Über den Anbieter
Agiloft
Ansässig in Redwood City, USA
1990 gegründet
Telefon-Support
Chat
Erhältlich in diesen Ländern
Australien, Kanada, Vereinigte Staaten, Vereinigtes Königreich
Agiloft – Videos und Bilder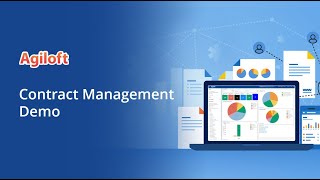 Kosten ähnlicher Produkte wie Agiloft vergleichen
Agiloft Funktionen
Aktivitäts-Dashboard
Alarmfunktion / Benachrichtigungen
Anpassbare Vorlagen
Automatisiertes Routing
Berichterstattung / Analyse
Compliance-Verfolgung
Dashboard
Dokumentenmanagement
Drittanbieter-Integration
E-Mail-Management
Elektronische Unterschrift
Konfigurationsmanagement
Kontaktmanagement
Kundenspezifisches Branding
Mehrsprachig
Multi-Channel-Kommunikation
Problem-Management
Self-Service Portal
Service Level Agreement (SLA) Management
Störfallmanagement
Supportticket-Management
Ticket-Management
Tracking der Beschwerde
Verfolgen von Vermögensanlagen
Verfolgung von Interaktionen
Versionskontrolle
Vertrags-/Lizenz-Management
Vertrags-Lifecycle-Management
Vertragsgestaltung
Veränderungsmanagement
Volltextsuche
Vorgefertigte Vorlagen
Warnungen / Eskalation
Werkzeuge zur Zusammenarbeit
Wissensbasis-Management
Workflow-Konfiguration
Workflow-Management
Damian
Consultant in UK
Verifizierter Nutzer auf LinkedIn
Unternehmensberatung, 11-50 Mitarbeiter
Verwendete die Software für: 6-12 Monate
A fantastic product with exceptional functionality and adaptibility
Kommentare: You can see why Agiloft is the industry benchmark due to the extensive adaptability and functionality. Unless you have a proficient dedicated IT in-house support who can setup the system, you will have to invest in some time at the start along with Agiloft to customise to your liking. I think most companies do not use even 50% of Agiloft's capabilities. Good product.
Vorteile:
We use and trial a lot of software for either our own use or clients. Agiloft is by far the most advanced contract management software out there. It is more than just CMS. We liked the ability to White label it for clients either directly in-house or through the client portal managed by us. For an administrator, the functionality and customizable process and table flows are excellent. For the UI for a non-admin user, it can literally be 1,2 or 3 tasks/functions on their home page. The possibility to automate mundane, daily tasks such as daily agreements or POs can be routed through for automatic approval when they meet the criteria. The templates and the mobile click and approve were popular features as it did not create the approval queue that previously happened with delays in notifications The customer support is very comprehensive as is the number of videos for various bits of training. You really do feel like it's a system that has been custom designed for you but not with the same price tag.
Nachteile:
Unlike virtually all of it's competition, it is not really a drag and drop type environment in the true sense. Some of the UI screens can seem too busy/cluttered but that did not bother me. I would say that, similar to others, you need a stakeholder to be married to this product. This means that they become familiar with the interaction with tables when new fields are setup and the permissioning.
Cindi
Associate General Counsel in USA
, 201-500 Mitarbeiter
Verwendete die Software für: Mehr als 1 Jahr
Highly customizable and affordable system with excellent customer service
Kommentare: PROS: Agiloft especially excels at scalable customization, fair pricing and customer service. All the staff I've encountered at Agiloft (not just the initial sales contact), from the implementers to the billing staff, have been responsive, friendly and helpful with a "can-do" positive attitude. They are a professional, dependable service-oriented team. Billing with Agiloft has always been very fair and transparent. The possibilities with Agiloft's system are nearly limitless. If inclined, the administrator can take on a significant amount of the maintenance and design of the system. I had no programming experience, but using the available documentation/tutorials and custom training available along with the creative ideas my implementer offered, I was able to become quite independent and save our company money while having a tailored, high performing contract system that grows with our organization's needs.

CONS: With so many possibilities for customization comes a number of decisions that need to be made. This can be time-consuming, but Agiloft offers the customer the option to make as many or as little of the design decisions as works for them. We'd much rather have the problem of too much choice than a situation where the system doesn't fit our needs enough or where the cost of having an engineer design everything in our system is prohibitively expensive. If your organization wants to handle some of the maintenance and design, there definitely can be a learning curve for the more complex aspects but also great payoff in independence and control of the direction of the system.

RECOMMENDATIONS FOR OTHER BUYERS: We had a very lengthy review process that involved intensive research. We recommend strongly considering how experienced and knowledgeable and stable the vendor is (not just who has the slickest app or tech conference booth). We also recommend noting how much the vendor listens to you during the sales process. Agiloft has been a solid industry leader since the 1990's and did not pressure or rush us to make our decision. They were patient and respectful and worked hard to understand our unique needs as a nonprofit and as a public media organization. We recommend taking time for the demos, using the free trial versions and talking to the vendors thoroughly about what is and isn't included and how they operate. We also recommend reading the PCMag review as it was comprehensive and captured what makes Agiloft different from its competitors.
Verifizierter Rezensent
Information Security Analyst in USA
Verifizierter Nutzer auf LinkedIn
Informationstechnologie & -dienste, 5.001-10.000 Mitarbeiter
Verwendete die Software für: 6-12 Monate
In Betracht gezogene Alternativen:
Budget-friendly CLM Tool
Vorteile:
It's a very good Contract Lifecycle Management tool. Contract or DPA templates can be easily updated and customized. Agiloft has capability to integrate with ServiceNow and Oracle, which helps to build a cohesive Source to Pay process. It also has capabilities to build a Security module for vendor vetting. Generating and assigning tasks are a good add-on.
Nachteile:
The UI can use a lot of improvement. A lot of the simple steps are unnecessarily complicated. Building a Procurement process gets a bit messy since Agiloft is not advanced enough to integrate multiple process (like Sourcing, Legal, Privacy, Security, etc.) is a smooth way.
Matt
VP Software Development and Technical Support in
Verwendete die Software für: Nicht angeboten
Best software purchase I've ever made
Kommentare: I don't want to sound over the top, but I have nothing but good things to say about Agiloft. As a rapidly growing company we had many manual processes which needed to be automated. Having a system that fit our business model was important, and I went through a lot of tools before I settled on AG. By far the strongest aspect of Agiloft is its ease of customization. Literally all customization is point and click, and within about 40 hours of our initial installation (which we did ourselves on our hardware), we had a system up and running which accomplished what I was unable to do with any other product. Since the original implementation in October 2011, there has not been a week where I have not been rolling out AG into other areas of our business, to the point where we now track everything from sales leads to fixed assets, billing, and service in AG. Our users have learned quickly, and have been happy to have a system that helps them do their jobs well.
Vorteile:
- Ease of customization - Everything is point-and-click and easy to understand. We have not had to write any code, yet we're integrated with several other mission-critical systems within our business. - Ease of use - Even our fairly non-technical users find AG easy to pick up, and with light training are productive immediately. I attribute some of this to the user interface, but even more of it to the fact that we are able to mold the system to our business flow and terminology, so it's already familiar. - Performance - We have a few dozen people in and out of the system all day, and rarely have any trouble. We did install on our own server, and sized it according to AG's recommendations. - Quality - While any software product will have minor annoyances that you would like to see fixed, there are only a few of those. We have had absolutely zero bugs that have stopped us from getting the business value out of AG that we need. - Cost - Very reasonable per-seat fees, no upcharges.
Nachteile:
This is not a con, but my only advice is to find a champion for the project internally who understands the business processes you're wanting to implement in AG, and who has the time to focus on the project. Don't be afraid to implement what you need, and then tweak over time as requests come in - you'll rarely get everything right in a first pass and you'll get the best feedback after a minimal process has been in the users' hands for a week or two.
Telekommunikation
Verwendete die Software für: Mehr als 2 Jahre
Quelle: SoftwareAdvice
Versatile system offering easy and quick customization
Vorteile:
The overriding advantages of Agiloft's product/company: 1) It can be customized to do almost anything with almost no programming, and quickly: truly a system designed for users to modify. This supports living process that increases adoption rate and reduces operational errors. 2) It is possible to create and maintain the system and its customizations with a very small commitment of staffing because the customization method is very efficient and largely self-explanatory. 3) The support is excellent: failures and bugs are addressed promptly and software updates containing bug fixes are delivered much faster than industry average.
Nachteile:
1) The user interface is dated looking. This is a minor issue since the simplicity helps with the ease of configuration and does not get in the way of functionality. 2) The organization of the user interface is around data rather than process. Process needs are fully accommodated, but the data-driven approach means that processes that access more than one data type can be more difficult to implement or represent on-screen to users. However I have not come across any customization that could not be made with the system. 2) Sparse documentation. Some of the more advanced features as well as effective tuning require support or professional services even though they are not difficult to implement.