Was ist Foxit PhantomPDF?
Foxit PhantomPDF is a PDF editor with features for document generation and management. It includes OCR technology that can identify characters and words within images. Foxit PhantomPDF provides protection for confidential information including limited access, encryption, and redaction. Collaboration tools include annotations and comments to easily share information with others. Foxit PhantomPDF can be hosted on the cloud or on Windows and Mac desktops.
Foxit PhantomPDF – Details
Foxit Software
2001 gegründet
Foxit PhantomPDF – Details
Foxit Software
2001 gegründet
Foxit PhantomPDF – Videos und Bilder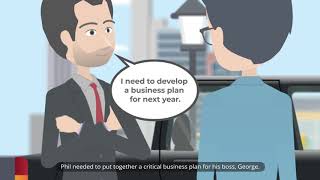 Kosten ähnlicher Produkte wie Foxit PhantomPDF vergleichen
Startpreis
139,00 $/einmalig
12,99 $/Monat
84,00 $/Jahr
149,95 $/einmalig
Foxit PhantomPDF – Bereitstellung und Support
Kundenbetreuung
E-Mail/Helpdesk
Wissensdatenbank
Telefon-Support
Einsatz
Cloud, SaaS, webbasiert
Mac (Desktop)
Windows (Desktop)
Funktionen von Foxit PhantomPDF
Anmerkungen
Bildbearbeitung
Dateien zusammenführen/anfügen
Direkter Vergleich
Elektronische Unterschrift
Formularverwaltung
In PDF umwandeln
Kommentare / Notizen
Kundenspezifisches Branding
Optische Zeichenerkennung (OCR)
Seiten drehen
Seiten löschen
Seiten neu ordnen
Textbearbeitung
Volltextsuche
Wasserzeichen
Zugriffskontrollen / Berechtigungen
Jean bertin C.
Data Analyst, Coach and Trainer in Côte d'Ivoire
Verifizierter Nutzer auf LinkedIn
Professionelles Training & Coaching, 10.000+ Mitarbeiter
Verwendete die Software für: Mehr als 2 Jahre
This is my go-to PDF editor
Kommentare: Overall, It is a decent PDF editor that is supported by a trusted company. Foxit offers an affordable PDF solution with plenty of security and functionality for the average user at a decent price point. Foxit PDF Editor's limitations come to light when it comes to higher-end conversion tasks, but it is capable of handling everyday business viewing, conversion, and editing jobs in a snap, giving it serious competition to the industry-standard Adobe suite.
Vorteile:
I consider Foxit PhantomPDF or Foxit PDF Editor to be one of my favorite applications due to its easy-to-use interface and familiarity with the ribbon menu in Microsoft Office. As a person who has used Microsoft Office for many years, it looks very much like an extension of that platform. As part of a specific agreement with Adobe, every device provided to our organization is equipped with the Adobe Acrobat Reader. Nevertheless, after comparing it with Foxit, I have observed that Foxit offers a greater number of functionality and features. It became my standard tool for everything and proved to be a useful complement to more difficult tasks. The software allows me to split documents, add pages, merge files, scan paper documents into PDFs, and take advantage of its cloud features. Foxit also integrates with external multimedia files, which I find extremely useful. A major advantage of this PDF management software is the ability to embed large multimedia files, such as video, into your documents. This feature is not available in many other programs. Security and sharing features provided by this software are certainly reassuring and I am grateful for them.
Nachteile:
A major downside to Foxit PDF Editor is that it cannot convert files into ePubs, although for some users this might not be a big deal. However, it would be handy if we could include this popular format as a default. One of the other cons I noted was the OCR functionality. This particular module is required to enable Optical Character Recognition. However, the majority of image-heavy documents are too complex for it, and the performance of such documents is severely impacted.
Verifizierter Rezensent
Training Manager in Bangladesch
Verifizierter Nutzer auf LinkedIn
Finanzdienstleistungen, 51-200 Mitarbeiter
Verwendete die Software für: Mehr als 2 Jahre
A powerful and fast Adobe Acrobat replacement
Kommentare: Overall I am happy with Foxit. I know I said the interface is not friendly but i am using it for more than four years so I know now which is what. One specific point I want to mention if you ever lose your ppt/ doc/ xls file don't worry Foxit can convert documents almost accurately. All in all if you ever move to Foxit and get used to its interface it is a lightweight beast (compared to Adobe Acrobat DC) which can tackle your daily challenges without making you sweat.
Vorteile:
Editing, shuffling pages, adding deleting text and merging PDF, these are my regular task in Foxit. And it deliver all those without making my PC go heywire. I think all PDF maker should understand that they should have a lightweight product variant which simply do these. Cause we are not seasoned editor, rather we are business professionals who want to manage simple tasks in a PDF editor. Thanks to Foxit I never have to face any trouble with my office projects as it deliver what I wanted and when I wanted.
Nachteile:
Foxit is very good editor but sometimes I feel like it needs a little graphical overhaul. Some options are repetitive, some are jammed in a single button and sometimes it is difficult o find the right buttons. If they make the interface a little more friendly by dropping rarely used features then it will be a perfect product. One thing they can do is letting us choose which buttons we want to see in our top bar.
Verifizierter Rezensent
sales manger in Ägypten
Verifizierter Nutzer auf LinkedIn
Verbraucherdienste, Selbstständig
Verwendete die Software für: Mehr als 1 Jahr
Professional application in dealing with pdf formats
Kommentare: Overall, it is the most suitable application for me for dealing with, editing and reviewing pdf files
Vorteile:
An easy and good program to use, as it is more than an integrated application in dealing with PDF files. With it, I can modify and edit PDF files with ease, and also convert any file to a PDF file through the dummy printer, as well as copy and edit the most flexible than my competition, and I can also add some name, marks, punctuation and marking. It is a good tip
Nachteile:
Sometimes the Arabic language support is not as required and the tables I find it difficult to deal with in the application and the price is somewhat expensive in the Pro version
Telekommunikation, 501-1.000 Mitarbeiter
Verwendete die Software für: 1-5 Monate
Same features, less money than the big name competitor
Kommentare: Rolling out Foxit Phantom PDF was pretty simple, I was able to import our users from Adobe to Foxit and it sent out an invite to all our users right away. Install was quick and painless. Most of our users have adapted to it real well, you will always have those few stubborn users that dont like change, but its not the programs fault. So far, great product for a fraction of the cost of the main competitor.
Vorteile:
Easy deployment Does everything Adobe PDF products do at a lower price Interface is pretty user friendly Sales techs for the product are amazing
Nachteile:
Adobe users take some time to get used to the layout The Tech Support has been a little questionable at times with some issues we have had, by that I just mean they have taken way too long to respond to us, but when they do resolutions are made quickly.
Jay H.
Project Manager in USA
Maschinenbau oder Wirtschaftsingenieurwesen, 2-10 Mitarbeiter
Verwendete die Software für: Mehr als 2 Jahre
In Betracht gezogene Alternativen:
A less expensive alternative with equal or better functionality
Kommentare: I use Foxit daily to read, edit, and create PDFs that are very interactive and are used for anything from contractual agreements to key media for communication. Overall, after using this software for 3+ years, I have had a very positive experience.
Vorteile:
Foxit offers a comprehensive PDF editing software that is on par with the other major PDF editing software available. The ability to move and delete pages, merge/append files, and sign and protect files is superior to what Adobe offers from my experience. Plus the OCR scan and form field tool make producing very professional and interactive PDFs a breeze. Also, the prices that Foxit offers blow some of the other editing software out of the water and Foxit makes it very easy to find the best option for you, whether it's paying outright one time or paying a subscription for the latest and greatest.
Nachteile:
Foxit is packed with a ton of features including many that I am not even sure of what they do, however commenting and annotations is not one of its strongest capabilities. I end up jumping over to Adobe Reader (free version) to make those sorts of edits. Foxit is also ever-so-slightly bloated and may be a little slow on older computers, particularly as the default PDF reader.