Was ist Tradewing?
Designed for the unique needs of small to medium-sized associations, Tradewing delivers a modern, user-friendly, and customizable member social community as well as a built-in suite of virtual meeting tools for everything from continuing education up to full-service conferences.
We make it easy to grow and retain your members while creating new opportunities to increase non-dues revenue.
Tradewing works right out of the box and easily integrates with most AMSs and other key tools.
Wer verwendet Tradewing?
Small to medium-sized associations and non-profits.
Wo kann Tradewing bereitgestellt werden?
Cloud, SaaS, webbasiert
Über den Anbieter
Tradewing
Telefon-Support
Chat
Erhältlich in diesen Ländern
Kanada, Vereinigte Staaten
Über den Anbieter
Tradewing
Telefon-Support
Chat
Erhältlich in diesen Ländern
Kanada, Vereinigte Staaten
Tradewing – Videos und Bilder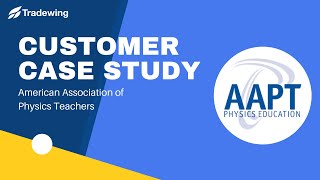 Kosten ähnlicher Produkte wie Tradewing vergleichen
Tradewing Funktionen
Aktivitäts-/Newsfeeds
Alarmfunktion / Benachrichtigungen
Angebot in sozialen Medien
Berichterstattung / Analyse
Content-Management
Diskussionen / Foren
Echtzeit-Chat
Gruppenmanagement
Ideenfindung
Kundenspezifisches Branding
Lead-Generierung
Live-Streaming
Medienbibliothek
Mitglieder-Datenbank
Mitglieder-Portal
Mitgliederkommunikation
Mitgliederverzeichnis
Mitgliedschaft-Management
Moderation
Nutzerprofile
Online-Anmeldung
Veranstaltungsmanagement
Zahlungsabwicklung
Zugriffskontrollen / Berechtigungen
Alternativen für Tradewing
Bewertungen über Tradewing
Kolleen
Founding Director in USA
Verifizierter Nutzer auf LinkedIn
Professionelles Training & Coaching, Selbstständig
Verwendete die Software für: 1-5 Monate
In Betracht gezogene Alternativen:
Quick rollout and very user friendly
Kommentare: We did our customization and rollout very quickly so we could hold an upcoming conference in the platform. It was so easy to set up and very intuitive! I'm our only staff person and I was concerned that rolling out a new platform ahead of a big event would be too much to take on. Our TradeWing support person ([SENSITIVE CONTENT HIDDEN]) is amazing and is there to help us every step of the way! I am constantly pleasantly surprised at how easy this software is. Not only for us, but for our members as well. We are excited to see this already adding value for our members in such a short time!
Vorteile:
We were looking for a platform that combined a community and a place to host online events. On the community side, we love the simple layout and ease of use not only for our admin team but also for our members. We love that there is a gamification factor with our members earning badges. On the events side, they are very easy to set up, have a professional look and feel and our members appreciate that they are easy to attend without having to download a new system. Overall, this platform has simplified our communication with members and the ease of use has enabled us to spend more time doing our mission of work, rather than having to band-aid numerous systems together.
Nachteile:
As in all platforms, there are limitations. For us, we haven't noticed anything that is holding us back. However, we are excited for upcoming improvements like a mobile app and better analytics.
Cheryl
Executive Director in Kanada
Non-Profit-Organisation Management, Selbstständig
Verwendete die Software für: 1-5 Monate
In Betracht gezogene Alternativen:
Great Product and Incredible Customer Care
Kommentare: So far, my overall experience with Tradewing is exceptional. We are hosting our first major event on this platform in about two weeks, and the support has been excellent in helping to ensure our success. I'm excited to put this platform to work as our regular day-to-day member engagement tool after the conference.
Vorteile:
It is very easy to use, super intuitive, and the visual layout is very easy on the eyes. Clean and professional design.
Nachteile:
There are a few features on the 'wish list', but the company is very open to suggestions for possible implementation in future releases.
Nicole
Team Manager in Kanada
Verbraucherdienste, 1.001-5.000 Mitarbeiter
Verwendete die Software für: 1-5 Monate
Tradewing was a great platform for our conference
Kommentare: Overall I thought that it was a great platform to use and I look forward to doing it again. I did not directly deal with the technical support but from what I was told through out the technical issues that we were having, they were very responsive and responded to the issues with a sense of urgency. This to me speaks volumes about the product itself. I would recommend this software to many people!
Vorteile:
I liked that it was easy to use. The links were easily identifiable and the platform itself had a facebook feel that I was used to. I also really loved the fact that participants automatically had their microphone and camera off when joining the speaker sessions.
Nachteile:
There were a few technical issues with slowness that affected users getting into their appropriate speaker sessions.
Kelly
Sr Dtr Member Svcs in USA
Automotive, 2-10 Mitarbeiter
Verwendete die Software für: Mehr als 1 Jahr
Tradewing is a good resource
Kommentare: Pretty good experience thus far
Vorteile:
The ease of use is what I like most about this product.
Nachteile:
syncing members emails is sometimes challenging
Antonio
Executive Director in USA
Transport/Güterfrachtverkehr/Schienenverkehr, Selbstständig
Verwendete die Software für: 1-5 Monate
Tradewing was the right choice for our Association
Kommentare: Tradewing has helped us provide our member base a platform that provides a dedicated communications platform that is exclusive for our member base. No spam or unwanted ads on our platform. We also are excited about the virtual event capabilities as a way of adding a live stream of future live conventions, for our members that traditionally can't attend our live conventions due to cost of travel, room and board which can be high when traveling from the other side of the world. Excellent customer support coupled with a desire for feedback by the developers to IMPROVE the actual platform and make it better, is really part of an amazing experience.
Vorteile:
What we like the most from our Tradewing platform is that it meets the specific needs we were looking for as far as a unique, dedicated communications platform for our association members. The platform "checked off" the majority of requested communications tools AND provided communication solutions that can be used in the future by the association as well. (Virtual events as an example). We also liked that this specific platform did not have a plethora of other integration tools (accounting as an example) which would be of no added value to our association specifically. The platform seemed as if it was tailored to our specific needs.
Nachteile:
Some software feature functionality is missing like being able to search beyond name, for country or company name. (This feedback is apparently being addressed by platform developer). Platform also needs more advertising capabilities to assist client with ROI. Portions of the platform screen are empty so being able to run logos or scrolling company banner ads would be great. (Looks like platform developer is working on this capability as well).