Was ist Peppertype?
Peppertype is an artificial intelligence based solution which creates high quality content for businesses.
Businesses around the globe are using Peppertype for creation of ad copies for search engines, social ads and creatives, resolving plagiarism and grammar issues, ideating content ideas and thought leadership across all social channels.
Wer verwendet Peppertype?
Peppertype is used by the below teams: - Enterprise Marketing - Individual Content - Performance Marketing - Brand Marketing - Digital Marketing - PR - Social Media Marketing - Marketing Communication
Wo kann Peppertype bereitgestellt werden?
Cloud, SaaS, webbasiert
Peppertype Kosten
Startpreis:
25,00 $/Monat
Ja, kostenloser Test verfügbar
Keine Gratisversion
Peppertype bietet keine Gratisversion, aber eine kostenlose Testversion. Die kostenpflichtige Version von Peppertype ist ab 25,00 $/Monat verfügbar.
Peppertype – Videos und Bilder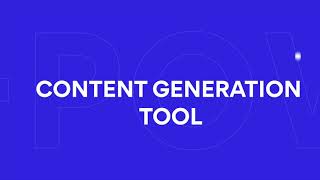 Kosten ähnlicher Produkte wie Peppertype vergleichen
Peppertype Funktionen
Anpassbare Vorlagen
Berichterstattung und Statistik
Content-Management
Multichannel-Kampagnen
Prädiktive Analytik
Social-Media-Integration
Textbearbeitung
Verarbeitung natürlicher Sprache
Volltextsuche
Workflow-Management
Zugriffskontrollen / Berechtigungen
Alternativen für Peppertype
Bewertungen über Peppertype
Suhas B.
Sales and Marketing Manager in Indien
Verifizierter Nutzer auf LinkedIn
Rundfunkmedien, 1.001-5.000 Mitarbeiter
Verwendete die Software für: 1-5 Monate
Fab AI writing tool
Kommentare: Overall experince has been great with Peppertype tool and the team behind it, they are constantly looking for ways to improve the tool and address user feedback.They are constantly looking for ways to improve the tool based on what our users have to say. Whether it's positive or negative feedback, we take it all into account to make Peppertype better.
Vorteile:
speed and quality content is created out of this tool, comes really handy when you have writing blocks, have written entire article with very less human intervention, quality is that good
Nachteile:
Limits could have been better, looking forward for long form ai writer I was really disappointed with the limits on the AI writer. I was looking forward to using it for long form writing, but it just didn't seem up to the task. I'm still hopeful that the long form AI writer will be better, but I'm not holding my breath.
Zach K.
Digital Marketer in Singapur
Verifizierter Nutzer auf LinkedIn
Marketing & Werbung, Selbstständig
Verwendete die Software für: 6-12 Monate
A Phenomenal AI Content Generation Tool That Delivers Tangible Results - FAST!
Kommentare: Peppertype's outputs are certainly pleasing to me. It serves all my needs and helps me to generate quality content in less time, especially when I'm stuck.
Vorteile:
I have tried so many content generation tools such as Nichesss, CopySmith, Jarvis, Shortly.ai, etc., but Peppertype.ai has definitely become my favorite and go-to tool for content generation. A major reason is the wide range of content options available. There are currently 34 separate content generation options, from suggesting compelling bullet points, YouTube video descriptions, personal bios, blog introductions, or to assist in copywriting with the pain-agitate-solution or AIDA methods.
Nachteile:
Peppertype only lets you save generated content right now. However, I'm hoping Peppertype can save activity details as well so that the users can go back and see the past inputs used to generate content.
Antwort von Pepper Content
vor 11 Monaten
Thank you so much for your positive review. We're so glad to hear that you've been using Peppertype.ai and that you're making use of the variety of options that are available to you. We've worked hard to make a tool that's easy to use and helps people create great content quickly. We've also got more features in the works and are always happy to hear suggestions for new functionality in the future. Please let us know if there's anything else we can do to help you out here or at support@peppertype.ai.
Prajim M.
Content marketer in Indien
Computer-Software, 501-1.000 Mitarbeiter
Verwendete die Software für: Kostenlose Testversion
Even if you're the best, you can still get better!
Kommentare: Not bad. I really enjoyed it because I could get some urgent work done on time using the free trial. Also it's very easy to understand and employ. I just wish the language processing and predictive text was much better. I also wish the AI could surf the entire web and match content with key words or synonyms to create thoughtful copy like a human. But then again, I am impressed with this truly marvelous innovation.
Vorteile:
Saves time, saves effort. Great way to generate ideas but still has a lot of room to improve.
Nachteile:
Smart navigation, variety of template choices, great workflow, amusing AI integration and exceptional conception. When I read about the marketing material on social media or via email I am truly impressed. This makes me expect more and hope for even better innovation.
Antwort von Pepper Content
vor 11 Monaten
Thank you so much for your great review. We're really glad that you're enjoying using Peppertype.ai and are able to find value in it. Our AI helps to generate better, more engaging content and can be customized to match your brand's voice or the needs of the customer. We're working hard on further improving the technology to help people generate great copy for any use case. We'd love to hear from you, so please let us know here or at support@peppertype.ai if you have any more feedback about how we can improve Peppertype or want to suggest a new use case that you think is possible with this technology.
Shoukhin M.
Found & CEO in Bangladesch
E-Learning, 2-10 Mitarbeiter
Verwendete die Software für: 1-5 Monate
Peppertype is Powerful Copywriting Tool
Kommentare: I must say that I'm impressed. It's got a clean and simple interface and it's really easy to use. I've gotten a lot of great results with it and I'm now using it for all of my copywriting needs. It's a great tool.
Vorteile:
I have to admit, I was a little skeptical at first, but I decided to give it a shot. I'm glad I did, because this writing tool is pretty awesome. It's a great way to quickly get a fresh perspective on how your copy can be improved. It's also very affordable, which is so important to me. I have been using Peppertype.ai for a while now and it has helped me a lot with my online business and online marketing. I also use it to write blog posts and emails to my list. I can see that the quality of the content Peppertype.ai generates is really good and that it doesn't need many changes to it.
Nachteile:
Sometimes the data provided by these templates is unnecessary and has false information.
Adam K.
Marketing in Malaysia
Verifizierter Nutzer auf LinkedIn
Marketing & Werbung, 11-50 Mitarbeiter
Verwendete die Software für: 1-5 Monate
In Betracht gezogene Alternativen:
Among some of the Best Ai writer, & it has a great Ui going for it
Vorteile:
There are various other writing assistants tools I use on a regular basis. Unfortunately, one could be said that most are strictly content curating tools and not exactly asisting me much on the creative side. I consider Peppertype to be among the best writing assistants available today. But this one is onpar with the rest of the tools I got from Appsumo, like Copysmith, Neuraltext, Contentbot, Frase, writesonic, etc. However, I noticed that Peppertype's content generation seems to be slightly natural, and better than the competitions - even though they are mostly based on the same GPT-3 technology.
Nachteile:
Each workpsace is an individual subscription. Would be great to have some kind of folder or workpsace feature for the various teams to store different content. As it is, things from Social meida team, HR department, PR, etc, are all in 1 place. THe current workplace is a solution, but I'd need to pay for the teams to have some kind of structure.