Was ist Midnight?
Midnight is a web-based MIS built for mid and large-sized Printers, Mailers, and Marketers. From estimates to invoicing, and everything in between, Midnight makes your business more efficient and profitable through features such as the mobile CRM app, integrated mail/postage abilities, and scheduling calendars. Take your business to the next level of integration with Midnight's robust REST API and fully engage with the data. Learn more at www.PrintReach.com
Wer verwendet Midnight?
Commercial printing companies, Mailing companies, Wide format shops, Fulfillment service providers, Marketing service providers, Hybrid Agencies, In plant printing departments, Colleges
Wo kann Midnight bereitgestellt werden?
Cloud, SaaS, webbasiert
Über den Anbieter
von PrintReach
2019 gegründet
Erhältlich in diesen Ländern
Vereinigte Staaten
Über den Anbieter
von PrintReach
2019 gegründet
Erhältlich in diesen Ländern
Vereinigte Staaten
Midnight – Videos und Bilder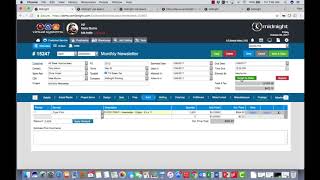 Kosten ähnlicher Produkte wie Midnight vergleichen
Startpreis
N/A
Nicht verfügbar
115,00 $/Monat
Nicht verfügbar
Funktionen von Midnight
"Best Fit" Auferlegung
API
Abrechnung & Rechnungsstellung
Aktivitäts-Dashboard
Aktivitäts-Verfolgung
Angebote / Schätzungen
Anpassbare Berichte
Anpassbare Vorlagen
Auftragsabwicklung
Auftragskostenrechnung
Auftragsmanagement
Auftragsverfolgung
Berechnungen mehrerer Versionen
Berechnungen vor/ nach einer Dienstleistung
Berichterstattung und Statistik
Bestandsverfolgung
Bestell-Management
Drittanbieter-Integration
Druck-Management
Elektronische Zahlungen
Inventarverwaltung
Job-Management
Job-Nachverfolgung
Job-Planung
Kontrolle des Genehmigungsprozesses
Kostennachverfolgung
Kostenschätzung
Kreditkartenbearbeitung
Kundenspezifisches Branding
Leistungskennzahlen
Lieferanten-Management
Preis- / Margen-Management
Press & Run-Stilanalyse
Produktion-Nachverfolgung
Produktionsoptionen-Bewertung
Produktkatalog
Prozess-Tinten-Berechnung
Rabattmanagement
Rechnungsmanagement
Regelbasierter Workflow
Reinzeichnung-Schätzung
Rollen-basierte Genehmigung
Schätzung
Schätzung der Buchbinderei
Schätzung des "besten Preises"
Terminplanung
Versand-Management
Vorlagen-Management
Workflow-Management
Zugriffskontrollen / Berechtigungen
API
Abrechnung & Rechnungsstellung
Abrechnungssatz-Management
Aktivitäts-Verfolgung
Alarmfunktion / Benachrichtigungen
Archivierung & Aufbewahrung
Authentifizierung
Benutzer-Management
Berichterstattung / Analyse
Berichterstattung und Statistik
Budgetkontrolle
Datenextraktion
Datenvisualisierung
Dokumenten-Abbildung
Drag-and-Drop
Drittanbieter-Integration
Druck für Gäste
Druck-Management
Druckabrechnung
Druckquoten/-limits
Einmalige Anmeldung
Ferndrucken
Ferngesteuertes Update / Installation
Job-Management
Job-Nachverfolgung
Kontingentmanagement
Kostennachverfolgung
Kreditkartenbearbeitung
Löschen von Druckaufträgen
Mehrere Authentifizierungsmethoden
Mehrere Standorte
Mehrfache Format-Unterstützung
Mehrsprachig
Mobiles Drucken
Nutzungsverfolgung/-analyse
Regelbasierter Workflow
Rollen-basierte Genehmigung
Self-Service Portal
Sicheres Aufgeben von Druckaufträgen
Sicheres Login
Umweltmetriken
Unterstützung mehrerer Drucker
Warnungen / Eskalation
Warteschlangenmanagement
Weiterleiten von Druckaufträgen
Zugriffskontrollen / Berechtigungen
Zusammenfassende Berichte
Zwei-Faktor-Authentifizierung
Überwachung
Überwachung des Gerätestatus
Audrey J.
President in Kanada
Verifizierter Nutzer auf LinkedIn
Marketing & Werbung, 11-50 Mitarbeiter
Verwendete die Software für: Mehr als 2 Jahre
Midnight is a fantastic tool for direct mail and print production companies.
Kommentare: Our overall experience with Midnight has been excellent. I started my direct mail production company in April 2014 and by the summer I knew we need more organizational structure in our production workflow. We purchased Midnight after watching a few online demos. We were sold right away as it gave us the ability to input all our job details and schedule all our mail dates. 4 years later we decided to start using it for PO's and invoicing and I'm kicking myself for not having used these modules right from the start. Our next phase which we are super excited about is tracking all our production time per docket and doing more micro-scheduling in each department. The technical support we have received from the Midnight team has been excellent our emails are answered usually within an hour and they are always available to do a quick call should the query be hard to tackle through email.
If you are a direct mail or print production company I highly recommend using Midnight you will be amazed at how easy it is to use, how great the supplied reports are and how little if any customization is required.
Vorteile:
I love how easy it is to use and how little customization is required to completely fit my business. I can't believe how simple it is to cut a PO or invoice a job and I love the fact the two can be connected. Since we started using the invoice module we have cut our invoicing time down from 5 days after a job mails to 2 days which is a huge help with cash flow. The reports available are amazing very little need for any customization
Nachteile:
The only challenge we have right now is with the postage module because we are a Canadian company and we have to add tax to our invoices and reconcile payment with tax. However, the team at Midnight has been very responsive and are working on a fix for us.
Antwort von PrintReach
vor 4 Monaten
Hi Audrey, Wow, thank you for the detailed review of Midnight! We take a lot of pride in our work and customers that provide constructive feedback like you have make our job just a little be easier! Please reach out to our team in the future if there's anything we can help you with.
Rob R.
Sales in USA
Verifizierter Nutzer auf LinkedIn
Druck, 51-200 Mitarbeiter
Verwendete die Software für: Mehr als 1 Jahr
PJ Green Midnight Review
Kommentare: PJ Green's experience with Midnight has been extremely positive. Utilizing features such as the job board, inventory app, widgets, etc. has allowed our employees to obtain information that previously required a face-to-face visit, phone call or email.
Vorteile:
Seamless Transition - used Mailshop software for 10+ years before implementing Midnight software (September 2017). Midnight allowed us to seamlessly carry over all data from Mailshop and offered features not available with Mailshop software. 3rd party software - link to Windowbooks software allows us to control postage much more efficiently. Cloud based software - Mailshop software only allowed employees to work from their work station or log-in remotely. Midnight software has given employees the ability to log-in from any desktop, laptop, cell phone or tablet both inside and outside of our building. Inventory App - app allows inventory transaction to take place in real time and allows employees to work from anywhere in the building. Dynamic Job Board/Scheduling - has allowed employees to view status/department of each work order from start to finish. Customer Service - always friendly and available to discuss any issues/features/improvements
Nachteile:
Because software is cloud/internet based, connection can be slow at times.
Antwort von PrintReach
vor 4 Monaten
Hi Rob, Moving from one MIS system to another can be tough work, but I'm glad to hear you were successful. We're constantly evaluating the speed of the site and hope you haven't experienced any speed issues as of late. Thank you for being the best part of Print Reach!
Verifizierter Rezensent
Business Development Manager in USA
Verifizierter Nutzer auf LinkedIn
Druck, 51-200 Mitarbeiter
Verwendete die Software für: Mehr als 2 Jahre
We used this at our company and it was problems
Vorteile:
I liked that all jobs would be seamless and it was great when it worked
Nachteile:
setup was brutal and never worked correctly. the CRM system that was built in was useless and the quote module was so complex we never used it.
Antwort von PrintReach
vor 4 Monaten
Hello, Unfortunately, no name was left on this review, and we'd of course like to clear up any type of frustration or misunderstanding with Midnight MIS. Please feel free to reach out to our team and reference this review so we can have a chance to make it right. All the best,
Sean C.
Director of Client Services in USA
Verifizierter Nutzer auf LinkedIn
Marketing & Werbung, 51-200 Mitarbeiter
Verwendete die Software für: Mehr als 2 Jahre
Midnight review
Kommentare: I have worked with Virtual Systems at 2 different companies starting with MailShop about 1999, and migrating to Midnight several years ago. Their focus on the customer and continually improving their offering to meet critical, evolving needs makes our partnership the most important one we have to meet our company and our customer needs.
And the people are great to work with as well.
Vorteile:
The comprehensive nature of the software- it fill so many needs for JetMail from project management, inventory, estimating, accounting reporting and postage management, as well as integration with other products (such as Salesforce, WindowBook and other API integrations) that help us to streamline our communications.
Nachteile:
We sometimes struggle with the reporting- specifically setting up custom reports that suit our changing needs. It is more of a technical expertise and time issue on our end.
Antwort von PrintReach
vor 4 Monaten
Sean, It's great to hear that you've been a customer since our Mailshop product days and the migration to Midnight MIS is complete. Thanks for taking the time to write the review and for your continued trust and business.
Dina K.
Chief Operations Officer in USA
Verifizierter Nutzer auf LinkedIn
Marketing & Werbung, 51-200 Mitarbeiter
Verwendete die Software für: Mehr als 2 Jahre
Software that offers great features
Kommentare: We are changing our set up of pricing currently to the Print Estimator to help us manage each jobs profitability better. This will also help our sales team be able to estimate jobs on their own instead of having to confirm with management. We also love the copy order feature that helps save time when putting in repeat orders. The entire team is also very dedicated to constant improvements, and welcome customer feedback and requests. That is a rate find in todays world.
Vorteile:
Simplifies our business in one place. The ability to access inventory, estimating, schedules, profitability, revenue and client information all in one place is huge for our company. The entire company is focused on serving our customers through one platform.
Nachteile:
Occasional issues with the customer portal cause team members delay.
Antwort von PrintReach
vor 4 Monaten
Hi Dina, You taking time out of your day to write us a review means a lot to us. Thank you! We appreciate your continued trust and business.