Was ist YSoft SAFEQ?
YSoft SAFEQ reduziert die gesamte Infrastruktur und die Betriebskosten von Druckdiensten, erhöht die Dokumentensicherheit und verbessert die Produktivität der Arbeitsabläufe.
Zu den Highlights gehören Nutzerauthentifizierung, Pull-Printing, umfassende Berichterstattung, automatisierte Scan-Workflows mit optischer Zeichenerkennung, mobiles Drucken und regelbasiertes Drucken.
YSoft SAFEQ wird in Form von Software-Suites oder einzelnen Modulen angeboten, die sicherstellen, dass Kunden nur für das bezahlen, was benötigt wird, mit der Möglichkeit, in Zukunft Funktionen hinzuzufügen.
Wer verwendet YSoft SAFEQ?
Die modulare Architektur und der Funktionssatz von YSoft SAFEQ erfüllen die Anforderungen von KMU-Kunden und skalieren zur Unterstützung von Unternehmenskunden.
Wo kann YSoft SAFEQ bereitgestellt werden?
Cloud, SaaS, webbasiert, Mac (Desktop), Windows (Desktop), Linux (Desktop), Windows (On-Premise), Linux (On-Premise), Chromebook (Desktop), Android (mobil), iPhone (mobil), iPad (mobil)
Über den Anbieter
Y Soft
Telefon-Support
24/7 Live-Support
YSoft SAFEQ Kosten
Startpreis:
Nicht vom Anbieter bereitgestellt
Ja, kostenloser Test verfügbar
Keine Gratisversion
YSoft SAFEQ bietet keine Gratisversion, aber eine kostenlose Testversion.
Über den Anbieter
Y Soft
Telefon-Support
24/7 Live-Support
YSoft SAFEQ – Videos und Bilder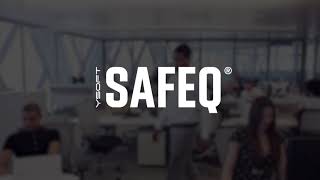 YSoft SAFEQ Funktionen
Berichterstattung / Analyse
Druckquoten/-limits
Ferndrucken
Kostennachverfolgung
Mehrere Authentifizierungsmethoden
Mobiles Drucken
Sicheres Aufgeben von Druckaufträgen
Unterstützung mehrerer Drucker
Weiterleiten von Druckaufträgen
Überwachung des Gerätestatus
Alternativen für YSoft SAFEQ
Bewertungen über YSoft SAFEQ
Valdas T.
Project Manager in Litauen
Druck, 51-200 Mitarbeiter
Verwendete die Software für: Mehr als 2 Jahre
Honest review from partner
Kommentare: we are implementing Ysoft for a big customers, banks, government and other similar sectors. where support is a key. To chose Ysoft for big client rather than other software - in my opinion thats a good point for you guys.
Vorteile:
it has embeddeds with almost all device manufacturers in the baltic states market. Support is very strong.
Nachteile:
If we want to be sure that software will be working properly, when we are choosing Ysoft. we would use it more, but price level is higher comparing with papercut or Optimidoc.
Gintautas R.
IT solution manager in Litauen
Druck, 51-200 Mitarbeiter
Verwendete die Software für: Mehr als 2 Jahre
review from administrator side
Kommentare: sometimes it is very difficult to communicate with servicedesk, especially when SLA has already expired. Then the communication is very long and the users are not happy if this is any major problem
Vorteile:
easy installation and system configuration, many devices are supported with integrated terminal (multibranding). User-friendly administration and user interface. Convenient and very detailed reporting
Nachteile:
there are a lot of accessories and modules that need to be installed separately. And sometimes you don't know if you need that functionality or not. Of course there is training and documentation for these modules but it takes time
Pavol K.
Product Manager in Deutschland
Elektrische/elektronische Fertigung, 51-200 Mitarbeiter
Verwendete die Software für: Mehr als 2 Jahre
My personal view of SafeQ software
Kommentare: I am using SafeQ since my university studies from 2011. I like ease of use, just swiping card and receiving my jobs on printer which is free. Even showing the price for job in advance is good, I would recommend.
Vorteile:
I really like "follow me" functionality, it works very well, even during travelling to different branches in other cities. It is very convenient. Also, Mobile printing is very easy to use and what I like the most is possibility to authorize via mobile phone with card reader, which reads NFC. I like the look of new web terminal (comparing native UI) - new UI looks modern and like mobile apps so it is very intuitive. Very good technical support is also one of the key benefits.
Nachteile:
It is a little bit more expensive than other competitors, but on the other hand it is reliable and good working solution – so minimal downtimes due to cluster. Also device monitoring (consumables, devices status, paper, ... and notifications) would be welcomed functionality, what is currently missing.
Vincent W.
Solutions Specialist in UK
Druck, 2-10 Mitarbeiter
Verwendete die Software für: Mehr als 2 Jahre
Ysoft SafeQ6 - Reliable and Secure
Kommentare: When encountering issues with Ysoft SafeQ6 I know I can rely on the support from Ysoft. Selling Ysoft SafeQ6 to customers enables my business to show our strengths.
Vorteile:
YSoft SafeQ6 once installed is reliable and keeps printing secure. It is easy to manage users, spot issues in log files and the support offered by Ysoft is very professional. Comparing Ysoft SafeQ6 to other print solutions, I would always pick Ysoft SafeQ6.
Nachteile:
The cost of Ysoft can be prohibitive, however this can be managed by explaining to the customer what they are paying for. I would also like the documentation to be split into smaller sections as it is very detailed and the PDF is over 300MB.
Wai T.
IT Specialist in Hongkong
Druck, 201-500 Mitarbeiter
Verwendete die Software für: Mehr als 1 Jahr
anonymous
Kommentare: Print anywhere.
Vorteile:
easy to use, but always have secuity issue on tomcat version.
Nachteile:
paper size define need to improve ,if reporting scan gen to smb folder are best .