Was ist TeacherEase?
TeacherEase ist eine webbasierte Lösung, mit der Lehrer alle Aspekte des auf Standards basierenden K-12-Klassenzimmers verwalten können – Unterrichtspläne, Lehrplanabbildung, Notenbuch, Berichtskarten und Zugriff für Eltern. TeacherEase ist für einzelne Lehrer, Schulen oder ganze Bezirke verfügbar.
Wer verwendet TeacherEase?
Nicht vom Anbieter bereitgestellt
Wo kann TeacherEase bereitgestellt werden?
Cloud, SaaS, webbasiert, Windows (On-Premise), Linux (On-Premise)
Über den Anbieter
Common Goal Systems
2001 gegründet
Telefon-Support
Erhältlich in diesen Ländern
Vereinigte Staaten
Über den Anbieter
Common Goal Systems
2001 gegründet
Telefon-Support
Erhältlich in diesen Ländern
Vereinigte Staaten
TeacherEase – Videos und Bilder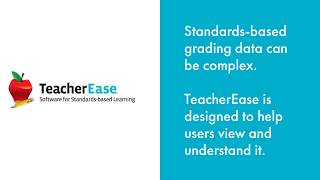 Kosten ähnlicher Produkte wie TeacherEase vergleichen
TeacherEase Funktionen
Discipline Management
Drittanbieter-Integration
Elternportal
Gewichtete Berechnung von Aufgaben
Individualisierte Beurteilung
Integriertes LMS
Klassenbücher
Klassenzusammenfassung
Kursverwaltung
Notenberechnungen
Studenten-Monitore anzeigen
Studenteninformationen/-dokumente
Stundenplanung
Tests/Bewertungen
Transkripte
Verfolgen der Teilnahme
Zeugnisse
Alternativen für TeacherEase
Bewertungen über TeacherEase
Verifizierter Rezensent
teacher in USA
Verifizierter Nutzer auf LinkedIn
Bildungsmanagement, 201-500 Mitarbeiter
Verwendete die Software für: Mehr als 2 Jahre
Review from Teacher
Vorteile:
-you can make folders by subject -generates report cards -take attendance -can input grades by percentage or fraction -super organized -all info is in one place -family contact info
Nachteile:
none at all, i have been using this for 7 years and LOVE it. everything is clearly laid out and organized. all people have access to the sight and you can see all students in your school.
E-Learning, 11-50 Mitarbeiter
Verwendete die Software für: Mehr als 2 Jahre
In Betracht gezogene Alternativen:
TeacherEase
Kommentare: My overall experience with TeacherEase has been a positive one.
Vorteile:
The feature the I like the most about TeacherEase is the ability to locate and assess the different menus that I need to perform my job.
Nachteile:
One of the things that I do not like about TeacherEase is its inability to talk to other programs we use in the district.
Antwort von Common Goal Systems
vor 2 Jahren
I am happy that you like the ease of navigating our system. We have opened TeacherEase for data integration with other platforms and have development plans to increase integration in the near future. Feel free to email us at support@common-goal.com to discuss your data integration needs.
Luai
Vice Principal in USA
Bildungsmanagement, 11-50 Mitarbeiter
Verwendete die Software für: Mehr als 2 Jahre
Quelle: SoftwareAdvice
In Betracht gezogene Alternativen:
Mediocre at everything, Awful at some things. Financially Shady
Kommentare: My Story & why we'll never return: After paying for the coming school year, we then decided that we would like to cancel our subscription & move onto another SIS. Teacherease refused to refund our check, despite the fact that we requested the refund on July 15, nearly two months before our school year began. As time went on, they did not respond to my calls and emails. I would actually call the technical support department and explain my situation to tech support. That's the only way I managed to get someone on the phone. They kept saying escalating the issue for over a month until they finally escalated it to the president of the company (whyyy?? It's just a basic refund???), who, surprise surprise, never reached out to me or responded to my calls and emails. We're in the midst of the Coronavirus pandemic and every private school is struggling to stay afloat. Yet, Teacherease chose this time to basically steal from private schools like mine. Thousands of dollars just gone, and the Teacherease staff are not responding to our calls. It's so disappointing.
Vorteile:
The gradebook is the redeeming quality of this software. It's pretty easy to use and visually appealing. Everything else about teacherease is not user-friendly and limited in capacity.
Nachteile:
The software is not user-friendly: it takes quite a few clicks to get wherever you want to go. Customer service takes forever: normal wait time is about 10-15 minutes. Other companies are near instant. Not very customizable: There's not much functionality build into the website unfortunately. It's very limited in its capacity. It's most costly than you think: If you want to build a fully online SIS for your school, you'll need some functionality, like a central attendance system, many of which are cost extra per year. Honestly just do yourself a favor and shop elsewhere. This company is not to be taken seriously.
Karen
District Administrative Assistant in USA
Bildungsmanagement, 51-200 Mitarbeiter
Verwendete die Software für: Mehr als 2 Jahre
In Betracht gezogene Alternativen:
Long time user
Kommentare: As I said above I have used, oversaw the initial set up and training, back in 2009. A number of years ago we switched our school grade levels from K-8 and 9-12 to K-5 and 6-12. We were able to make the change easily and did it fairly quickly with some opening support.
Vorteile:
We like that it is web-based/hosted. We do not need to worry about updates, hardware, etc. they are done for us. Being from a very small school we did not have the manpower to devote an employee specifically to only our student management system. When I looked at this product I was the only technology person in the district. The quality of their support made me feel like I had a partner helping me. I think the logical layout of using the software makes it user friendly. I knew that if I contacted support I would get an accurate answer. I never feel like I'm just being pushed along. I think that their reports are easy to use especially if you are the ISBE SIS person for your district. The uploads to the state Student Management System couldn't be easier. I have used this TeacherEase since the 2009/2010 school year.
Nachteile:
As I mentioned, we are a small school and somewhat unique but it would make our jobs so much less stressful if there was a way to run labels, envelopes, etc by family. We have two databases - one for the elementary and one for the Jr/Sr High school. We can't run addresses or labels for each family - allowing us to "group" families together when mailing items. I wish there was more training when the state comes out with new requirements. On a number of occasions I have called with a support issue and I'm pointing out the errors to the support people. My biggest item that I wish it had was a log of who did what. If someone runs GPAs for example and messes up class rank - we want to know who did it.
Mary
Administrative Assistant in USA
Bildungsmanagement, 51-200 Mitarbeiter
Verwendete die Software für: Mehr als 2 Jahre
In Betracht gezogene Alternativen:
WMS WEIGHS IN
Kommentare: I will say that after 5 years of using the program, it has become second nature. I have long forgotten the things that were the most irrational to me when the journey began. For the most part It is now easy for me to navigate in Teacherease/Common Goal, but that ease was aquired over time.
Vorteile:
1.) The ease of integration with the other school in the district 2.) The tab format in the single student window puts all information at a glance. 3.) The basic format of the program makes it easy to navigate in.
Nachteile:
1.)There are small improvements that are often requested but never addressed. (i.g. Creating a toggle switch for attendance email list so that you don't have to manually uncheck them all every day). 2.) Although the tech support is generally helpful, the wait time has been as long as 90 minutes in the past. There seems to be a turnover of employees that leaves you many times with them "getting back to you". Even though the Knowledge Base is available, a personal conversation settles the matter much more effectively when you have to do 6 things at once. 3.) There is an issue with searching out course sections to copy the learning targets to other sections. We have inquired about this twice now with no resolve. 4.) The same color appears for each school and district. It would be nice to see different colors used for the separarte entities. I not only work at the Middle School, but have to do all the state reporting which requires going back and forth from district to school level and from school to school.