Was ist Maya?
On-premise solution that enables animators to design 3D objects and simulations with realistic effects, animations, and more.
Wer verwendet Maya?
Computer artists who need 3D animation, simulation, modeling, and rendering
Wo kann Maya bereitgestellt werden?
Mac (Desktop), Windows (Desktop), Linux (Desktop)
Über den Anbieter
Autodesk
Ansässig in San Rafael, USA
1982 gegründet
Erhältlich in diesen Ländern
Vereinigte Staaten
Über den Anbieter
Autodesk
Ansässig in San Rafael, USA
1982 gegründet
Erhältlich in diesen Ländern
Vereinigte Staaten
Maya – Videos und Bilder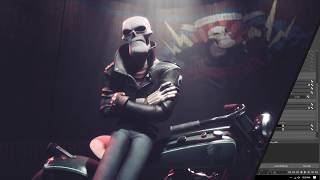 Kosten ähnlicher Produkte wie Maya vergleichen
Maya Funktionen
2D-Zeichnung
3D-Modellierung
Animationen und Übergänge
Drag-and-Drop
Inhalt-Bibliothek
Medienimport
Rendering
Texteinblendung
Video-Inhalte
Videobearbeitung
Ayodeji O.
Additive manufacturing in Nigeria
Verifizierter Nutzer auf LinkedIn
Maschinenbau oder Wirtschaftsingenieurwesen, 11-50 Mitarbeiter
Verwendete die Software für: Mehr als 2 Jahre
Best game character modeling and animation software
Kommentare: Maya has been my very good friend since my school days. I use it to model characters for Unity 3D game engine. With patience and determination you can push through the steep learning curve and get a good mastery of Maya.
What Maya offers is far greater than the difficulties faced while learning it. I always advice beginners not to rush it and take their time to better understand it. But it quite easy for people already familiar with other modeling and animation software to use Maya.
Vorteile:
Maya is all in one 3D design software. From designing of complex models to detailed texturing then to rigging and animation, Maya is a richly packaged software to satisfy its users. The yearly update always introduces new feature to make usage easy. Also, the ability to export modeled character directly to Unity 3D for game and virtual reality development makes Maya my choice of game character development software. Models designed in Maya is supported by most gaming and texturing software. For beginners, there are enough tutorials to get you started at least for basic modeling and animation, and there is a large support community in case you run into any technical problem.
Nachteile:
Maya is a robust software which makes it hard to wrap your mind around it within a short period of time especially for beginners. It took me years to learn, and as a matter of fact, there are still some functions that I'm yet to master. So it takes time to have a mastery of Maya because of how robust it is. Also, it is heavy in size and it eat up all the storage space and also there is a need for  good graphics card to run it well on your PC. Cant be used on most low end PC.
Anthony A.
Freelancer in Neuseeland
Animation, Selbstständig
Verwendete die Software für: Mehr als 2 Jahre
A very powerful tool
Kommentare: It is outstanding to be able to have access and operate a platform that is used to create film and commercial projects within the industry.
Vorteile:
This platform allows you to achieve more than just learning to model/animate in 3D and create visual effects. By developing your own creative skills with this application, you can use this to accomplish: - Blueprints/Wireframes - Storyboarding - 2D Animation - Character/Object Rigging - Architecture/Interior Design You have the ability to install plug-ins and set models to be 3D printed. For students, you can apply for a three year free license version.
Nachteile:
When generating high resolution visual effects, such as explosions, it can sometimes cause Maya to crash. Not all dynamic effects always work simultaneously. For some people, it can take a lot of time to practice before becoming fluent with the tools. It is very expensive to rent and you cannot buy it. A student version is not permitted to be used to make a profit.
Ajoob S.
Engineer trainee in Indien
Verifizierter Nutzer auf LinkedIn
Chemikalien, 501-1.000 Mitarbeiter
Verwendete die Software für: Mehr als 1 Jahr
Best in designing softwares.
Vorteile:
One of the best software for complex designing of models in 2d and 3d. The software helps to render the designs in high quality. The tools are easily accessible as compared to other softwares.
Nachteile:
Sometimes the software crashes when working with high resolution designs.
Verifizierter Rezensent
Customer Service Associate in USA
Verifizierter Nutzer auf LinkedIn
Einzelhandel
Verwendete die Software für: Mehr als 2 Jahre
Great way to make animations, crashes a lot
Vorteile:
I love that you can create and build 3D models and make animations. It's easy to make animations with the automatic in-between keys that Maya puts in.
Nachteile:
Maya freezes a lot and uses up too much memory on my laptop. It heats up my laptop and has unexpected crashes. Sometimes something wrong goes with the model and I can never fix it again. Other times the model stops working and I have to open a whole new file to copy and paste the model in to reanimate it.
Geoffrey L.
Infographiste in Frankreich
Verifizierter Nutzer auf LinkedIn
11-50 Mitarbeiter
Verwendete die Software für: Mehr als 2 Jahre
The most robust 3d software i've used that I use as main 3d package.
Kommentare: The ability to bring 3d animation projects to completion, from the first modeling stages to the final render. Maya can handle lots of things : heavy geometry, lots of caches, animation and motion capture data, lots of textures.
It gets better as your company grows in size.
Vorteile:
The most useful thing about Maya is how effective it is to use it into my animation studio pipeline. The reference system is by far my favorite from any other package I have seen, this is not random that every major visual effect studio uses Maya as primary 3d software.
Nachteile:
The only downfall that I personally face using Maya is the spline system which is not as flexible and updatable as say 3dsmax. I think autodesk should look into merging the 3dsmax spline system.